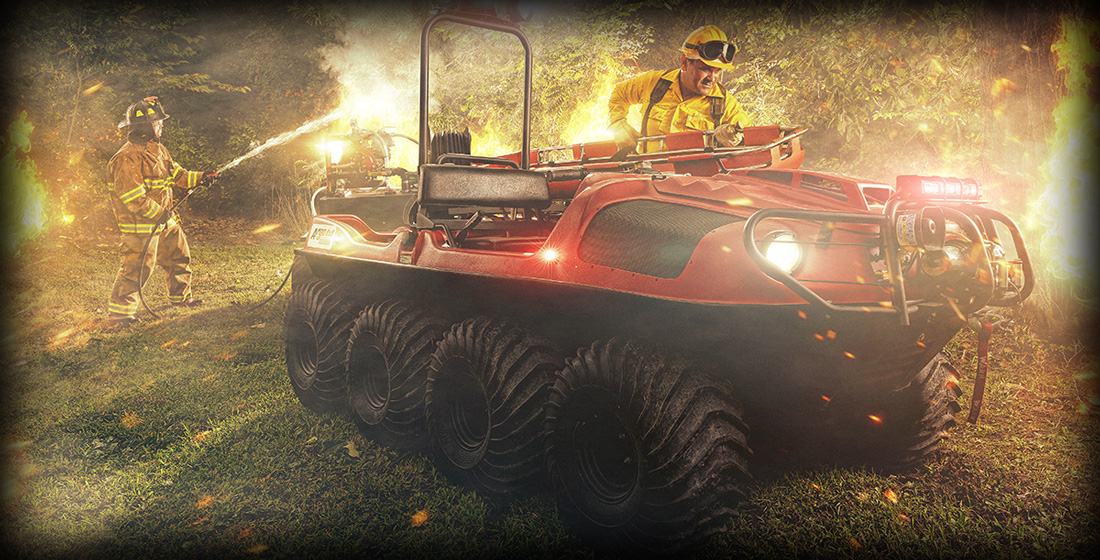 Wilderness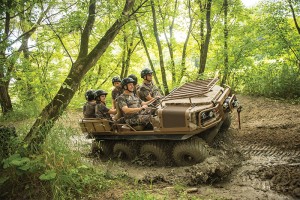 Harsh environments demand tough equipment. When you're hunting in the wild, having the right transport can make all the difference between success and failure.
Whether it is big game or small, on field, swamp, pond, or mountainside – a built-for-purpose XTV from Argo will help you get there and bring back the spoils.
The unpredictable nature of wilderness hunting means you never know what terrain you may have to tackle next to get closer to your quarry. Argo Outfitter and Scout platforms provide you with true go-anywhere capabilities, so you can hunt deer and ducks, shoot and fish – all from one versatile vehicle!
With a range of camouflage and khaki color schemes, gun rack options, and winch mountings for easy carcass recovery, you can build an Argo XTV that is ideal for your hunting requirements.
Transport up to six persons, and all their gear, right to where the action is – not only is it a reliable means of transport, your passengers are bound to remember the experience!
Lineman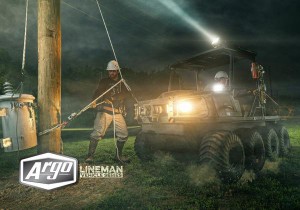 Power lines, telephone lines, wind turbines, solar installations, gas and oil pipes – wherever there are people, utility supplies will soon follow.
These supply lines go through some of the most remote and inhospitable regions of our country, and have to be maintained, come rain or shine.
If your responsibility is to keep regions from being cut off, you'll be all too aware of the dangers. Damage is often caused by extreme weather, so your transport needs to be able to get you right to the point of breakage even in the midst of gale force winds, snow, ice, or flood.
An Argo XTV can be equipped with winches, spotlights, and overhead protection to shelter you and your crew as they head into danger. They are even available with helicopter lifting kits so you can get the vehicle closer to where it is needed, even if there are no roads in the area.
Need even more space for gear? Argo vehicles have superlative towing capabilities, and matching trailers can be specified to ensure everything you need can be loaded. Whether it's lugging a transformer across a sand dune or laying a cable in a river bed, an Argo will keep you moving and get the job finished on time, on budget.
First Responder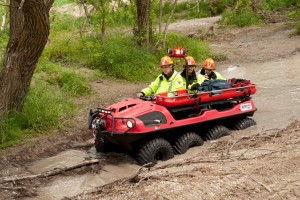 Argo XTVs are a powerful addition to any emergency response fleet.
Whether firefighting, extracting causalities from inhospitable terrain, or engaging in search and rescue operations, we can help you specify your Argo to meet the most demanding scenarios that you might be called to face.
With a variety of color schemes and provision for mounting spotlights, emergency warning lights, winches, stretchers, pumps, and more, the different options available for creating a truly versatile first-responder vehicle will open your eyes to the scope of these remarkable machines.
No matter if the emergency is on wet grass or snow, on mountainside or lagoon, in forest or in outpost, an Argo XTV will get you, your team, and all the equipment right to where you're needed most, with minimum delay.
Further saving time, the amphibious and all-terrain capacities mean you can take the most direct route, turning waterways into access routes and shortening the distance to the destination.
The challenges facing our first responders are immense. From the threat of extreme weather to road, air, and rail accidents, disaster can strike anytime, anywhere.
Argo XTVs can be specified with helicopter lifting points so that if required, the entire vehicle can be quickly air shipped to where it is needed. If you need even more space for equipment and materials, matching trailers (that are equally amphibious) can also be specified.
Those in the front line deserve to be equipped accordingly. Specifying an Argo will give your team the confidence that they're ready to go into action, whatever the challenge.
Recreation/LX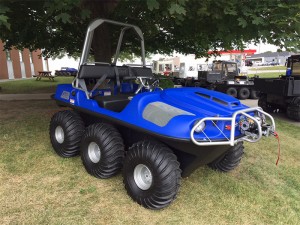 For an experience that your guests will never forget, there's nothing to beat an Argo ride!
Whether for eco-tourism, guided tours of ecological treasures, trail riding, corporate and team building events, estate maintenance, or grounds maintenance at sporting venues, an Argo can be specified to perfectly match your recreational requirements.
Breaking exciting new ground for the Argo brand, the new LX range offers unprecedented go-anywhere luxury and comfort. With the all-new "soft ride" tire system, room for up to six passengers, upgraded front and rear seat cushions, powerful LED lighting, onboard USB sockets and connectivity, not to mention a stunning range of stylish new color schemes, the LX range is truly a cutting-edge resource for any leisure sector operator.
Similarly, for land owners, an Argo offers unmatched outdoor fun for all the family. Safely transporting you and your passengers over any kind of terrain, the Argo LX XTV range will ensure your outings provide happy memories for many years to come.
With the distributed weight, an Argo treads lightly, minimizing damage to your environment and surroundings. The fully sealed body protects against any engine fluid seepage, and likewise keeps you and your passengers fully dry, no matter what might happen beneath!
Exploration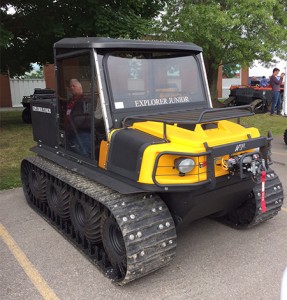 To discover new resources, you have to search where no one has done so before. Taking core samples in remote, mountainous, swampy, or arid landscapes demands the very best, most reliable transport solution.
Enter the Argo. Perfectly designed for the harshest environments, with 8-wheel-drive and true amphibious capability, it's no wonder that experienced prospectors choose Argo to get them where they need to explore.
A low center of gravity, robust transmission, room for equipment, personnel, and tools – all the boxes are checked for a successful expedition!
Whether surveying, prospecting, getting samples, mapping, constructing roads, inspecting, resupplying remote stations – Argo does it all, with capability to spare.
Models can be specified with full roll-over protection, tracks, spotlights, winches, trailers, and more – contact us to help specify the perfect Argo for your needs today!
Reclamation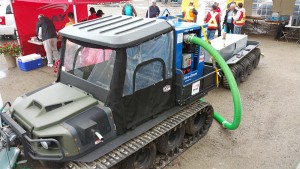 Dealing with environmental clean-up work is messy and full of hazards. With an Argo, you can plan for the worst with confidence.
Whether an oil or chemical spill, an overturned tanker, or a derailed train, the first challenge with any clean-up job is always getting access. Bringing personnel and equipment – booms, pumps, winches, absorbents, containers – to the spill site as quickly as possible is crucial to success of the operation.
With the capability to transport up to six people and associated equipment, an Argo and trailer combination can cross waterways, swamps, forests, steep inclines, snow, and ice on the way to contain and clean up the spill. This unmatched versatility gives you and your team the ability you need.
Agriculture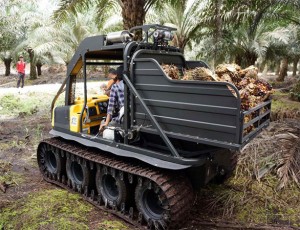 Dealing with the ever-changing needs of land and crop management has constantly challenged the ingenuity of generations of farmers and agricultural contactors.
The Argo makes a strong case to be added to your line-up of resources that help you keep everything in order. For sheer versatility, it's hard to beat the number of ways an Argo XTV can be configured to take care of whatever challenges may arise.
For spraying, nothing beats the outstanding low center of gravity of an Argo. Other utility vehicles are three to four times more likely to roll over than an Argo. Wherever you need to spray, an Argo XTV will get you there and back quickly and in comfort.
For weed control, insect abatement, or crop spraying, an Argo excels, with outstandingly low ground pressure to ensure no damage to crops or getting stuck on soft, sandy, or boggy ground.
Towing farm equipment, getting you to the local store, rescuing escaped livestock, hauling wood, clearing snow in wintertime, feeding your herd – there's almost no task an Argo XTV cannot help you with around the farm.