A TRUSTED ARGO DEALER IN PENNSYLVANIA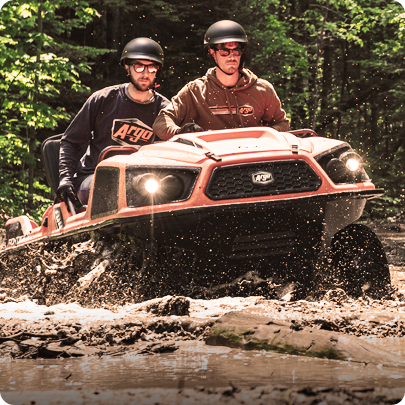 Argo is synonymous with service excellence and product quality in the line of XTVs also known as UTVs. Shank's Argo endeavors to keep in step with that tradition. The company's years in the industry are testament to its top-caliber quality.
In Pennsylvania, we are a trusted Argo XTV dealer, among the best in the business. Coupled with our passion for everything outdoors, as well as our sense of adventure and daring, Shank's Argo is your one stop amphibious 6×6 and 8×8 dealer.
As the premier authorized Argo dealer of Pennsylvania, and one of the largest Argo dealers on the East Coast, we are proud to present you with the finest line-up of Argo UTVs you'll find anywhere online. Shank's Argo specializes in 6×6 and 8×8 vehicles, from recreational to search and rescue models. Ask us about all the accessories you can get for any Argo model. We aim to fulfill your needs as completely as possible.
On this website, you'll find dedicated sections for the many XTV markets we serve: Hunting, Fishing, Firefighting, Search and Rescue, Forestry, Lineman, Mining, Spraying, etc. We've got the solution for your unique needs. All vehicles come with the same world-renowned ruggedness and reliability expected of products that get the job done. Steep inclines, snow, mud, and other obstacles – not to mention any type of weather – cannot stop anyone trying to accomplish a task on board an Argo XTV.
Shank's Argo is a one-stop Argo XTV dealer for all professionals, outdoor enthusiasts, and people who prefer to get the job done without a fuss.
Want to meet the team behind Shank's Argo?
Head to our About Us page – we're one of the top Argo UTV dealers in the US. You'll feel right at home with us fellow Argo enthusiasts!
Looking for the latest scoop on all things Argo?
Head to our Blog for the unvarnished, hot-off-the-press news and latest developments. Don't forget to subscribe while you're there – Argo goodness brought right to your inbox, with our compliments.
Feeling a little lost?
Not able to find what you're looking for? Why struggle alone any longer? We're here to help – contact us now and experience our legendary service for yourself!
Our team has over 200 years of outdoor power equipment experience. We don't do anything else.
We speak Argo, and whether you've relied on your Argo for years or whether you're new to the Argo family, we're happy to hear from you and make you feel welcome. We sell and service more Argo UTV equipment than most of our competitors combined!