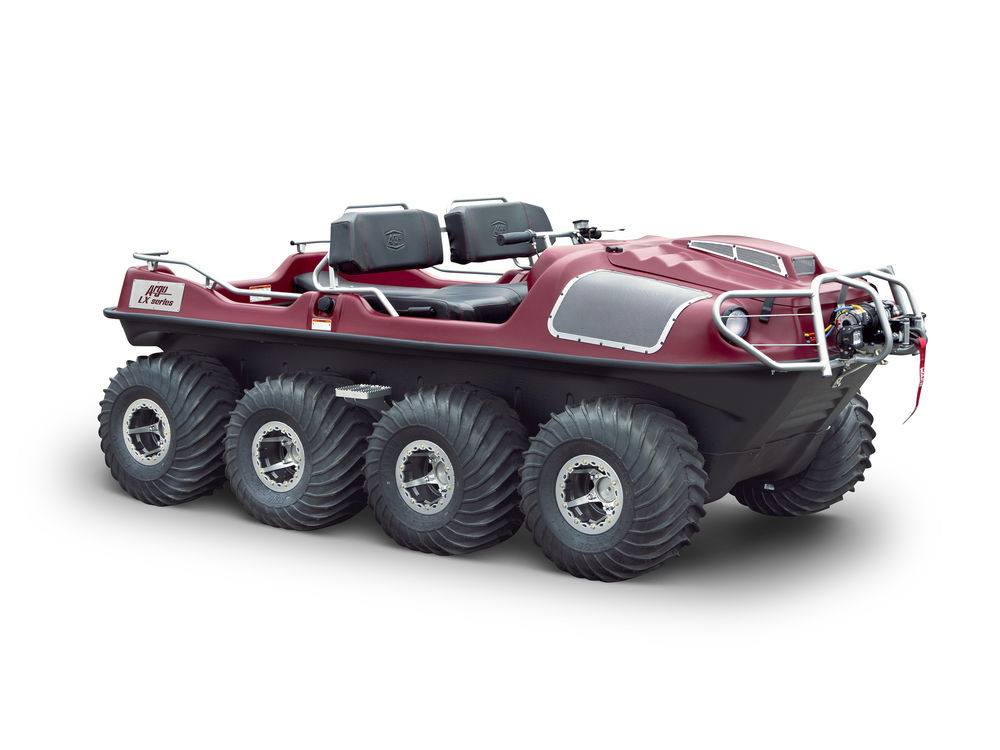 Argo's XTVs don't just go places where other vehicles can't; they take a lot of the effort out of exploring the great outdoors. If you run adventure tours, photo safaris, or other outdoor group activities, an XTV can help you take your customers into nature comfortably while minimizing risk and environmental impact. Want something to explore the wilderness on your own? Spending long days in an Argo is a lot easier on your body than traveling in a UTV or ATV.
Nothing ruins a trip into the wilderness quite like getting your vehicle stuck. Instead of mounting some small tires on a long travel suspension, Argo makes their own giant tires that both act as a suspension and provide traction on land and in the water. The sheer size of the rubber spreads out the weight of the vehicle, so when it crosses mud, snow and sand, it simply floats over these surfaces instead of digging in like an ATV or UTV. Argo offers a Warn winch that can be mounted to the front or rear of the XTV to pull out the vehicle if it does get stuck, or, more likely, if you need to pull someone else out.
If you've spent hours wrestling the controls of an ATV, you know how tiring it can be trying to keep the vehicle pointed where you want it when every rock is trying to push the front wheels from side to side.
Argos use a brake-based steering system instead of a steering rack. When the handlebars are turned, brakes are applied to the inner wheels, causing the vehicle to turn even though the wheels themselves are fixed so that they're always pointed straight ahead. This both stops bump turns and separates impacts from the steering system.
Maintenance and repairs can be reduced, too. There's an automatic chain lubrication system available so the drivetrain doesn't need to be oiled. Beadlock rims keep the tire attached no matter how much you push your XTV, and brush guards can be added to take the brunt of abuse when driving through heavily wooded areas.
Want to explore a waterway? Just drive straight in. There's no need to back a trailer down a ramp. The tires are designed to act like paddles, but since they're covered by full fenders, they don't splash water into the hull.
There is plenty of equipment that can be added to make your XTV even more comfortable, including handrails and steps for easier entry and exit, windshields and canopies for all-weather comfort, and heated grips to keep the controls warm. Upgrading to premium seats adds adjustable backrests for all-day comfort.
Argo offers their most popular equipment together in the Avenger LX, including handrails, beadlock rims, premium seats, and chain lubrication. The LX also comes with a Jensen four channel 40 watt sound system built with marine duty speakers in the front and rear. This sound system has Bluetooth connectivity so you can stream music from your phone and has a USB port for loading MP3s from a thumb drive. If that's not enough, this model even comes in three exclusive colors: Cranberry Wine, Silver Shadow, and Sunset Magic.
Even if you don't need the full all-terrain ability of an Argo, there's no question that these vehicles can increase the comfort of any wilderness excursion.