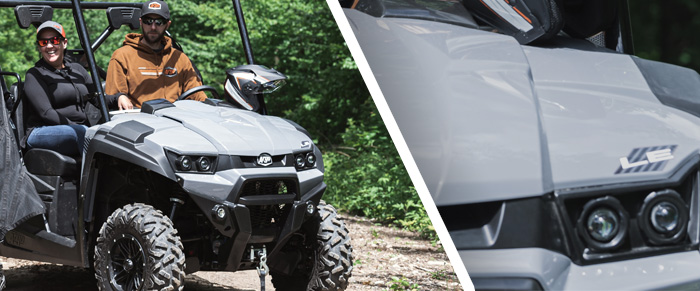 When outdoor enthusiasts discuss side-by-side ATVs, the Argo Magnum is a name that you often hear. Made by Argo, the renowned manufacturer of the world's best amphibious ATVs, the Magnum is unquestionably a favorite among adventure seekers.
Argo ATVs are known for their toughness and versatility. They are ideal for off-road adventures, hunting, and work purposes. Argo side-by-side models are designed to conquer even the most challenging terrains and to have the most fun doing it.
An Overview of the Argo Side-by-Side Models
The Argo Magnum XF 500 comes in 2 different model versions: the XF 500 and the XF 500 LE. Both models share many similarities. They feature the same 443cc liquid-cooled engine, the same transmission, suspension, size, weight, and towing capacities.
However, some notable differences set the Magnum XF 500 LE apart from its brother. In this article, we'll take a look at those extra-special features of the LE version.
Better Control With Electric Power Steering
The Magnum XF 500 LE is equipped with electric power steering, which significantly enhances the driving experience of the ATV. The electric power steering system is more responsive than the standard steering system, allowing for better maneuverability. It reduces the effort required to control the steering wheel, which ensures that the driver's hands do not get fatigued from driving on long trails.
The advantages of electric power steering is especially noticeable on rough, off-road terrain. With a standard steering system, the steering wheel tends to jerk the driver's hands from side to side as the front tires bump against ruts, rocks, roots, and other obstacles. With electric power steering, it takes far less effort to hold the wheel steady.
A Serious Front-Mounted Winch
The Magnum XF 500 LE comes with a 3,000 lb. winch on the front. That's a ton and a half of pulling power! The winch is easy to operate via an electric rocker switch.
Having a winch on hand comes in handy in many different situations, and people have used them ingeniously for a multitude of tasks. They can be used for self-recovery, to pull the Magnum up very steep terrains, or out of muddy riverbanks. Winches can be used for dragging logs, large game, or stuck vehicles. They can be used to pull out fence posts, tension fence lines, drab boats onshore, or to raise a flag.
It doesn't matter if you're a farmer, hunter, forester, or just a regular guy, you will find the LE's front winch to be an empowering piece of equipment. Note that the winch can be added to the standard XF 500 model too, as an accessory.
Premium Tires on Aluminium Rims
The Magnum XF 500 LE features premium Duro Power Grip radial tires on aluminum rims. The tires are aggressively treaded to provide maximum grip even on the most challenging terrains.
The aluminum rims on the Magnum XF 500 LE are lightweight and durable, ensuring that they do not affect the vehicle's performance. As a bonus, they look downright sharp.
Painted Body Panels for Extra-Good Looks
To add to the ready-for-anything look of the Magnum XF 500 LE, this side-by-side comes with premium painted body panels. The panels are designed to withstand harsh weather conditions so they can maintain their gleam for a long time.
Unlike the Magnum XF 500, which is only available in dark green, the LE model comes in two colors: flame orange, and slate grey. Your choice.
Where to Buy the Magnum XF 500 LE and Other Argo Vehicles
The Magnum XF 500 LE and other Argo vehicles can be purchased from authorized dealerships.
Argo has a network of dealerships across the US and Canada. At an Argo dealership, you will find experienced salespeople who can help you choose the best Argo for your needs. They can also introduce you to financing options, available accessories, and other Argo gear.
Additionally, Argo dealerships have trained technicians who can perform service, maintenance and repairs on your Argo.
Shank's Argo (that's us) is a leading Argo dealership in the Eastern United states. We stock a large number of Argo utility vehicles, XTVs, and commercial vehicles. We'd love to show you around, and introduce you to the Magnum XF 500 LE!
Conclusion: Is the Magnum XF 500 LE the right choice for you?
The Magnum XF 500 LE is a unique side-by-side model that comes with exceptional features. It is designed to offer the best performance and comfort to the rider. The Magnum XF 500 LE is equipped with electric power steering, front-mounted winch, aluminum rims, and premium painted body panels for extra-good looks.
If you are looking for an exceptional side-by-side that's Argo to the core, then the Magnum XF 500 LE is the right choice for you.