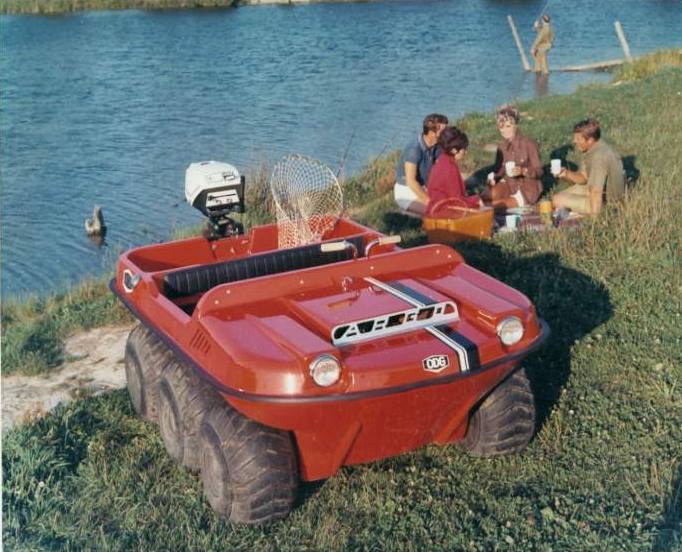 Why is Argo one of the most reputable companies in off-road vehicles? Over the years, they've taken a dead vehicle segment and transformed it into one of the most desirable vehicles on the market. Here's how a small gearbox manufacturer became the premier amphibious vehicle manufacturer.
1962
Ontario Drive & Gear (ODG) is founded in Kitchener, Ontario, Canada. Their first product is a transmission for a 6 wheel drive amphibious vehicle called the Amphicat.
1967
The amphibious vehicle market explodes. In response, ODG builds its own model, the Argo. At the time, they were just one of the dozens of small manufacturers building amphibious vehicles of widely varying quality.
1968
A set of Amphicats using ODG transmissions are driven by The Banana Splits on their TV show. Thanks to endless reruns, this is still the first place many people see their first amphibious ATV.
1969
The NATVA (National All-Terrain Vehicle Association) is formed, holding races across the country.
1971
The amphibious ATV fad comes to an abrupt end with the introduction of the Honda All-Terrain Cycle 90. While it can only drive on land, this three-wheeler is less than half the price of amphibious vehicles, and it's backed by the name of a known manufacturer. The final blow comes two years later with the gas crisis, pushing enthusiasts away from power sports.
ODG sticks with the market, introducing an 8 wheel version of their Argo. By adding ABS vacuum molding tools to their plant, the company could now mass-produce vehicles, making them the industry's technology leader.
1975
ODG switches to HDPE for their hulls and makes the move from 2-stroke engines to a Tecumseh 4 stroke engine. This turns a weekend toy into a vehicle that's reliable enough for commercial duty. Meanwhile, the Amphicat goes out of production, making ODG the main producer of amphibious ATVs.
1981
The Argo 8 I/C is the first purpose-built commercial amphibious ATV, and the first equipped with hydraulic brakes. This single model captures 60% of the market.
1989
ODG completes their switch from Tecumseh to Briggs & Stratton commercial engines. The new Magnum 6×6 and 8×8 have higher gear ratios, letting them keep up with ATVs while on land.
1993
Argo introduces its first model with a liquid-cooled engine. Increased power and reliability in a wide range of temperatures makes the Conquest a surprise success, causing long wait times as ODG ramped up production.
1997
The Bigfoot adds 25-inch tires that improve buoyancy and ride quality. This same basic design is still used today.
1998
To keep up with demand, ODG adds gear making equipment to their Argo facility and starts work on a new, larger plant. This effectively turns Argo into its own independent division.
 
2001-2008
Massive sales prompt continual expansion, more than quadrupling factory and office space. Today, Argo's facilities span over 150,000 square feet.
2007
The abilities of XTVs have long made them a favorite of hunters, leading to several requests for a hunting-specific model. The final push came when professional hunter Jim Shockey contacted the company, explaining that he was able to replace 8 horses at his hunting lodge with a single XTV. In response, Argo releases the Hunt Master series, which comes standard with camouflage and popular equipment. This is soon followed by other specialty models for emergency response, mining and electric line repair.
2008
The Canadian Space Agency asks Argo to help them on a lunar vehicle. Over the years, they've built several prototype rovers that build on technology developed for their XTVs. Argo opens the XTR (Xtreme Terrain Robot) division to use this work here on earth. They build remote-controlled vehicles that handle hazardous activities like firefighting and bomb disposal.
2009
Argo introduces the 8×8 750 HDi. This new model is the first to use the triple differential Admiral transmission. It allows gradual steering, giving the operator more precise control and making the vehicle easier to operate.
 
2017
Most Argo owners bought an XTV because they already owned an ATV or UTV and wanted something that offered better performance. In response, Argo releases their own line of ATVs, the Xplorer series, with the same eye to usability that built the XTV's reputation.
2018
Argo begins production of the Aurora series. The first clean-sheet design in years, it adds APS, which give the steering a return that makes it feel more like a traditional vehicle. Other improvements including increased engine power and forward-facing rear seats make it the easiest vehicle to operate in Argo's history.
The Best Adventure Vehicles come from Shank's Argo
Do you want to get an Argo from a dealer who knows what they're selling and can provide the support you need for your outdoor adventures? Then visit Shank's Argo, one of the largest dealers in the East, and one of the oldest power equipment dealers in the region. Our shop and showroom are located at 4900 Molly Pitcher Highway in Chambersburg, PA. You can also check out our current inventory at our website, www.shanksargo.com.