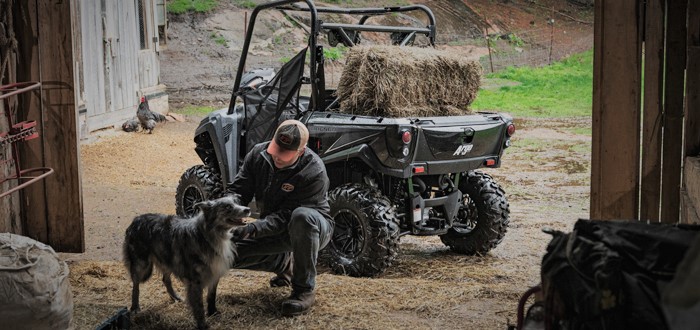 If you're an adrenaline junkie looking for the ultimate off-road experience, the Argo Magnum XF 500 Side by Side ATV is the machine for you. This powerful ATV is designed to handle any terrain, from rocky hillsides to muddy trails. With its rugged strength, cutting-edge design, and impressive features, the Argo Magnum XF 500 is the perfect choice for outdoor enthusiasts who crave adventure. In this article, we'll explore 10 exciting features of the Argo Magnum XF 500 that make it the ultimate adventure vehicle. So buckle up and get ready to experience the ride of a lifetime!
Feature 1: Powerful Engine
The Argo Magnum XF 500 comes equipped with a powerful 443cc EFI liquid-cooled engine that delivers exceptional performance. With its powerful yet agile handling, the Argo Magnum XF 500 can easily keep up with other side by sides, allowing you to push your limits and explore new trails.
But the Argo Magnum XF 500's engine isn't just powerful, it's also fuel-efficient. Thanks to its advanced EFI system, this ATV can deliver excellent fuel economy, allowing you to spend more time on the trails and less time stopping to refuel. Whether you're exploring the great outdoors or competing in a race, the Argo Magnum XF 500's powerful engine is sure to impress.
Feature 2: Impressive Towing Capacity
The Argo Magnum XF 500 is designed to be a workhorse, and its impressive towing capacity is proof of that. With a towing capacity of up to 1,200 pounds, this ATV can tow just about anything you need, from logs to boats. Whether you're hauling equipment to a job site or towing your favorite toys to the lake, the Argo Magnum XF 500 has you covered.
Thanks to a standard 2-inch hitch receiver, hitching up the Magnum XF is quite easy to do. If you can hitch it, you can pull it. (Well, if it's not too much over 1,200 pounds.)
Feature 3: Advanced Suspension System
The Argo Magnum XF 500's advanced suspension system is one of its most impressive features. With an independent double A-arm suspension in both the front and back, this ATV is able to absorb the toughest bumps and jumps, providing a smooth ride no matter where you go. The suspension system features adjustable preload shocks, and generous ground clearance. All to say that the suspension design offers both comfort and performance, as it helps to keep all four wheels on the ground, ensuring maximum traction and stability.
Feature 4: High Ground Clearance
The Argo Magnum XF 500's high ground clearance is another impressive feature that sets it apart from many other off-road vehicles. With a ground clearance of 10 inches, this ATV is able to cross streams or climb over rocks. More clearance is also a safety feature, as avoiding getting stuck also reduces the risk of accidents and injuries.
Feature 5: Durable Tires
Equipped with 25-inch Maxxis off-road tires, this Argo utility vehicle can navigate through mud, snow, and rocks with plenty of traction. More traction brings more control, and more control means more confidence for your adventure spirit. The tires feature an aggressive tread pattern and come mounted on high-quality steel rims.
Feature 6: Versatile Cargo Capacity
A spacious cargo box is mounted to the back of the Argo Magnum XF 500. The box can carry over 440 pounds of camping gear, tools, or equipment. When you need to carry and dump a payload such as landscaping mulch, gravel, or sand, the bed can be easily dumped with the aid of a tilt assist shock.
Additionally, a rubberized mat accessory can be installed in the box to provide a non-slip surface and extra protection for the cargo area.
Feature 7: Comfortable Seating
The Argo Magnum XF 500's rider seating is designed for comfort and safety, no matter where you go. With a bench-style seat that can accommodate up to two riders, this ATV is perfect for sharing your off-road adventures with friends or fishing buddies.
The seat includes integrated seat belts and a sturdy roll cage is mounted overhead to keep you and your passengers safe in the event of an accident.
Feature 8: Advanced Safety Features
Riding on unfamiliar trails can be dangerous, and as already mentioned, the Magnum XF comes with numerous safety features to protect its riders.
A super good-looking yet sturdy ROPS (roll-over protection structure) protects riders in the event of a roll-over accident. In addition to hand grips near the seat, the bars of the ROPS also provide riders with something to hold onto as they brace themselves on really rough parts of the trail.
Other safety equipment includes safety belts to keep you from tumbling out and getting hurt, hydraulic disc brakes, and bright headlights and brake lights for nighttime driving. Of course, ATV riders should always keep safety first by wearing DOT-certified helmets and eye protection, and by using good judgment as they engage with their adventures.
Feature 9: User-Friendly Controls
The Argo Magnum XF 500's user-friendly controls are easy and comfortable to operate, no matter your experience level. You can adjust the Magnum's steering wheel to the height you prefer. Because this ATV has an automatic CVT transmission, there is no manual gear shifting required. You simply select your range: high, low, neutral, reverse, or park. A foot brake controls braking.
An intuitive digital instrument panel on the dashboard tells you everything you need to know. It shows an odometer and tripmeter (distance measurement), speedometer, RPM gauge (engine speed), transmission position indicator (2WD/4WD/LOCK), fuel gauge, engine temperature and battery voltage monitors, headlight mode, and check engine lights. The gauges can be read at a glance so that the driver can focus on the trail.
Feature 10: Stylish Design and Accessories
Looks aren't everything, but a sleek and modern design are the perfect finishing touch to this impressive ATV. The Magnum XF 500 is available in dark green, a color that looks good in any outdoor scenario. With its daylight running lights, the daring shape of its body panels, and sporty ROPS, the Magnum XF 500 is sure to turn heads wherever you go.
A variety of accessories are available to further enhance the Magnum XF 500. These include a brawny brush guard, a front-mounted winch, and a cargo box liner.
Conclusion
So that concludes our list of the top features of the Argo Magnum 500 XF. Think about ways these features could fit your particular work, recreation, or weekend adventures.
Shank's Argo currently stocks both the Magnum XF 500 as well as its upgraded brother, the LE model. Give us a call for availability and pricing info. We're one of the largest Argo dealers on the East Coast, and would be happy to discuss the ATV that would best fit your preferences.