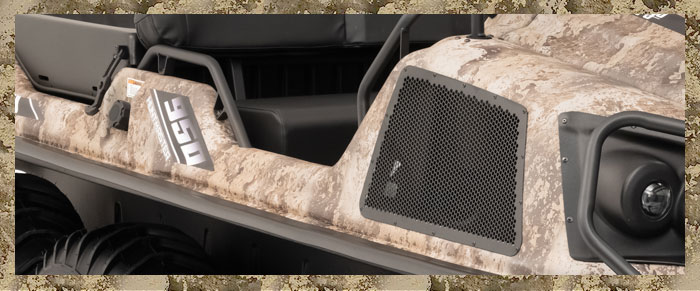 As an avid hunter, you know that a successful hunt requires patience, skill, and the right equipment. A key piece of that equipment is the vehicle that gets you to your hunting spot. Whether you're navigating through dense forests or maneuvering over rugged terrain, you need a vehicle that can handle it all.
That's where the Argo XTV with TrueTimber® camouflage comes in. In this article, we'll explore the importance of camouflage when hunting, the benefits of using the Argo XTV for hunting, and some of the special capabilities of Argo extreme terrain vehicles.
Introduction to the Argo XTVs with TrueTimber® Camouflage
Argo XTVs are rugged, amphibious vehicles that are designed to take on tough terrain, be it land or water. With their powerful engines and advanced drive systems, Argo XTVs can handle anything from mud to rocks to steep inclines.
Several Argo models are available with body panels that feature the TrueTimber® Prairie camouflage design. Those models include the Frontier Scout series, the Aurora Huntmaster series, and the Conquest Outfitter series.
TrueTimber® Prairie is a high-quality camo pattern that blends easily into a variety of outdoor areas, including forests, meadows, wetlands, and grasslands. The TrueTimber® camo patterns use a combination of micro and macro designs to create a highly realistic and effective camouflage. The micro designs are small and intricate, mimicking the details of the natural environment, such as leaves, branches, and twigs. The macro designs are larger and more abstract, creating a general pattern that blends into the overall environment. These two layers work together to create a highly effective camouflage that is difficult to detect even at close range.
The Importance of Camouflage in Hunting
Camouflage is a critical component of hunting. It's what allows you to blend in with your surroundings and stay hidden from your prey. Without the right camouflage, you'll stick out like a sore thumb and your prey will be able to detect you from a mile away.
That's why using a hunting vehicle with camo is such an advantage. It's much easier to conceal your movements and your equipment. You don't need to work so hard to find a hidden parking spot, or to construct a blind for your vehicle.
Also, hunters are outdoorspeople who love everything about the wilderness, including its fascinating and complex patterns. Almost all hunters say they love using camo-styled equipment. Camo makes them feel comfortable, energized, and inspired. Obviously, an inspired hunter is essential for a successful hunt, and a camo XTV will help them get there.
TrueTimber® Prairie camo is one of the most effective camouflage systems on the market today. It makes it easier for you to blend in and stay hidden. This means you can get closer to your prey without being detected, giving you a better chance of making a successful kill.
The Benefits of Using an Argo XTV for Hunting
One of the biggest benefits of using an Argo XTV for hunting is its mobility. "Go Anywhere" is the Argo mantra.
Unlike traditional ATVs or trucks, the Argo XTV can navigate through water, mud, and other difficult terrain with ease. This means you can get to your hunting spot faster and more efficiently, without having to worry about getting stuck or damaging your vehicle. In many cases you can also save yourself hours of walking and lugging heavy equipment by being able to drive closer to your destination, be that a secluded hunting spot, riverbank, or wilderness cabin.
Another benefit of the Argo XTV is its size. While an Argo has plenty of space for hunters and their gear, they are also more compact by design than a pickup truck. The most compact camo-styled Argo of all is the Frontier Scout 6×6, a six-wheeled XTV. Even the larger Huntmaster and Outfitter 8×8 models can maneuver through tight spaces and narrow trails that larger vehicles can't. This makes it easier to get to those hard-to-reach hunting spots where the big game is hiding. The low profile also helps to keep the vehicle concealed in tall grass or brush.
Most Argo XTV hunting models also feature powerful yet quiet engines, brush guards, equipment racks, and a front-mounted winch.
The camo designs used by Argo on their XTVs is durable and long-lasting. Unlike other camouflage systems that can fade or wear off over time, Argo's TrueTimber® Prairie finish holds up to the toughest conditions. This means you can rely on it season after season, without having to worry about it losing its effectiveness.
Argo + Camo: The Best Choice for Avid Hunters
If you're an avid hunter looking for a vehicle that can handle any terrain and help you blend in with your surroundings, look no further than an Argo XTV with TrueTimber® Camouflage.
With their powerful engines, advanced suspension systems, and versatile designs, Argo XTVs are the ultimate hunting vehicles. And with the added benefit of TrueTimber® Camouflage, you'll be able to get closer to your prey and make the hunting season successful year after year.
If you're interested in purchasing a camo-styled Argo XTV, your best bet is to contact Shank's Argo. As an authorized Argo XTV dealer, we have the expertise and experience to help you find the perfect vehicle for your hunting needs. We can also provide you with the accessories and maintenance you need to keep your Argo XTV running smoothly season after season.