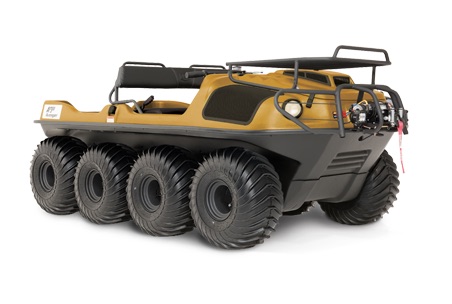 Need a commercial duty XTV with more passenger space than Argo's tuck-like Conquest series? The XT is Argo's commercial version of the Avenger 8×8, based around the same design as their Responder first aid XTV to provide seating for up to 6 people. This makes it a great choice for getting personnel to remote work sites, crossing sand, snow, mud and water with ease.
Performance
Argo knows these vehicles need to be relied on in a wide range of conditions, so they make sure every component to works perfectly in temperatures from -40 to 104°F. This starts with the engine, a 30 hp Kohler Aegis V-twin. It uses liquid cooling and has a closed loop fuel injection system to make it easy to start while ensuring consistent performance regardless of weather or elevation.
This powerplant is connected to Argo's advanced Admiral transmission. At its core, it's a CVT, but it has a selectable final drive with high and low modes. These gears are available in two ratios, standard, and high torque. Standard is designed for balanced performance with a top speed of 20 mph, while the high torque set uses a shorter ratio for more mechanical advantage and has a top speed of 17 mph. Once in water, top speed is limited to 3 mph by the paddling action of the tires. For faster water travel, a mount is available to add a sub-10 HP outboard motor.
The drivetrain provides constant power to all 8 wheels, while the giant, low-pressure tires reduce scrubbing, making it safe to drive on any surface. Shocks are absorbed by the tires instead of a long travel suspension system, giving the XT a low center of gravity for stability on steep inclines, and the massive contact patches of these tires decrease ground pressure to let the vehicle drive over marshes, sand, and snow.
The XT comes with a brake cooling fan to keep the steering brakes cool in high temperatures and severe climbs. An HD drive belt and auto chain lubrication are also included to reduce maintenance.
Cargo
The XT is built to haul both people and equipment. It can carry a payload of 950lbs. including up to 6 people on land and up to 800 lbs. and four people on water. That includes up to 50 lbs. that can be loaded on the front cargo rack, saving space in the main cargo area for passengers. A hitch is also included that can be used to pull trailers weighing up to 1,800 lbs. Argo makes amphibious trailers based on the same tire and hull design of their XTVs, letting them follow your vehicle anywhere. These can be used to carry bulk cargo or can be fitted with a mounting system to fit generators and other equipment so it can be used as a mobile workstation.
Equipment
Argo's XTVs come standard with a range of equipment that was once optional including an entry step, full-length skid plate, and bilge pump. Along with the cargo rack, Argo also includes a front brush guard with this model to protect the front end.
The XT comes fitted with a 3,500 lb. Warn winch which can be mounted to the front or to the trailer hitch, making it perfect for high angle extraction of equipment and personnel.
Colors
The Avenger 8×8 XT comes in Industrial Yellow.
When You Need an Off-Road Vehicle Your Business Can Rely On, Go to Shank's
Shank's Argo has over thirty years of experience helping professionals with their outdoor equipment. We can help you find the perfect XTV, outfit it for your needs and keep it running for years to come. To learn more about the Avenger 8×8 XT or anything else in Argo's lineup, visit our shop at 4900 Molly Pitcher Highway in Chambersburg, PA. To get here from I-81, take Exit 10 and drive East one mile. You can also schedule a demonstration at www.shanksargo.com.