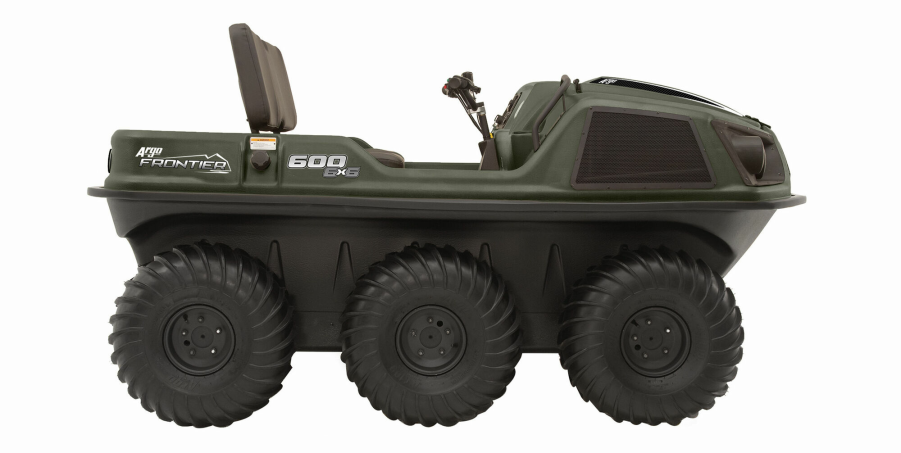 An Argo may seem like an exotic vehicle if you're used to ATVs and side-by-sides, but they can be surprisingly affordable. The 2021 Argo Frontier 600 and 650 6×6 both cost about the same as a small UTV or mid-range ATV, yet they're still as capable as other XTVs. That means you get a vehicle that travels through water like a boat and can climb steeper grades than any four wheel vehicle.
Performance
While other manufacturers use motorcycle-based engines, Argo sources their engines from industrial manufacturers for reliability. The 600 comes with an 18 HP V-Twin, while the 650 has a 25 HP V-Twin. Both engines use carburetors, but Argo tests them to ensure reliable operation at temperatures ranging between -40°F and 104°F. That means you can rely on them in any climate.
To save costs, this model comes with Argo's classic transmission. This gearbox has steering brakes that apply 100% force when used, instead of the gradual braking of the Admiral transmission. This makes operation similar to a skid steer, requiring turns to be taken in sections. The Frontier line now has Argo's APS steering system. This spring-base return system straightens the handlebars automatically when released. This makes the steering feel like you're driving an ATV, but with far better maneuverability. Shift into low gear, and the turning radius for this vehicle is smaller than its length. Top speed for these models is 22 MPH.
An Argo uses its giant tires as the suspension, keeping the center of gravity low. This gives them superior stability on steep slopes, so they can be operated safety without a ROPS. These tires combined with the body's sealed hull makes Argos buoyant. Once in the water, the tire treads paddle through water. That means you can cross any body of water without worrying about depth. Once the vehicle is amphibious, the Frontier 600 can reach a top speed of 3 MPH.
The Frontier 6×6 has 10 inches of ground clearance. While that's about average for a UTV, an XTV makes better use of this space. The giant tires roll over instead of into mud, snow and sand. This makes these vehicles harder to high side. The flat hull and lack of a spring-based suspension also means there's nothing hanging down to get caught on rocks and branches. A single skid plate protects the entire underside of this vehicle.
Cargo and Seating
These 6×6's have space to seat up to four people, thanks to a front bench seat and a pair of facing rear jump seats. The bottoms of the rear seats fold up, allowing the back section of the vehicle to be used for storage.
The Frontier 600 and 650 can carry up to 595 lbs. of people and cargo on land, and up to 395 lbs. on water. Both models can tow up to 1,200 lbs. These vehicles can tow normal trailers, or they can be used with Argo's amphibious trailers. They float like their XTVs, so they can be towed anywhere.
Colors
The Frontier 600 and 650 are available in Argo's trademark Tundra green, black and high visibility orange.
Are You Ready for Better Off-Road Performance?
If you're looking for performance you can't get from an ATV or UTV, visit Shank's Argo. We carry both enthusiast and commercial models, and we provide the parts and support you need to get the most from your vehicle. Our shop and showroom are at 4900 Molly Pitcher Highway in Chambersburg, PA. You can also browse our current inventory and schedule a demonstration at www.shanksargo.com.
Need parts or accessories for your amphibious ATV? We can ship what you need to any address in the U.S. or Canada. To order, visit our website.