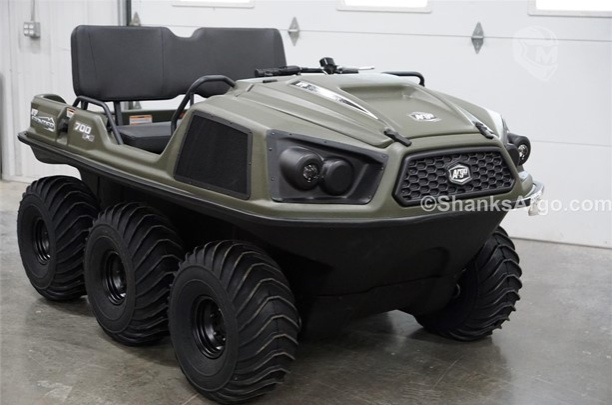 Argos are known for being big, capable vehicles that can tackle any terrain and even cross water like a boat. However, if maneuverability is your priority, you may want something smaller. That's why Argo makes the Frontier 700 6×6 and 6×6 Scout. They have all the features you expect from an Argo in a compact layout.
Power
The 700 series is powered by an industrial V-Twin engine equipped with EFI. This engine produces 23 HP. Since it's fuel injected, it uses less fuel than an engine with a carburetor, and it's easier to start in cold weather. Depending on your operating conditions, you can expect the 7.1 gallon fuel tank to keep the engine running for 7 to 12 hours.
These 6×6's come with Argo's classic transmission and APS. Turning the handlebars makes the transmission apply full braking force to the inside wheels to turn. This on-and-off steering requires some practice to get used to. However, experience ATV users will have little trouble making the switch thanks to APS. This system adds a spring return to the steering, automatically centering the bars like a rack steering system. The transmission uses the ST gearset, giving the 700 a top speed of 22 MPH.
The 700 comes with standard axle bearing extensions, so it's ready for track installation. Argo offers the same selection of 6 wheel tracks that they make for their 8x8s, including designs for snow, soft mud and pavement. This XTV has 10 inches ground clearance on tires, increasing to 11 inches with tracks installed.
The 700 6×6 is over two feet shorter than the 700 8×8. This gives it a turning circle that's approximately 20% smaller than an 8 wheel Argo.
Scout: A 700 Built for Hunting
The Frontier 700 Scout is the smallest in Argo's Huntmaster line. These vehicles come equipped from the factory with the accessories most requested by hunters. Up front, you'll find a Warn winch that can pull up to 2,500 lbs, and a brush guard protects the front end from branches and other obstacles. There's also a front rack that support up to 50 lbs. of cargo. This rack uses a new design that swings out of the way to allow the hood to open.
Cargo
The Frontier 700 6×6 can carry up to 570 lbs. including four people on land. In water, it can carry up to 370 lbs. including two people. The standard accessories on the Scout reduce payload capacity to 510 lbs. on land and 310 lbs. on water. Both vehicles have a 1,200 lb. towing capacity.
Colors
Argo partnered with Mossy Oak to bring their Break-Up Country and Shadow Grass camouflage patterns to the Huntmaster lineup. Break-Up Country uses photorealistic bark and leaf elements designed to blend into most forests. Shadow Grass uses a combination of marsh grasses and realistic shadows to blend into shorelines. Both patterns are effective at obliterating outlines. Since Mossy Oak's patterns are popular, it's easy to get matching equipment to fully blend into the environment. You can get either pattern on the Frontier 700 Scout.
The standard 700 comes in three solid colors: Tundra green, black and orange.
Looking for a Better Off-Roader?
If you're looking to make the jump to the ultimate all-terrain vehicle, visit Shank's Argo. We're a major Argo dealer with over 35 years of experience selling, upgrading and repairing outdoor equipment. We can help you find the right Argo, outfit it with accessories, and handle the repairs you need to keep your XTV running. Visit our shop at 4900 Molly Pitcher Highway in Chambersburg, PA, or check out our current stock at www.shanksargo.com. Need parts or accessories for your amphibious ATV? We can ship what you need to any address in the United States or Canada.