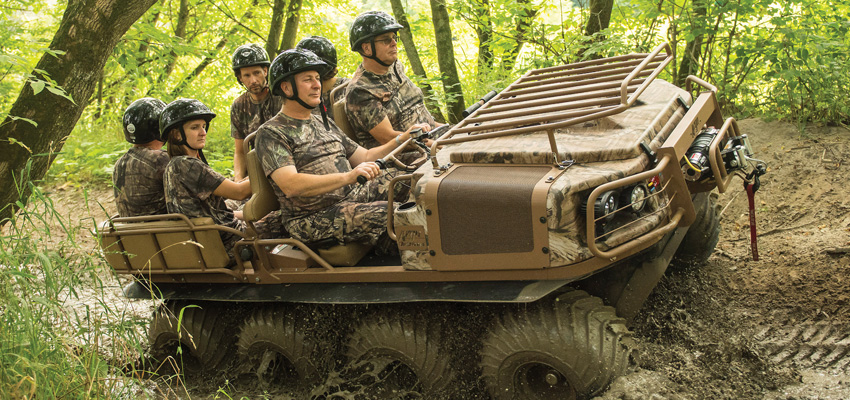 ARGO has been a steady provider of high-quality extreme terrain vehicles for customers for several years. They focus on offering their clients systems that can work in all environments, and they pride themselves on their attention to detail when it comes to creating a high-functioning vehicle. Their XTVs can provide users with a variety of advantages, and if you aren't sure whether or not you need to utilize their equipment for your next major project, think about some of these reasons to invest in high quality ARGO XTV options. With these options, you are sure to enjoy a higher degree of quality and versatility.
1) Powerful Transmission
One of the first advantages that come with ARGO XTVs is the all-new triple-differential ADMIRAL system. These have independent steering brakes that allow users to optimize their steering and enjoy a greater degree of safety on any job-site. Tactical use of the steering options can allow drivers to protect their vehicles and their projects from unwanted accidents and difficult maneuvering situations.
2) Steering Efficiency
Because the system provides users with quality steering efficiency, all drivers can look forward to maneuverability in any terrain. The optimal steering efficiency that comes with the vehicles means that drivers can apply their vehicles to different situations without having to worry about stopping for debris. It can provide users with the movement they need for dangerous and difficult jobs, such as working on construction sites and amphibious applications.
3) Better Fuel Economy
Through the use of rail fuel injection, drivers can look forward to a much more efficient fuel economy option. This means that by investing in a specialized option, drivers can actually save on the future of their vehicles, especially if they're planning on using their vehicles for the long-term. The better fuel economy also means that the engine has a lower risk of gumming up from constant strain, making it ideal for heavy-duty jobs and all types of terrains.
4) Reliable Starting in all Weather
The vehicle will not bog down no matter where it's used. This means that drivers can look forward to an efficient driving and starting process in any environment. All that drivers need to do is look through the system's applications and start moving through their environment as necessary for the task. The different types of equipment can also provide drivers with different starting advantages based on the area and local weather.
5) Accessory and Storage Capacity
The larger rear area allows drivers to enjoy a much higher cargo capacity that what other systems may be able to provide. This means that drivers can plan ahead for their storage needs by utilizing the tremendous space and applying modular accessories as necessary for an easy change-over from job to job. The ARGO XTVs are ideal not only for their versatility in any job, but also in the way that they are easy to apply to all environments.
6) Optimal Stability
From the large engine components to the massive wheel base, the XTVs are meant for stability and control in any and all environments. The oil-bath drive axles also support taper roller bearings, which means that drivers don't have to worry about potential driving difficulties with their vehicles. All of the motions are smooth and commanding in any environment.
7) Different Options
Drivers can also choose from a variety of versatile options for their XTV needs. They can choose from winter models to wilderness ones. There are also industrial models designed for specific jobs, such as lineman XTVs and optimal amphibious ones to aid in just about any vital task. Drivers can choose according to their needs or apply accessories to optimize the way they use their vehicles.