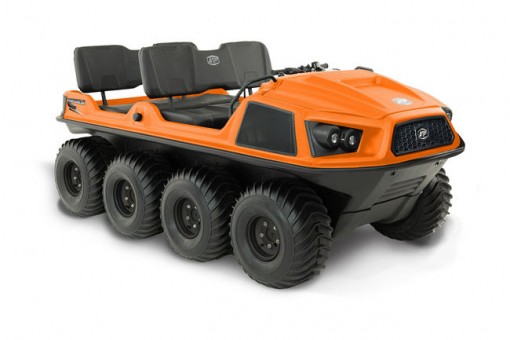 In the past, Argo ATVs have had a wide range of accessories to fit every need, but what about the new Aurora? While it will take some time for the company to roll out compatible versions of all their add-ons, there are still plenty of ways you can outfit your XTV to get better performance, make rides more comfortable and even add some utility.
Tracks – While Argo offers several track designs for older models, they currently only offer rubber tracks for the Aurora. Instead of using extensions like other models, the wheels on Aurora XTVs are mounted to disks that are offset from the center of the rim. These disks need to be flipped around to extend the wheel mounting points. This provides more space between the wheel and hull to allow adequate space for tracks.
When tracks are installed, the vehicle can no longer propel itself in the water. However, the Aurora can still be used in water if you add an outboard motor.
Offset Outboard Motor Bracket – This bracket bolts directly to the frame on the rear right side of the Aurora. It can support a motor with less than 10 HP, increasing speed in water and allowing the vehicle to propel itself when tracks are installed. The motor should be removed when on land to prevent it from catching on the terrain.
Mud flaps – These are designed to deflect snow and mud thrown up by the tracks.
Winch – If you have an Aurora 800, you can add the same Warn winch that comes with other Aurora models. This winch is built for vehicle recovery and to control the height of the snow blade. It's rated to pull up to 3,500 lbs, and has a freewheeling mode, allowing the cable to be pulled out without using the motor.
Snow plow – This 81-inch wide plow mounts directly to the front axle and uses the winch to raise and lower the blade. It can clear snow at speeds up to 5 mph.
Handrail – These wrap around the rear of the vehicle, providing a hand-hold for rear passengers or a tie-down point for securing cargo.
Cargo Tie Downs – These rings mount to the hull next to the cargo area, giving you a place to attach rope and bungee cords to secure cargo.
Tow hook – The hook kit can be bolted to the front or rear of the body, providing a place to winch the Aurora or tie it down during transport.
Windshield – This 24 x 48 laminated safety glass windshield protects passengers from wind and precipitation. It can be folded down over the hood when not in use.
Convertible top – This top has a roof and removable side doors, letting you choose between having sun protection or a fully enclosed cabin. The top must be installed with the windshield, as the windshield frame provides the support for the front of the top.
Amphibious trailer – Available in four and 8 wheel versions, these trailers use the same hull and tire design as an XTV, so they have no problem crossing soft terrain and floating in water. The four-wheel trailer can carry up to 400 lbs, while the 8 wheel trailer carries up to 1,300 lbs. The hitch has a wide range of motion to handle steep transitions.
Heater – This accessory uses a heater core that taps into the engine's cooling system, just like an automotive heater. It uses a two-speed fan to deliver heat to the cabin. Since it depends on engine coolant, this accessory is not compatible with the air-cooled 950 SX.
Roll Over Protection System (ROPS) – A ROPS provides rollover protection to all passengers, so long as they're wearing seatbelts. However, it also makes the vehicle more top-heavy, so it's more likely to tip on land and in water. A ROPS may be required to meet workplace safety regulations
Brushguard – Like the winch, the brushguard comes standard on all models except the 800. This kit shields the winch and headlights from brush on heavily-wooded trails. A separate mounting kit is required if the vehicle doesn't have a winch.
Need Something for Your Aurora?
Shank's Argo is a major Argo dealer with decades of experience selling and servicing outdoor equipment. That means we're able to offer the service and support you need, whether you use your XTV for work or fun. If you're thinking about becoming an XTV owner, or want to get more out of your current vehicle, visit us at 4900 Molly Pitcher Highway, Chambersburg, PA. To get here, take Exit 10 from I-81 and drive East one mile. To schedule a test drive, contact us at www.shanksargo.com.