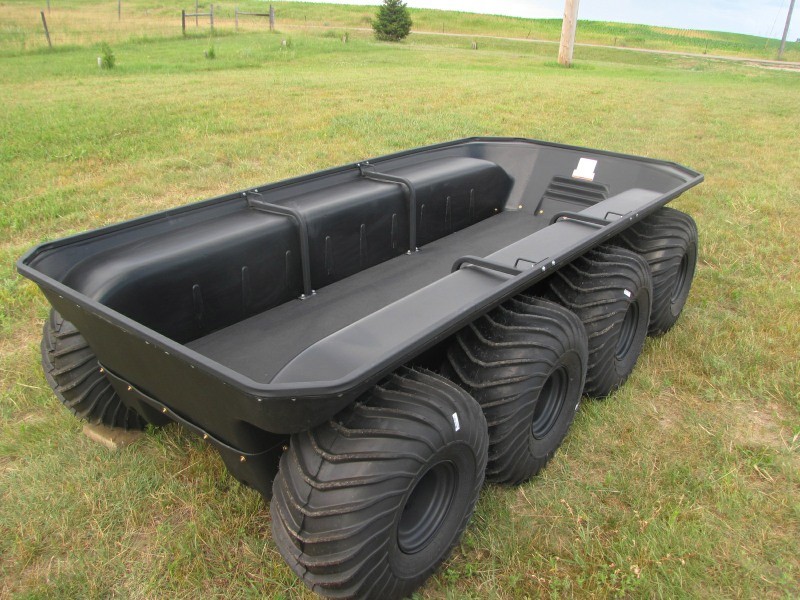 Do you need to carry more cargo and equipment with you? Wish you could use your XTV's trailer hitch without hindering its off-road and amphibious capabilities? Fortunately, you can expand your vehicle's hauling capabilities without compromise thanks to Argo's line of amphibious trailers. They're built like their amphibious ATVs, so they can go anywhere your Argo can go, and they can even use the same track systems. Here's what you need to know to pick the right trailer and use it with your Argo.
Which Trailer Do I Need?
Argo makes two models: one with four wheels and one with 8 wheels. A fully-loaded four-wheel trailer is well within the towing limit of all Argos, including the six-wheel Frontier. Unless you have a Conquest, you won't be able to use the full load capacity of the eight-wheel trailer. However, there's more that separates these models than just size.
Four-Wheel Trailer
This trailer weighs 400 lbs. with 24 inch tires, or 456 lbs. with 25-inch tires installed. It can carry up to 600 lbs. The bed interior is 29.5 inches wide and 75 inches long. That's a total of 2,212.5 square inches of space. There are no side support rails, so tie-down points are limited.
Eight Wheel Trailer
This trailer weighs 740 lbs. The bed measures 27.5 inches by 98 inches, which gives you a total of 2,695 square inches of bed space. That's only 22% more room than the four-wheel trailer, and the space is also narrower. Why? Argo adds metal bracing to increase payload and make it compatible with some accessories. With the right tow vehicle, it can carry 1,300 lbs. These braces have loops to use as tie-down points for ropes, straps, and tarps.
If you plan on using your trailer to carry a specific set of equipment, you may want to add the universal mount system. This adds a pair of frame-mounted steel rails with mounting holes to attach large equipment permanently. This makes it easy to mount a spray tank, generator, welder or toolbox. These rails support up to 550 lbs.
Looking to cover rough, rocky terrain? The skid plate uses the same design as the one on your XTV, covering the entire bottom of the hull with a sheet of steel.
What Do I Need to Tow These Trailers?
Your XTV needs a 2-inch hitch receiver. This hitch is standard on most models, but you'll need to add one if you have an early Frontier or Vanguard. Argo makes a hitch kit with all the hardware needed for installation. To connect the trailer, you'll need to add a swivel hitch adapter. This pin hitch has added articulation, letting the trailer tilt left and right. This keeps the hitch from binding when driving on uneven terrain.
Using an Amphibious Trailer
While you may vary your amphibious ATV's tire pressure to match terrain conditions, the tires on a trailer should always be kept at 4 psi.
There are two drain plugs at the bottom rear of the hull. These work just like the ones on your Argo. These should be kept closed during normal operation. If the trailer took on water during amphibious operation, open them to drain the hull once you're back on land.
The axles are also identical to the ones in your XTV, minus the drive system. That means the bearings and seals need to be inspected and regreased periodically to prevent leaks.
The fenders are only there to deflect mud and water. Load cargo directly onto the metal plate in the base of the bed, or bolt it to the optional universal mount. While on land, these amphibious trailers should be loaded like any other trailer: keeping the weight low and forward improves stability. If you need to cross water, loading the weight near the center of the trailer will help it float level in the water.
Take it easy when braking during steep hill descents. A sudden stop may cause the trailer to run ahead of your XTV. This can cause jackknifing, or even flip both the trailer and the tow vehicle.
We're Your Source for Everything Argo
Shank's Argo is a major Argo dealer with 35 years of experience in outdoor equipment. We can set you up with the vehicle and accessories you need, whether you want an amphibious ATV for work or fun. We also repair Argos as well as the Kohler and Vanguard engines that power them. Our showroom is at 4900 Molly Pitcher Highway in Chambersburg, PA. You can also check out our current inventory of XTVs and trailers at www.shanksargo.com.
Need parts or accessories, but can't bring in your Argo? We ship across the United States and Canada. To order, visit our website.