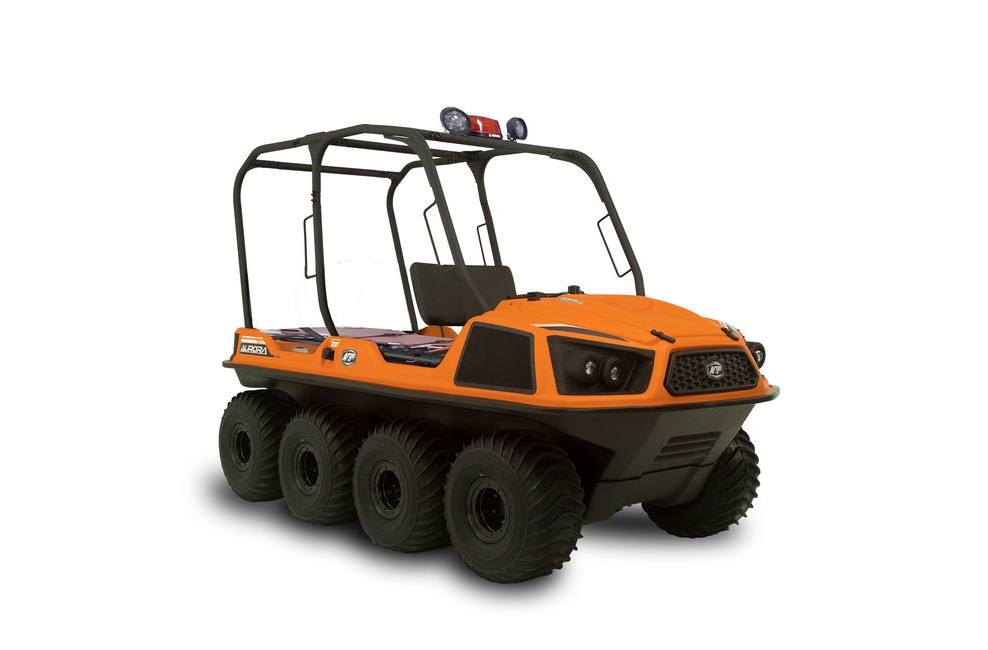 The Responder series is used around the world for emergency response and search and rescue operations because it works in places other vehicles can't reach. Early next year, Argo is introducing their newest version of the Responder, the Aurora 850 Responder-R. Thanks to a new platform, it's easier to use and more comfortable for rescuers and patients alike.
Why Argo?
With the weight of the vehicle spread over 8 giant tires, a Responder has low ground pressure, letting it roll over soft ground that other vehicles get stuck in. Add a set of tracks, and ground pressure drops to well below 1 psi. This prevents the vehicle from disturbing ecologically sensitive areas, and it has no problem driving on top of snow and loose mud. This makes the Argo a perfect fit for mountain patrols, beaches, and festivals.
There's no vehicle that's a better fit for natural disasters. Measuring 119 inches long, 60 inches wide and 77 inches tall, this vehicle can get closer to incident sites than any other emergency vehicle. Dealing with flooding? XTVs are amphibious, so you can drive in and out of water.
Do you operate in forests or other remote areas? Argo builds its amphibious ATVs to reliably handle a wide range of terrain and weather conditions. While other manufacturers use light-duty components borrowed from motorcycles, Argo uses only commercial quality components.
Roomier and Easier to Operate
Switching from the Conquest to the Aurora design brings with it major improvements in comfort and usability.
The Aurora's new cab has a high mounted digital display and dash-mounted shifter, increasing front seating room by 20% compared to the outgoing Responder. The controls are now on the left side of the vehicle, giving the driver better sightlines when driving on roads.
The Aurora comes with Argo Progressive Steering (APS). It adds a spring return system to the handlebars, giving the steering a more natural feel and removing any jerkiness. The result is a steering system that feels like driving a power-assisted ATV while retaining the sharp turning ability of Argo's skid steering system.
If you want the ultimate in ground traction, you'll want to add some tracks. This is easier than ever thanks to new offset steel rims and standard bearing extensions. No extra hardware is required to add tracks: just unbolt the rims, flip them around so they extend away from the vehicle, and attach the tracks. The wheels have beadlock rims, which makes it possible to run very low tire pressures without worrying about the tire rolling off of the rim. This improves traction and makes a huge impact on ride comfort.
Power comes from a Briggs & Stratton Vanguard EFI engine making 33 HP. It's fitted with a 50 amp alternator to power lighting and accessories. The Responder uses an Admiral ST transmission that gives this vehicle a top speed of 24 mph on land. In the water, the paddling action of the tires can push the vehicle up to 3 MPH. A heavy-duty drive belt and full underbody skid plate come standard.
New this year is the inclusion of a ROPS, protecting the passengers in a rollover and providing a mounting point for lights, a windshield, and a cab enclosure. The Responder also comes with a built-in rear-loading stretcher frame designed to work with an included Ferno #9 stretcher.
The Responder-R can carry up to 785 lbs. including 6 people on land and up to 485 lbs. and four people over water. However, deploying the stretcher covers the right side seats, reducing seating capacity to three people plus the patient on both land and water. Towing capacity is 1,800 lbs.
Accessories
The Ferno stretcher can be paired with a head immobilizer to protect patients with possible spine injuries. For helicopter evac, Ferno makes a stretcher basket that fits the Argo's mounts.
Several lighting and siren options are available including work lights and strobe lights. These can be added to the ROPS or to an optional brush guard and winch mount.
There has been no word on whether or not Argo will offer a drop-in fire suppression system like they sold for earlier Responders.
Warranty
Argo guarantees the chassis and transmission for one year, and they offer an extended warranty for up to three years. Briggs & Stratton guarantees the Vanguard engine for two years.
For Work or Play, Come See Shank's Argo for Your XTV Needs
Shank's Argo is one of the largest amphibious ATV dealers in the East. That means we don't just sell these vehicles, we provide the parts and support you need to get the most from them. Visit our showroom at 4900 Molly Pitcher Highway in Chambersburg, PA. You can also see our current stock and schedule a demonstration at our website, www.shanksargo.com.