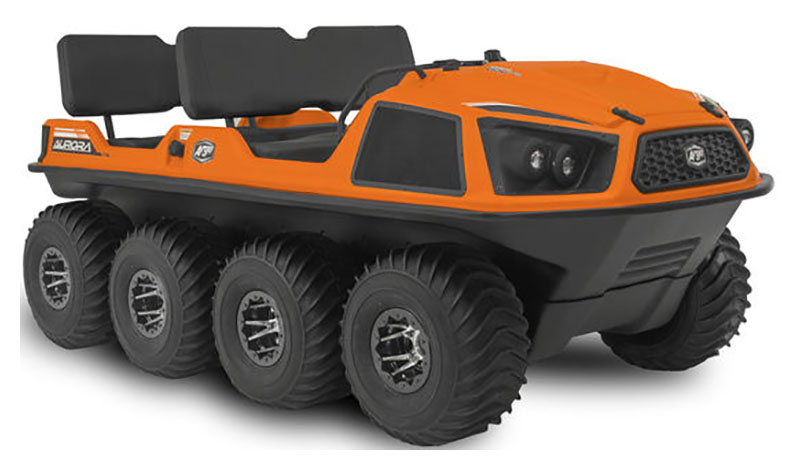 Last year's Aurora 800 was a major leap for Argo. It introduced an all-new design addressing customer requests for an easier-to-use, more comfortable off-roader. For 2020, they revamped the lineup, adding more options to fit the needs of their customers. That includes seating options, a factory ROPS and a model for first responders.
Built for Customer Demands
When Argo designed the Aurora, they added the three features most requested by owners: better control, better visibility and more space:
– The Argo Progressive Steering (APS) system uses a spring-loaded steering shaft that removes the jerkiness of earlier Argo steering systems. This makes it easy for experienced operators to perform precision maneuvers, while new owners find it easier to learn due to its similarities to ATV steering.
– The controls are now on the left side of the vehicle for better visibility while driving on roads.
– The redesigned cab has a flat floor and console-mounted shift lever, increasing passenger space by 20%.
Improved Power and Ground Clearance
Power comes from a modified 33 HP Vanguard small-block EFI V-Twin. By itself, this commercial equipment engine has proven to be a reliable option with low operating costs. Better filtration and a quieter muffler make it better suited for vehicle duty. Argo offers all Auroras with a choice of an ST transmission that can propel the vehicle to 24 MPH, or the lower-geared HT transmission that tops out at 18 MPH while delivering more torque. The paddling action of the tires pushes the vehicle through water at 3 MPH.
Ground clearance is slightly better than other Argo models at 10 inches, increasing to 11 inches with tracks. On paper, that's about average for sport UTVs. In the real world, these amphibious ATVs can outperform side-by-sides with long-travel suspensions. Ground pressure is extremely low at 1.7 psi on the stock tires and 0.88 psi with tracks installed. This lets the vehicle drive on top of snow, sand, and mud, instead of digging in.
All Aurora 850 models can tow up to 1,800 lbs. Argo makes amphibious trailers that can follow their XTVs across land and water, so you can tow tools and materials almost anywhere.
Models
Aurora 850 SX
The most basic model in the lineup, this XTV can carry 1,100 lbs. and 6 people on land, and 800 lbs. with up to 4 people on water.
Aurora 850 SX HuntMaster
Starting with the 850 SX, Argo added popular equipment to turn this amphibious ATV into the perfect hunting vehicle. This includes a front winch rated at 3,500 lbs. and a front rack that adds extra cargo space. The added weight of this equipment reduces cargo capacity to 1,000 lbs. on land and 700 lbs. on water.
Argo partnered with Mossy Oak to bring two of their camouflage patterns to the HuntMaster lineup:
Breakup Country and Shadow Grass Blades. Breakup Country combines leaf and bark photos to create a pattern that blends in with most forests while obliterating outlines. This makes it the best choice for general outdoor use. Shadow Grass Blades mixes coastal grasses with realistic shadows to do the same near ponds and lakes. This makes it a great choice for hunting waterfowl.
Aurora 850 SX-R
If you want maximum comfort, you need an SX-R. It has forward-facing seating for all passengers, increasing rear passenger space and comfort. This vehicle only seats 4 people, but it can carry them on land and water. A standard ROPS cage protects you when challenging extreme terrain, and it gives you a place to mount a windshield and top for weather protection. This XTV can carry 870 lbs. on land and 570 lbs. on water.
Aurora 850 Responder-R
Around the world, the Argo Responder is the first choice of emergency services who work in rural areas or have to deal with areas wracked by flooding and other natural disasters. Thanks to its small footprint and unparalleled off-road and amphibious capabilities, it can get closer to victims than other vehicles, saving precious time during rescues. This updated version is built on the SX-R, so it comes with forward-facing seats and a ROPS.
The Responder-R comes with rails that hold a #9 stretcher. When deployed, this stretcher sits over the right-hand seats, limiting seating capacity to two people plus one patient. Lighting and other accessories are available to tailor this vehicle to your agency's needs.
The payload capacity for this model is 785 lbs. on land and 485 lbs. on water. It's available in bright orange and red for visibility.
Want the Ultimate Amphibious Off-Roader? Visit Shank's.
Shank's Argo is one of the largest dealers in this part of the country. We keep a variety of models in stock, and our large service department and parts warehouse help us keep your vehicle running. If an Aurora sounds right for you, or you need parts, accessories or service for your Argo, visit us at 4900 Molly Pitcher Highway in Chambersburg, PA. You can also check our current stock or schedule a demonstration, at www.shanksargo.com.