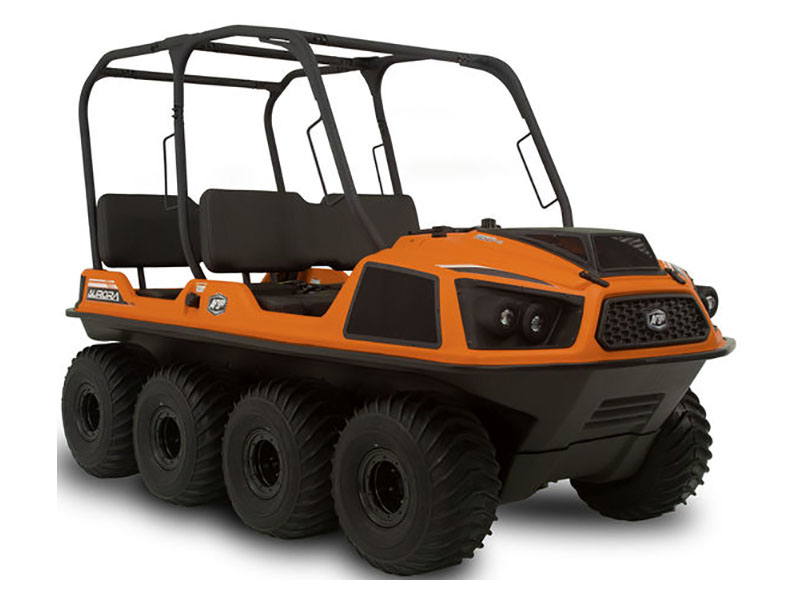 Last year, Argo introduced the new Aurora series, and with it the 950, a model with the most powerful engine ever offered in their XTVs. Now that single Aurora 950 has expanded to its own line of models, offering ample power and Argo's latest technology along with options for hunting, mudding, and comfort.
More Power and Better Handling
Every version of the 950 is fitted with a 40 HP Vanguard Big Block engine. This is the most powerful engine of its kind on the market today. Built for extreme reliability and low-end torque, the Big Block is usually seen in large mowers, debris loaders, and other commercial and municipal-grade equipment. EFI reduces fuel consumption and ensures easy starts in all weather conditions.
The engine sends power to the wheels via an Admiral transmission. Together with Argo Progressive Steering (APS), this drivetrain offers smooth, precise control while still retaining an all-time 8 wheel drive and an extremely tight turning circle. Argo offers the 950 with a choice of ST gearing, topping out at 25 mph, or HT gearing, which limits the vehicle to 18 MPH while offering more torque. A heavy-duty drive belt comes standard.
More Comfort
This year, Argo is introducing steel AirLock beadlock wheels. These clamp the beads to the rim, allowing the tires to run at lower pressures for better traction and an improved ride. This change alone reduces the vibrations reaching the cabin by 30%.
The Aurora's cab increases front legroom and moves the driver controls to the left side of the vehicle for better visibility on-road. Argo offers the 950 with a choice of seats. Rear jump seats offer maximum space, letting the amphibious ATV carry up to 6 people on land or 4 on water. Choose the front-facing seat in the SX-R, and rear passenger will be more comfortable, but total capacity drops to 4 people on land. All models can tow up to 1,800 lbs. Add an amphibious trailer, and you can take your cargo across any terrain or water your XTV can tackle.
Argo now makes four versions of the Aurora 950 to fit the needs of different users:
950 SX
This model carries over from last year unchanged, aside from the switch to rear jump seats.
It can carry up to 1,090 lbs. on land and 790 lbs. on water.
950 SX Huntmaster
Starting with an SX, Argo adds a winch rated at 3,500 lbs. and a front cargo rack for extra storage space. It comes in two of Mossy Oak's most popular camo patterns: Shadow Grass Blades and Break Out Country. This lets you choose between a design that blends in with coastal grasses or one that obliterates outlines when used in forests. Either way, the popularity of Mossy Oak makes it easy to match your equipment to blend in with your vehicle.
The Huntmaster can carry up to 990 lbs. on land and 690 lbs. on water.
950 SX-R
This comfort-oriented model comes with a pair of forward-facing bench seats, making rear passengers more comfortable. This limits seating capacity to 4 people. The SX-R also comes with a full roll-over protection system (ROPS) that has integrated handles, making it easier to get in and out of the vehicle. The ROPS also acts as a support for accessories including a windshield and convertible top, letting you add weather protection. This amphibious ATV can carry up to 850 lbs. on land and 550 lbs. on water.
950 Bigfoot MX8
Last year, Argo introduced a new tire designed for maximum traction on mud, sacrificing amphibious abilities. This was paired with two vehicles based on the Avenger platform. This year, Argo revised the tire design and the vehicle, creating a new amphibious, Aurora-based Bigfoot.
Thanks to the new design, the tires still claw through mud, but they also paddle through water like Argo's standard tires. This makes the Bigfoot perfect for bogs, swamps and anywhere you have to deal with soggy ground.
While the old Bigfoot was available with 6 or 8 wheels, the Bigfoot 950 is only offered with an 8 wheel chassis. This XTV can carry up to 1,070 lbs. on water and 770 lbs. on land. It's only available with the ST transmission.
When You Think "Argo," Think "Shank's Argo"
Shank's one of the largest dealers in the East, which means we have the service and support you need to get the most out of these unique vehicles. We can help you find the right XTV for your needs, install the accessories you want, and perform the repairs and maintenance you need to keep it running. Check out what we have in stock at www.shanksargo.com, or come visit our showroom at 4900 Molly Pitcher Highway in Chambersburg, PA.