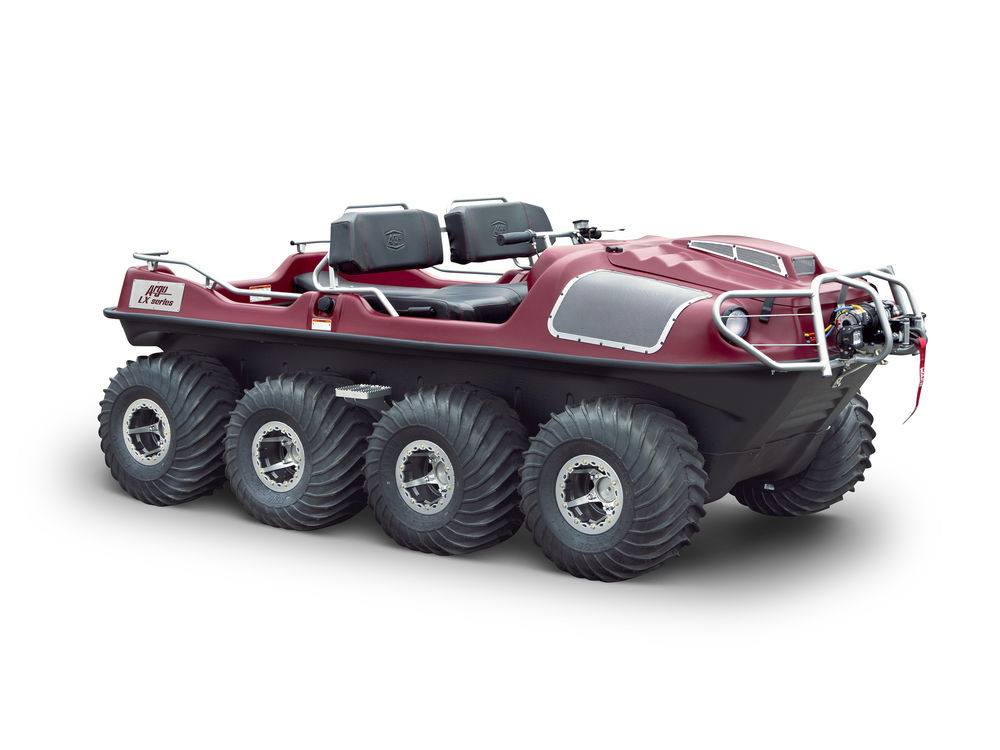 Nature is full of wild animals and beautiful vistas, but it also lacks some of the comforts we're accustomed to at home. The Avenger 8×8 LX makes getting out into the wilderness less of a trial with features that make it easy to use, easy to ride in, and even easy to care for.
Power and Performance
At the heart of the LX is a Kohler Aegis ELH775 engine. This 30 hp commercial quality engine is liquid cooled and uses fuel injection to provide excellent fuel economy and easy starting in any weather.
Power is transferred to the wheels by Argo's Admiral transmission. Argo's vehicles steer by braking the inside wheels, and with the Admiral, that braking force can be varied to make fluid turns like a standard ATV. It even uses a set of ATV-style handlebars, making it simple to learn to drive. A brake cooling fan and a heavy duty drive belt ensure reliable performance.
The 8×8 LX uses HS gearing for a top speed of 25 mph (40 km/h,) making it among the fastest models available. This XTV has a 1,000 lb. (454 kg) load capacity on land and can carry up to 6 passengers. Transition to water, and the vehicle can carry up to four passengers while hauling a total of 850 lbs. (386 kg) of people and equipment.
Water travel is achieved directly by the wheels, using the paddle-like treads to push the vehicle to speeds up to 3 mph (5 km/h.) Since there's no separate drive system to deal with, the vehicle can drive into and out of water with ease. Need to cross a muddy area? The giant tires spread out the weight of the XTV so it glides across soft surfaces instead of getting bogged down.
Equipment
The "LX" stands for luxury, so it should be no surprise that Argo includes a lot of extra equipment with this XTV.
Argo's premium seats add some height to the backs for all day comfort, while dual side entry steps and handrails make entering and exiting the vehicle easier. Aluminum beadlock rims clamp down on the tires so they can't roll off the rim, even when running extremely low tire pressures.
Hate getting stuck? This model comes with a front-mounted Warn winch that can pull up to 3,500 lbs. (1,600 kg.) Worried about banging up your XTV? A full length skid plate and brush guard come standard. Don't want to get wet? The hull design deflects most water thrown up by the tires, while a bilge pump deals with any water that gets inside the hull.
Exclusive to this model is a Jensen four channel 40 Watt audio system with marine-duty speakers in the front and back. This system has a USB port and Bluetooth connectivity so you can bring your music with you or stream directly from your smartphone.
Colors
Argo offers the LX in three exclusive colors: Cranberry Wine, Silver Shadow, and Sunset Magic. That's maroon, silver, and orange respectively.
Accessories
By using a liquid-cooled motor, Argo is able to offer a heater with both side and defrost vents to keep you and your passengers comfortable on long winter excursions. Add a convertible top and a windshield to enclose the cab, and you can make even the coldest weather easy to deal with. Want to move faster over water? There's even a mount for an outboard motor.
When you really want to get away from home without feeling like you've left the comforts of home, you need an Avenger 8×8 LX. It has the features to keep you comfortable out on the trail and the equipment to keep headaches to a minimum so you can make the most of every adventure.