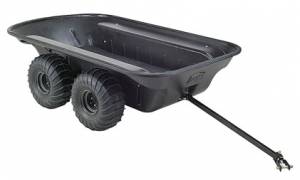 Argo's Conquest XTVs have become a favorite of line workers, miners, and the oil industry because these vehicles can deliver equipment to the most remote work site. While capable straight from the factory, there are many ways you can expand your Conquest's usefulness from reconfiguring the rear cargo area for specific tasks to adding a trailer that can keep up with your vehicle's off-road and amphibious capabilities.
Amphibious Trailer
The Conquest has the highest towing capacity of any XTV, and with these amphibious trailers, you can put that ability to use on land and water. These trailers use the same wheels, tires and hull construction as the Conquest, so they can go anywhere your vehicle can go.
Argo offers two versions of this trailer: an 8 wheel model that can carry up to 1,400 lbs. and a smaller four-wheel trailer that can carry up to 600 lbs.
Universal Mounting System
Keep large, heavy equipment secure by adding these metal rails to the cargo area of your Conquest or to an 8×8 amphibious trailer. Multiple mounting holes provide the flexibility to fit anything from workbenches to welders.
The rear cargo rails can support as much as 750 lbs, while the trailer rails can carry a maximum of 550 lbs.
Rear Seat
Need to take more people with you? This bench seat is designed to fit over the Conquest's cargo area, providing seating for two more passengers. The mounts can be locked an unlocked from the vehicle, letting you quickly remove the seat when you need maximum cargo space.
Dump Box
This steel box fits over your Conquest's cargo area, letting you carry up to 1,000 lbs. (450 kg) of gravel, dirt and other loose materials. The box is lifted using a manual 14-inch stroke actuator mounted on the driver's side of the cab.
This accessory is not intended for amphibious use.
Flatbed Deck
Need a larger storage space that can be accessed without stooping? This steel deck fits over the cargo area, but still allows storage through a hatch built into the floor. The deck comes with four tie-down points to secure equipment, or it can be fitted with stake sides to create a large cargo box.
Storage Tote
Keep your tools safe and easy to access with this 38-gallon tote. This waterproof composite box mounts over the front of the cargo area and comes with straps to keep it secure in transit. Once you're at the work site, the handles and wheels make it easy to maneuver into place.
Utility Pouch
Strap a set of nylon pouches to the back of your Conquest's seat to provide a place to store small objects.
Get the Utility You Need for Your Conquest with Help from Shank's Argo
We're not just a major Argo dealer, we've spent over 30 years helping everyone from homeowners to companies with their outdoor equipment, so we understand your needs. To see how these accessories can be used to adapt your Conquest to fit your job requirement, visit us at our showroom at 4900 Molly Pitcher Highway in Chambersburg, PA. To get here, take Exit 10 to Marion from Interstate 81 and drive one mile East. Visit our website for more information at www.shanksargo.com.