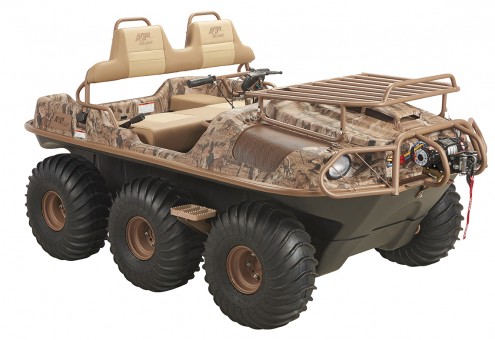 Half the challenge when fishing and hunting is finding your quarry. However, there is a way to make the chase a little easier: Argo's Frontier 6×6 Scout ST. The combination of Argo's advanced Admiral transmission along with standard equipment built for hunting trips and unparalleled off-road and water capability make it the perfect companion when you're stalking your prey.
Performance
The engine at the front of the ST is a Kohler Command Pro that produces 23 hp. The onboard fuel tank stores enough fuel for up to 8 hours of operation.
The ST is equipped with an Admiral transmission with standard gearing for a top speed of 22 mph (35 km/h.) This transmission delivers equal torque to each wheel and it can reduce wheel speed in stages for turning, making its handling characteristics closer to that of a UTV or ATV without having to resort to a steering rack. This keeps construction simple for reliability and reduces scrubbing to protect the soil.
The engine is fuel injected for easy starts in cold weather, and both the motor and transmission are built with a wide range of conditions in mind. The operating range for this vehicle is -40 to 104 degrees F (-40 to 40 degrees C,) and if you need to work in hotter temperatures, additional cooling can be added.
The 6×6 Scout ST uses 6 massive tires that act as a suspension system. Their unique paddle-like tread design can propel the vehicle to speeds up to 3 mph (5 km/h) while in water. On land, the wide contact patch spreads out the load, letting the vehicle drive over soft surfaces like mud and snow that are often inaccessible to a UTV.
Cargo and Seating
The 6×6 Scout ST is designed to carry two passengers, while the area behind the seats can hold up to 140 lbs. (64 kg.) It has a maximum payload of 530 lbs. (240 kg) on land and 330 lbs. (150 kg) on water. Towing capacity is 1,200 lbs. (544 kg,) while the Warn winch mounted on the front of this model can handle loads up to 3,500 lbs. (1,587 kg.)
Dry weight for this vehicle is 990 lbs. (449 kg.) With the included equipment, it measures just 102 x 58 x 52.5 inches (2,591 x 1,473 x 1163 mm.) A ROPS isn't even needed because the low center of gravity makes it far less likely to top than a UTV or ATV.
Equipment
Along with the winch, this model includes brake and tail lights, a front-mounted cargo rack, and a brush guard. A single skid plate stretches from bow to stern, protecting the hull.
If you're looking into getting a Scout ST, you'll probably want one of two accessories to best fit your usage:
For hunters, Argo makes a rubber-isolated gun rack that mounts in the rear cargo area.
For fishermen, there's a mount that lets you use a sub-10 hp outboard motor to travel faster over water.
Colors
The Frontier 6×6 Scout ST's hull comes exclusively in Mossy Oak's Infinity camo pattern. The rest of the vehicle, including the wheels and cargo rack, is painted tan to blend in with this pattern.
Want to Know More?
If you're looking to buy a Frontier 6×6 Scout ST, talk to the experts at Shank's Argo. Our shop is at 4900 Molly Pitcher Highway in Chambersburg, PA. That's just off Route 11, or if you're driving in from I-81, you can take Exit 10 to Marion.
Already own an Argo? We can ship the parts and accessories you need for your XTV, no matter where you are in the U.S. Visit our website at www.shanksargo.com.