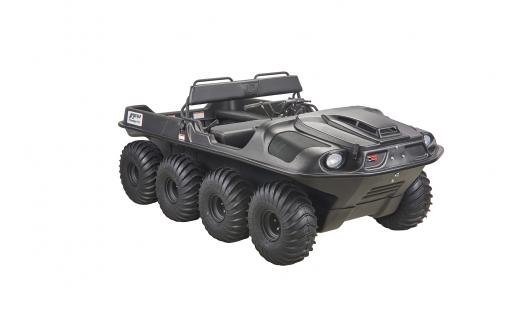 There are UTVs, and then there are Argo XTVs. "Xtreme Terrain Vehicle" may sound cliché, but while a regular UTV will cross rough terrain, the boat-like body and massive fin-treaded tires of Argo's vehicles let them ford rivers and cross lakes as easily as they roll down dirt paths, making them true "all terrain" vehicles.
The Frontier 8×8 range is designed to offer maximum passenger and cargo capacity at the lowest price. These XTVs have seating for six people, but for balance reasons are limited to four passengers when crossing water.
Frontier 8×8 S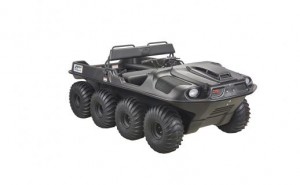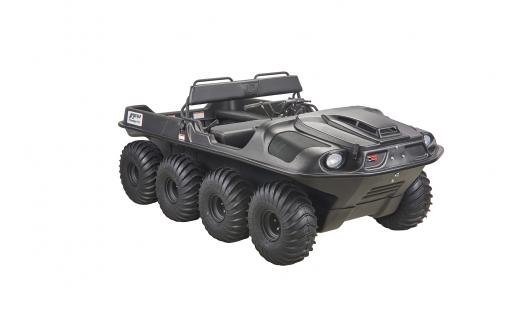 The most basic model of Frontier 8×8 is powered by a 23 hp liquid-cooled Kohler V-Twin. The S is offered with the High Torque transmission which tops out at 17 mph (27 km/h) on land and the standard transmission which has a top speed of 20 mph (32 km/h.) On water, this XTV can reach 3 MPH (5 km/h.) Both transmissions have high/low gearboxes, letting you shift down for tight maneuvers and unusually steep terrain. This engine and powertrain are designed to operate at temperatures ranging from -40 to 104°F (-40 to 40°C,) and the 7.1 gallon (27 liter) fuel tank holds enough gas to operate continually for up to 8 hours.
Payload maximum is 910 lbs. (413 kg) on land and 900 lbs. (408 kg) in water. It comes standard with a skid plate, bilge pump, and an entry step. Color choices for the top half of the body include green, black, and Mossy Oak's Infinity Camo.
Frontier 8×8 Scout S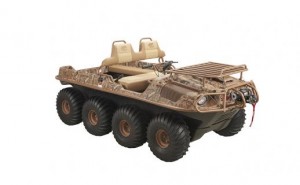 The Scout S has the same features as the S, but it adds equipment to make it a great option for hunters. This includes premium seats with taller seat backs, side steps for easy entry, a front-mounted 3,500 lb (1,588 kg) Warn winch, a front brush guard, hood cargo rack and brake and tail lights. A heavy-duty drive belt helps the Scout deal with the added weight, although total payload is reduced to 830 lbs. (376 kg.) All Scouts come painted in the Mossy Oak Camo pattern.
Frontier 8×8 Responder S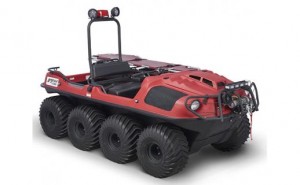 This emergency vehicle is powered by a Kohler Aegis V-Twin that produces 26 hp. Like the regular S, it's offered with the same transmissions and has the same top speeds. A brake cooling fan helps keep steering system temperatures under control during long drives.
The Responder comes with a folding stretcher frame that works with Ferno #9 Stretchers and Rescue Baskets. When extended, the stretcher covers the left side of the vehicle, limiting seating to three people. The Responder also comes with a First Aid compartment that is designed for easy access while the stretcher is being used.
This vehicle has some unique optional accessories for aiding rescues including a head immobilizer, fold down light bar, oxygen bottle holder, perimeter lighting, warning lights, and a red beacon light.
Accessories
While many of these accessories are standard on some Frontier 8×8 models, they can be added to any model:
Warn 3,500 lb. winch
Brush guard
Bilge pump
Entry step
Brake cooling fan
Heavy-duty drive belt
If you need a way to move a lot of people and cargo over land and water, the Frontier 8×8 is hard to beat for the price. Argo's unique treated tires and their enormous air capacity let these utility vehicles push themselves across streams and lakes, and the range of models lets you get the perfect vehicle for your needs, whether you're looking for a vehicle to rescue injured people, take on a hunting trip, or just take for a ride.