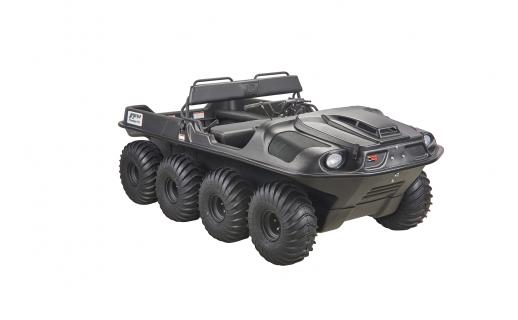 Arctic Cat may have made their name with snowmobiles, but they've been a major player in ATVs for almost 20 years, a trend that is sure to continue when they become Textron Off-Road. How does their Alterra line of mid and full-size ATVs stack up against Argo's Frontier 6x6s? These four wheelers may be competitive against similar vehicles, but there are a lot of areas where they fall short when compared to Argo's XTVs.
Arctic Cat Alterra
This line of ATVs is offered with 500 and 700 cc single cylinder engines as well as a "Big Bore" 1,000 cc V-twin. Every engine is liquid cooled and fuel injected, and they all send power to the wheels using a system with selectable four-wheel drive and a front differential lock. No matter what engine is being used, these ATVs are 89 inches long and 48 inches wide. A double A-arm "ride in" suspension helps lower the center of gravity while maintaining a respectable 11 inches of ground clearance. The MudPro is more performance-oriented, increasing ground clearance to fourteen inches while adding a snorkel, a 3,000 lb. Warn winch and a set of 28 inch Maxxis Zilla tires.
The Alterra comes with Arctic Cat's Speedrack II system provides up to 14 mounting points for accessories, making them easy to install and remove. On Big Bore models, these racks are all metal with a maximum capacity of 100 lbs. in the front and 200 lbs. in the back. Trailers weighing up to 1,050 lbs. can be towed using a two-inch receiver, while "2UP" versions have a rear seat with hand rails for a second passenger.
Big Bore models come with a digital display with information including speed, oil pressure, service hours and other useful information.
Argo Frontier 6×6
With 700 and 750 cc Kohler Command Pro V-twins, these XTVs are evenly matched with Arctic Cat's 750 models. At 95 x 58 inches, an Argo 6×6 isn't much larger than an Alterra, but every model has comfortable side-by-side seating for up to four people. Stick with two or three passengers, and the rear can be used to handle far more cargo than any Arctic Cat ATV. The unique design with its fixed axles and tire-based suspension also means the center of gravity is far lower than the Alterra, giving it superior stability on inclines.
The racks included on the Scout may not have quick attachment points for accessories, but that also means equipment can be added to an Argo without cutting into cargo space. Towing capacity is also superior with a maximum weight limit of 1,200 lbs.
At 9.5 inches of ground clearance, the XTV may seem to fall short, but its suspension-free design means that ground clearance is better maintained over bumps and there aren't any components extending past the hull that could get caught on obstacles. The advantages really show through when compared to the MudPro: by spreading the weight of the vehicle over 6 giant tires, the Argo has about the same ground pressure as a human foot. This lets it drive over mud instead of digging into it, letting it cross terrain that would be impossible in the ATV. Not sure how deep the water is? There's no reason to worry about a snorkel when you're in a vehicle that floats. Want a winch? Argo includes a 3,500 lb. Warn winch on the Scouts.
When it comes to equipment, you can get most of what you want straight from the factory: all Argos come with a digital display with speed and operating condition information, and every model except the base 6×6 comes with a full-length skid plate. The hunting-focused Scout models also come with a front rack, gun rack, and a winch, so you don't need to spend a lot on accessories.
Verdict
Want a lot of power? Argo can't match the big bore Alterra with its big V-twin. Want lots of towing capacity, cargo capacity or comfortable seating for two or more people? An XTV beats an ATV in every category. Want something that will cross any terrain? Even the competition-focused MudPro can't come close to an XTV, making Argo's Frontier the obvious choice for extreme conditions.
Want to find out what you can do with an Argo Frontier? Shank's Argo is one of the East's largest Argo dealers, and with over 30 years of experience selling and maintaining outdoor power equipment, our staff can help you find something to fit your needs. Visit our website, www.shanksargo.com, to schedule a demo, or stop by our shop, located at 4900 Molly Pitcher Highway in Chambersburg, PA. That's just off Rt. 11, one mile east of I-81.