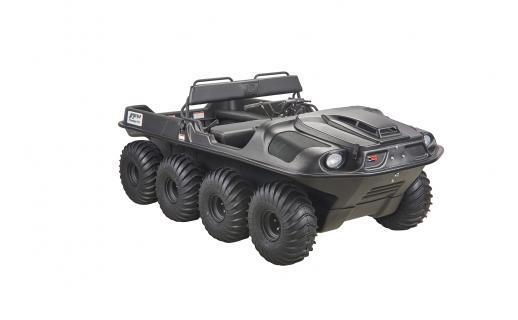 At the center of Polaris' ATV range, the Sportsman Touring crosses the line between utility and sport by offering cargo capacity and seating for two, providing most of the utility of an XTV in a smaller package. This combination makes it unique in the ATV market, but how does it compare with an Argo XTV?
Polaris Sportsman Touring
While there are a few equipment options, the Touring comes in essentially two models: the 570 and the 850/1000. The 570 has 11 inches of ground clearance, measures 86 x 48 inches, can tow up to 1,225 lbs and has a 6-gallon storage compartment up front and a two-gallon compartment at the rear. The transmission doesn't support engine braking, and power steering is optional. The 850 and 1000 both have 11.25 inches of ground clearance, measure 87 x 48 inches, tow up to 1,500 lbs, and only have the two gallon rear storage compartment. Hill descent control with engine braking and electric power steering come standard.
All models have a 575 lb. payload capacity and they use a CVT with Polaris' On Demand AWD system. This lets the operator select between a low and high gear mode with either two wheel drive or AWD, letting the system decide which wheels should be powered and which axles should be locked. This is great for mild terrain, but buyers who like conquering technical trails may get frustrated as they try to coax the system into locking up to tackle difficult climbs.
The "Touring" model has seating for two passengers. While other models may simply add a seat back and have an extended bench seat, Polaris uses a motorcycle-style saddle with defined driver and passenger areas and a short backrest for the driver. Full-length foot rests make it easy for the driver and passenger to alter their position during long rides for less fatigue.
Equipment options are meager on this model. There's some minor weather protection courtesy of a small windshield and hand guards and a few options for increasing space on the racks. Polaris offers their own line of winches rated up to 3,500 lbs. as well as a small snow plow.
Argo XTV
The pseudo-UTV design of the Polaris Sportsman Touring puts it between Argo's Frontier and Avenger lines, which includes both 6×6 and light duty 8×8 models.
Argo's XTVs use Kohler engines that are comparable to Polaris' 850, and a 6×6 is just 8 inches longer and 10 inches wider than this ATV. This small increase in size adds space for up to four passengers. While the Touring's saddle may be good by ATV standards, Argo's bench seats are far more comfortable.
The payload is higher across the board with only the Frontier 6×6 Scout ST handling less weight than a Sportsman due to its high level of installed equipment; try to outfit an ATV to match the Scout, and you'll quickly find that you have far less remaining payload and less space for rifles and equipment. Opt for a more basic 6×6 or any 8×8, and you'll have a vehicle that can carry hundreds of pounds more than the ATV, and you'll have a large rear cargo area that can handle bulky items that won't fit in the boxes or on the racks of the Sportsman. When it comes to towing, a 6x6s can handle 1,200 lbs, while even a basic Avenger out-pulls the Sportsman at 1,800 lbs.
Like the Sportsman, Argo uses a CVT with high and low final drive gears. The drive system always provides power to all wheels, while the tire design prevents the scrubbing for predictable handling. This provides maximum traction without a complicated electronic locking system. Since the steering is brake-based, it has the same effort as an electric power steering rack.
Argo has Polaris soundly beaten when it comes to accessories. Like the Sportsman, there's a snow plow, but Argo uses industry-leading winches made by Warn. Weather protection extends to fully enclosed cabs and heaters, and there are several more options when outfitting an XTV for work or play.
Verdict
If you're looking for an ATV with space for two and some flexibility when it comes to cargo, the Polaris Sportsman Touring makes a lot of sense. However, once you start comparing it to an XTV, Argo comes out ahead: it has better seating, better cargo handling capabilities, a better drive system and more flexibility when it comes to accessories
Want to see what you can do with an XTV? Talk to the experts at Shank's Argo: we're not just a major dealer, we've been helping people with their outdoor equipment for over three decades. To schedule a demonstration, go to our website, www.shanksargo.com, or visit our showroom, located at 4900 Molly Pitcher Highway in Chambersburg, PA. That's one mile east of I-81 via Exit 10 to Marion.