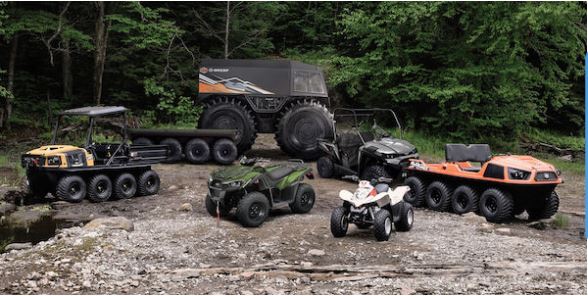 The off-road market is exploding right now, with automakers rolling out a long list of new off-road packages that give their SUVs and trucks capabilities that once required expensive customization. However, giant tires, articulating suspensions, skid plates, and advanced traction systems come at a high cost. In most cases, the price difference between a standard model and one of these off-road versions is more than enough to buy an Argo. Should you buy one of these new off-roaders? Or are you better off buying an amphibious ATV and using it alongside a street-oriented daily driver? 
Where Can You Go?
The ability to climb rough terrain is only part of what makes a vehicle great off-road. The extra lights on the Ram TRX and Ford Raptor aren't just there to look cool. Thanks to their giant tires and fender flares, these trucks are required to have the same lighting as a semi-truck. However, this severely limits their access to trails.
An Argo amphibious ATV has the same width as a side-by-side. This makes it about three feet narrower than these trucks with their mirrors folded in and still has room for 4-6 people. This makes it easy to travel on 4×4 trails and gives you access to narrower UTV trails. 
Why are these new off-roaders so wide? Tall suspensions raise the center of gravity, making these vehicles easier to tip. Adding track width compensates for this. Argo's unique design keeps the center of gravity low, so it doesn't need to be super-wide to keep from tipping. In fact, it's far less likely to tip than any off-road truck or UTV on the market. The risk of rollover is so low, that they aren't required to use a rollover protection system. This gives you a clear view of the area surrounding your vehicle without needing to use cameras.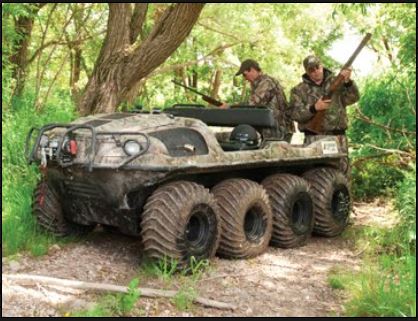 Abilities You Can Use at a Price You Can Afford
An Argo uses fixed axles, relying on the giant tires to act as the suspension. While an XTV may not have as much ground clearance as some SUVs, it also doesn't need it. The tires reduce ground pressure to a point that the vehicle floats over mud and sand, instead of digging in. This design also allows the vehicle to have a single skid plate that covers the entire underside. That means there's no way to catch an axle or a driveshaft on an obstacle.
Is an Argo fast? No. Top speed is just 22-24 MPH. However, that's plenty for a technical trail. Since they don't focus on speed, Argo is able to use bulletproof industrial engines. These are far less costly to fuel and maintain than the big V6s and V8s used in off-road trucks.
Value for Money: The Truck and Trailer Problem
If you're into cars, you've probably heard this argument against supercars. While they are fun, you can build a track day car and then buy a truck and a trailer to haul it to races for a fraction of the price. This lets you drive as fast as you want without worrying about safety or legal issues, and you'll have a lot more fun doing it.
The same can be said for buying an Argo. An amphibious ATV can go places you wouldn't dream of taking a new SUV. A 6×6 weighs just under 1,000 lbs, which means it can be towed by almost anything. By choosing an Argo instead of an off-road truck, you can have a daily driver that's far better for on-road use. In the end, you get the best of both worlds.
Looking for Serious Off-Road Fun?
If you want something better for off-roading than a truck or ATV, you need an Argo XTV. If you want the best ownership experience with your Argo, you should go to Shank's Argo. We're one of the largest Argo dealers in the Eastern U.S, and we have 35 years of experience selling and servicing outdoor equipment. We can help you find the right amphibious ATV, install a wide range of factory accessories, and handle the repairs and maintenance your vehicle will need over its life. Visit us at 4900 Molly Pitcher Highway in Chambersburg, PA, or see the vehicles we have in stock at www.shanksargo.com. We can also ship OEM parts and accessories for your Argo to any address in the U.S. or Canada.