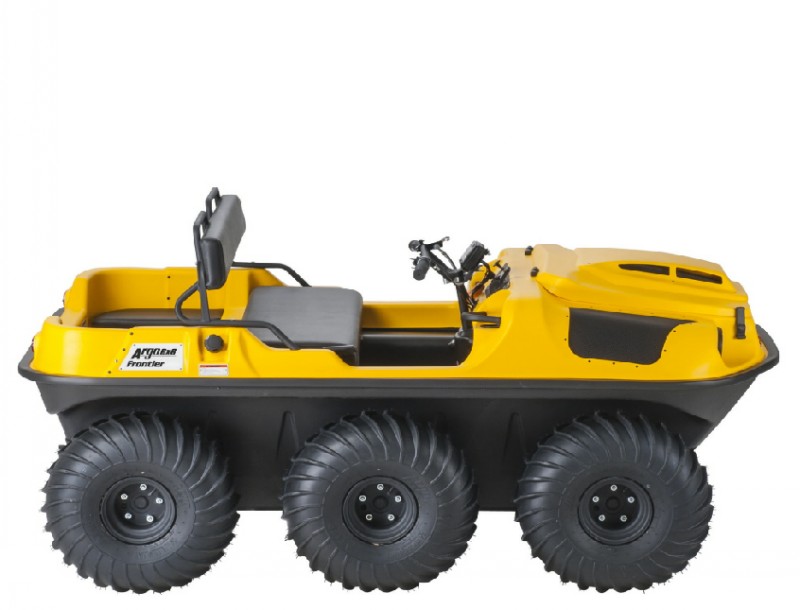 Yamaha's Grizzly ATV has been a perennial favorite for buyers looking for basic utility, but how does it stack up against an Argo XTV? A 6×6 brings a lot more capability, even if you never plan on using its water-crossing abilities.
Yamaha Grizzly
When the first Grizzly was released over a decade ago, its 600 cc engine was the biggest in the market. This has since been surpassed with big V-Twin powered vehicles, but the current 708 cc fuel injected engine still produces a respectable amount of power. It sends power to the wheels via a CVT with high and low gears coupled with Yamaha's On-Command 4WD. This system can switch between 2WD, 4WD, and 4WD with fully locked axles by simply pushing a button. Ground clearance is just 7.6 inches, which, combined with its under seat fuel tank, give this ATV a low center of gravity for stability at the cost of handling severe terrain. Unloaded, the Grizzly measures 81.5 x 48.4 x 49.3 inches.
Electric power steering is standard across the board, while the rider can keep track of the vehicle's condition using a digital instrument panel with speed, odometer, trip meter, hour meter and other information. Since this is a utility-focused vehicle, it's designed to have plenty of cargo capacity with three storage compartments and two racks for a total payload of 308 lbs, split between a maximum capacity of 110 lbs. at the front and 198 lbs. rear. A trailer ball allows the Grizzly to tow up to 1,322 lbs.
While there has been a trend toward offering multiple versions of a single ATV model, the Grizzly EPS is the sole model with just two options packages: the SE package adds a halogen work light and different body graphics, while the LE adds a windscreen, heated grips and a heated seat for winter comfort. All models include LED headlights, a tail light, a 12-volt outlet and skid plates to protect the axles.
Argo 6×6
Since the 6×6 is a four passenger vehicle with a large cargo area, it may sound like it would have to be a lot bigger than an ATV, but a 6×6 XTV is just 14 inches longer and 10 inches wider than the mid-size Grizzly. The XTV's solid axle design also gives it a much lower center of gravity and has a total height that's four inches lower than the ATV. Argo uses Kohler's 747 cc Command Pro, a twin cylinder design that reduces vibration while providing comparable power to the Yamaha.
All things being equal, with 9.5 inches of ground clearance, or 10.5 inches with tracks installed, the Argo can drive over terrain that would be impossible in the Yamaha. Add in the XTV's ability to float over soft terrain and its unique traction system that keeps all wheels driven all the time with minimal scrubbing, and a 6×6 is in an entirely different class when it comes to off-roading capability.
Towing capacity falls just short of the Grizzly at 1,200 lbs, but instead of a fixed ball, the 6×6 comes with a two-inch receiver hitch, giving you more mounting flexibility. When it comes to cargo capacity, the Argo handily beats the Yamaha with more total weight capacity, a large, easy to use rear cargo area, and the option of a front rack for extra space.
Argo has 5 models to choose from ranging from the budget-friendly base 6×6 to the loaded, hunting-focused Scout ST which includes a Warn winch, something that is only offered as an accessory for the Grizzly. Want to outfit your vehicle with more equipment? Argo's offers far more than Yamaha, including everything from heated grips to closed cabins, plus a track system that fits over the tires, keeping costs low compared to the Grizzly's optional Camoplast system.
Verdict
If a stock Grizzly does everything you want out of the box, it might be for you. However, for most buyers, the increased flexibility, wider choice of models, larger selection of accessories and superior off-road performance make an XTV the obvious choice, and that's before considering the 6×6's amphibious abilities.
Are you looking to go beyond the capabilities of an ATV? Shank's Argo is one of the largest Argo dealers in the East, and we have over 30 years of experience selling and servicing outdoor equipment. Visit our website, www.shanksargo.com, to schedule a demonstration, or stop by our showroom, located at 4900 Molly Pitcher Highway in Chambersburg, PA. To get here, take Exit 10 from I-81 and drive one mile east.