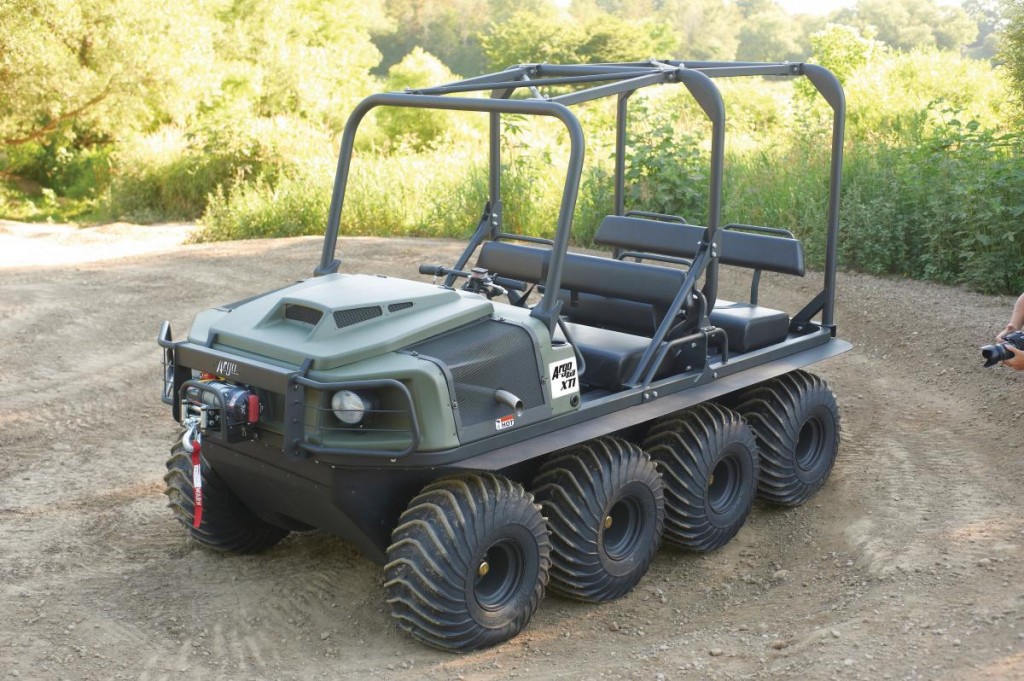 For people looking to buy their first Argo, they're probably trying to decide between it and a UTV. How did we arrive at these two choices? Let's look at how we arrived at Argo's modern XTVs and the first sport UTV, Yamaha's Rhino.
The Argo Xtreme Terrain Vehicle
Amphibious 6x6s first reached the market in the early 60s, kicking off a fad that lasted just over a decade. Ontario Drive and Gear Limited got into the market building transmissions for the Amphicat, a vehicle featured in the opening of the "Banana Splits" and as a moon rover in "Space: 1999." By the end of the decade, there were dozens of manufacturers in the market, most of which had jumped into this new fad with little in the way of design or manufacturing expertise. ODG entered the market themselves in 1967 with the Argo, a design based on their work with Amphicat.
With buyers disgusted with the poor quality of most 6x6s, they were more than happy to jump over to Honda's three wheel All Terrain Cycle when it rolled into dealerships in 1970. It may not have been amphibious, but it was less than half the cost of the competition. The oil crisis followed soon after, killing the market for 6x6s and their thirsty two stroke engines.
As manufacturers shut down, Argo persevered, retaining customers thanks to their high-quality construction and a focus on innovations that addressed problems with these vehicles. In 1971, they started using vacuum forming to quickly construct hulls, lowering the overall cost. An 8×8 was introduced that year, and in 1975, they brought to market a model with a four stroke engine. This started attracting commercial buyers looking for a practical, affordable go-anywhere vehicle.
The introduction of hydraulic braking in 1981 made the Argo far easier to control than any other amphibious vehicle. By then, the company accounted for over half of the market. Incremental improvements continued, increasing speed, tire size, and capacity across the board, while sales skyrocketed, forcing the company to expand their manufacturing facility three times in the 2000s. Once that last expansion was completed, the company rolled out their new Admiral transmission with variable braking. This made the steering feel like operating an ATV, but without having to wrestle the controls when hitting bumps. That same year, they began work with the Canadian Space Agency to build a lunar rover using Argo's drive technology.
This past decade has seen the company move from general vehicles to specialized products for the needs of everyone from hunting outfitters to first responders working in remote areas. The improvements have also led to traction on soft materials unseen in previous amphibious vehicles, leading Argo to rebrand their offerings as "Xtreme Terrain Vehicles."
The Yamaha Rhino
While the Honda ATC was a major success, the instability of a trike while off-roading lead to safety concerns and the phasing out of the segment entirely in the 80s. Suzuki introduced the first modern four wheel ATV, the QuadRunner, in 1982, with Honda releasing the first four wheel drive model in 1986. As with Argo, commercial users started looking into these vehicles due to their small size and off-road capabilities.
The first side-by-side was Kawasaki's MULE, introduced in 1988. This vehicle had seating for two and a dump bed, but it was about as sporty as a golf cart. Sixteen years later, Yamaha introduced the first UTV designed for fun: the Rhino.
The formula was simple: by combining the side-by-side seating and the bed of a utility vehicle with the high travel suspension and powerful engine from a big ATV, Yamaha was able to offer the ATV experience in a way that was more accessible thanks to car-like controls, increased cargo room and space for a passenger. Within a few years, every ATV manufacturer was building their own sporty UTV by trying to out-do, copy, or, in the case of some small manufacturers, outright clone this new vehicle. It may have been replaced by the Viking a few years ago, but the Rhino remains a major influence on the market.
XTVs and UTVs Today
Proto-ATVs nearly killed the amphibious market, but over the decades Argo has been able to refine their vehicles to create something that works just as well on land as it does in water. ATVs and UTVs have mostly kept pace, but in doing so they've eliminated their cost advantages.
Today, an XTV has all the fun and practicality of a UTV and then some. The specialized UTV market is still in its infancy, while mud and sand-focused models can't match an XTV's abilities on soft terrain.
Want to see how you can use an Argo XTV? Visit www.shanksargo.com to schedule a demonstration, or visit us at our shop, located at 4900 Molly Pitcher Highway in Chambersburg, PA. That's one mile east of I-81 via Rt. 11 to Marion.