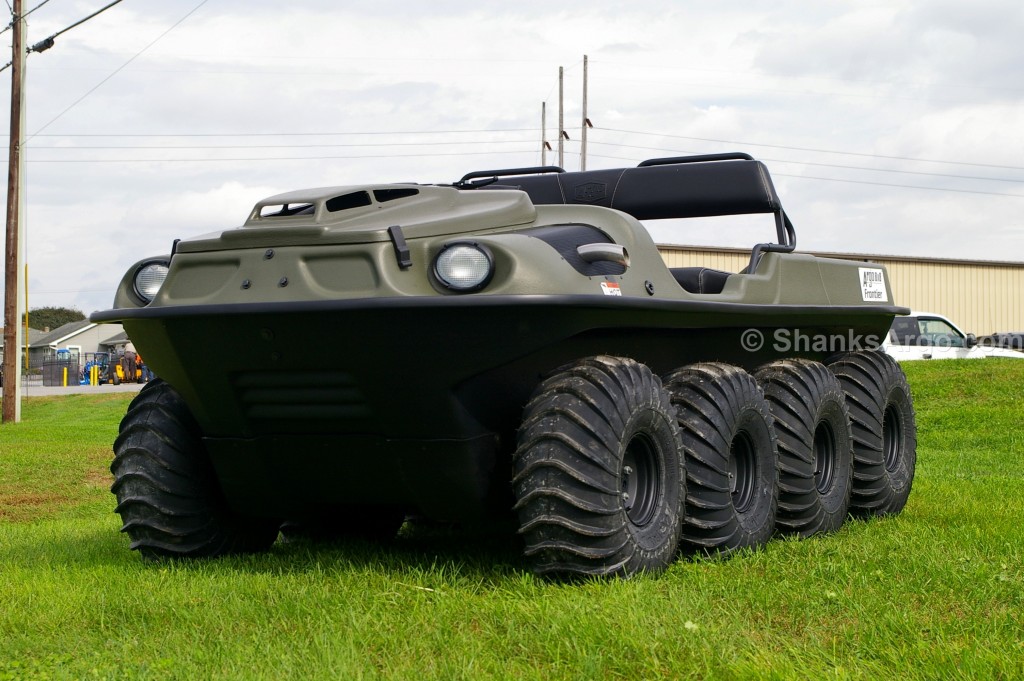 Planning cross-country runs, four wheeling rallies and music festivals is challenging enough. Getting equipment in and providing event support is even harder. With locations far from paved roads, you can't rely on regular vehicles. Fortunately, there's Argo. Between their outstanding off-road abilities and ample cargo and passenger space, their amphibious ATVs are perfect for event support.
Go Anywhere Your Competitors Go
Big outdoor events pose massive logistical challenges. How do you set up and supply aid stations? What if someone is injured? Normally, part of the journey has to be done on foot. With an Argo, you can get closer to remote locations, saving time and making jobs easier on your staff.
Where can you go in an XTV? If a path is wide enough for a side-by-side, it's wide enough for an Argo. However, that path can have inclines and surface conditions that you wouldn't dream of driving a UTV on. Argo designs their vehicles to use their massive tires as the suspension, keeping the center of gravity low without compromising ground clearance. This keeps them stable on climbs that are impossible with other off-road vehicles. Skid steering gives XTVs a turning circle that's the same as their wheelbase, so they can tackle winding paths with ease.
Those giant tires also spread out the load, giving these vehicles exceptionally low ground pressure. From the factory, an Argo applies 1.7 psi of pressure on the ground, less than a quarter of the pressure of a standing adult male. Add a set of tracks, and pressure drops to 0.67 psi, less than the same adult wearing snowshoes. Sand, mud, and snow are no problem in one of these vehicles.
Working in or around water? These amphibious ATVs can drive in and out of waterways from any flat area, helping you get to destinations faster. The paddling action of the tires can propel an Argo up to 3 MPH. Add a support bracket, and you can install an outboard motor making up to 10 HP for faster on water travel.
Space for People and Cargo
Argo professional vehicles in two of their model lines: the Avenger series and the Conquest series. Which one is right for you? It depends on whether you need more space for people or cargo.
The Avenger series has a front bench seat and two inward-facing jump seats. This lets them carry up to 6 people on land and four on water. If you need more cargo room, one or both of the rear seats can fold up. It also tows up to 1,800 lbs, letting you move people and goods to remote areas.
Need to move equipment? Models from the Conquest series have a large cargo area that can carry up to 1,500 lbs. on land, while they can tow up to 2,000 lbs. Don't want to limit off-road capabilities when towing? Argo makes amphibious trailers that use the same hull construction and tires as their vehicles.
Want a vehicle that can carry people and cargo? The Conquest Pro 800 XT and 1050 XT-D are compatible with Argo's removable bench seat, turning the cargo area into extra seating for two more passengers as needed.
The Ultimate in Remote Medevac
Need to provide medical support? Get the XTV used around the world for rescue operations in remote areas and after natural disasters. The Avenger 800 XT Responder is built for the needs of first responders. This includes a mount for a Ferno #9 stretcher and additional lighting. Argo offers a range of compatible accessories including an oxygen bottle holder and a basket stretcher that can be carried by helicopter.
Got Mud?
Even if you don't work in an extreme environment, you can still reap the benefits of an Argo. If you've ever worked at an outdoor festival, you know how difficult conditions get if it rains. The combination of water and trampling spectators quickly turns the ground into mud, halting the movement of most vehicles. However, an Argo has no problem driving in these conditions, so you can keep working. Having just one Argo on hand can improve the performance of your fleet. All Pro models include a winch, letting you pull out other vehicles when they get stuck.
Get Professional Support for Your Commercial Vehicle
Shank's Argo is one of the largest Argo dealers in the East, and we have over three decades of experience helping professionals with their outdoor equipment. If you're looking to add an Argo to your fleet, visit our showroom at 4900 Molly Pitcher Highway in Chambersburg, PA. To get here from I-81, take Exit 10 to Marion. We can help you find the right model and accessories for your use case and provide the service you need to keep it running. To schedule a visit to see the Argos up close, visit us at www.shanksargo.com.