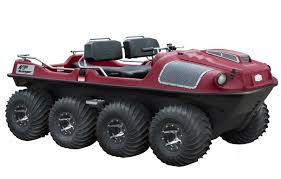 Going outdoors doesn't mean you have to be uncomfortable. Argo's Avenger 8×8 LX comes with features to make your next outdoor excursion as comfortable as possible while still retaining the unparalleled off-road abilities XTVs are famous for.
Performance
Like other Avengers, the LX is powered by a 30 HP Kohler Aegis engine. This V-twin is liquid-cooled and uses electronic fuel injection for easy starts and reliable performance in any climate. In this application, it comes fitted with Argo's new QT quiet muffler to significantly reduces noise, especially at wide-open throttle. The clear polyethylene gas tank holds 7.1 gallons of fuel, which is enough to power this engine for up to 8 hours.
This engine drives an Admiral transmission fitted with the high ratio HS gear set for a top speed of 25 mph. The Admiral uses a gradual steering brake system that is controlled by a set of ATV-style handlebars, making it easy to learn the controls while keeping steering effort smooth, consistent and light despite the constant drive to all 8 wheels. Brake cooling fans are included to help the steering system keeps its composure when operating in high temperatures.
Feature Packed for Easy Exploring
The LX has a total payload of 1,000 lbs. on land and 850 lbs. on water. If you need extra space, this XTV can also tow up to 1,800 lbs. There's space for up to 6 passengers, while water travel is limited to four people. Dual side entry steps and rails around the cargo area make it easy to get in and out, and the rear seats can be folded up for more cargo space when they're not in use.
This XTV comes with an exclusive Jensen four channel 40 watt sound system. It has a USB port to load music files directly and Bluetooth connectivity to stream music from your smartphone, Marine-duty speakers at the front and rear of the cabin provide sound while being tough enough to withstand moisture and extreme temperatures.
Beadlock rims round out the package, allowing extremely low tire pressures for traction without the danger of rolling a tire off of the wheel.
Accessories
The LX comes nicely equipped, but the stock configuration is only the beginning. Argo offers an extensive list of accessories that let you build the perfect excursion vehicle.
Want even more comfort? Argo offers several options to help shield you and your passengers from the weather including convertible tops, windshields, and heaters.
Need more space? Add a front or rear rack, or attach an amphibious trailer to bring camping gear and other gear with you into the wilderness.
Need more capability? Argo makes tracks in several designs for crossing everything from sand dunes to soft pack snow. For faster water travel, a mount can be added to the rear end to support a sub-10 HP outboard motor. Worried about getting highsided? The LX comes pre-wired to operate a 3,500 lb. Warn winch.
Colors
The LX is painted in Cranberry, a color exclusive to this model.
Let Shank's Argo Help You Get More from the Outdoors
As one of the largest Argo dealers in the East, we're able to provide everything you need for your excursions, whether you're looking for a new XTV or need parts and service for your current vehicle. To see if the Avenger 8×8 LX is right for you, schedule a test drive and visit our showroom, at 4900 Molly Pitcher Highway in Chambersburg, PA. To get here from I-81, take Exit 10 to Marion and drive one mile East.