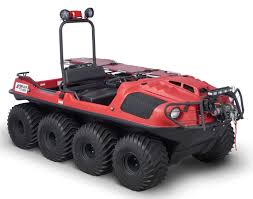 With their ability to tackle severe inclines, float over soft surfaces and even drive through water, Argo's XTVs are an indispensable tool for emergency services around the globe. The Avenger 8×8 Responder is built for the needs of these first responders, combining these capabilities with standard equipment for emergency medical care and accessories that can tailor the vehicle to specific roles.
Going Where Other Vehicles Can't Reach
With weight spread over 8 giant tires, this vehicle exerts just 2.5 psi ground pressure, which is less than one-third of the force of a standing adult male. Add tracks and the ground pressure drops even lower, making it safe to operate in fragile ecosystems. Argo offers several track designs, letting you pick a traction surface suited to ice, snow, mud, marshes or pavement.
With or without tracks, an XTV can drive over soft surfaces instead of digging into them, and its amphibious abilities let it go between land and water without needing a ramp or dock. This makes it the perfect vehicle for flooded areas and areas with small islands and numerous ponds and streams.
The tires also act as the suspension, keeping the center of gravity low for stability on severe grades, making it far less likely to flip than a standard UTV. At just 60 inches wide, the Responder can traverse narrow trails and climb outdoor stairways.
Performance
This model is powered by a 30 hp Kohler Aegis. This industrial V-Twin is liquid-cooled and uses an electronic fuel injection system for easy starting, low fuel consumption and consistent performance over a wide temperature range. The on-board 7.1-gallon fuel tank can keep the engine running up to 8 hours.
XTVs use skid steering operated by an ATV-style handlebar; the Admiral transmission used in this model is able to apply gradual braking to the inside wheels, making it feel more like driving a vehicle with a steering rack. The transmission itself a CVT with a low and high final drive, and is available in two gear ratios: the STD ratio provides a good balance between torque and top speed, allowing the Responder to reach 20 mph. For steep climbs with heavy loads, the HT ratio provides a greater mechanical advantage but lowers top speed to 17 mph.
To cut down on maintenance and ensure reliable performance, this model comes from the factory with an HD drive belt and automatic chain lubrication system.
Equipment and Accessories
Like other models in this range, a front brush guard is included as well as a 3,500 Warn winch. Normally, the winch is mounted to the front, but a rear receiver kit is included that allows it to be attached to the rear end and still be operated using the in-cab switches.
The Responder comes standard with a rear-loading stretcher mount that holds an included Ferno Model 9 stretcher. This stretcher is designed for patients who haven't had spinal cord injuries, but it can be paired with a head immobilizer, offered directly through Argo's accessory catalog. A medical supply cabinet is built into the cargo area of the vehicle to keep bandages and other goods on hand, and a holder can be added to carry an oxygen bottle.
The front end houses headlights and LED floodlights. A light bar can be added to mount a red strobe and additional work lights.
Cargo
This vehicle can carry up to 950 lbs. on land and 800 lbs. on water. Add an amphibious trailer, and it can also tow up to 1,800 lbs.
With the stretcher folded, this vehicle can carry up to 6 people on land and four on water. Opening the stretcher covers the seats on the left side of the vehicle, limiting capacity to three people on land and two on water.
Firefighting
The Responder can be outfitted for fighting fires with the Fire Skid/Foam unit. This all-in-one suppression system drops into the cargo area, allowing the vehicle to carry 75 gallons of water and 5 gallons of foam. A Honda GS engine operates the pump, pushing the liquid through a 100-foot hose and into a forestry nozzle.
Remote Rescue
With the right equipment, the Responder can be used together with a helicopter for deployment in remote areas. The helicopter kit adds D-rings to lift the XTV with a sling, while the Ferno basket fits into the stretcher mount and can be airlifted.
When Lives Depend On Your Rescue Vehicle, Turn to Shank's Argo
Shank's Argo isn't just a major Argo dealer, we've helped everyone from homeowners to municipal departments with their outdoor equipment for over three decades, giving us the expertise to set up a vehicle to fit your needs and keep it ready to use when disaster strikes. To see how the Avenger 8×8 Responder can help your operation, visit our showroom, located at 4900 Molly Pitcher Highway in Chambersburg, PA. To get here from I-81, take Exit 10 and drive East one mile.
You can also schedule a demo on our website, www.shanksargo.com.