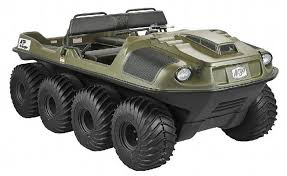 Why are the Avenger 8×8 ST and its better-equipped twin, the ST LE, Argo's best-selling models? They offer just the right mix of payload capacity, seating, and equipment to make them a great starting point for building an XTV that perfectly fits your needs.
Power
These Avengers use Kohler's Aegis V-Twin, which produces 30 hp in this application. This engine is liquid-cooled and fuel-injected, helping it perform reliably in temperatures ranging from 0 to 104°F. For cold weather operation, an automotive-style heater kit is available that taps into the cooling system to warm the cabin.
The ST and ST LE use Argo's Admiral transmission uses a variable brake steering system for smooth, ATV-like turns while providing constant power to all 8 wheels. In this application, it can be equipped with the STD gear set for a top speed of 20 mph, or the HT gear set, dropping top speed to 17 mph in exchange for more torque. With either option, the transmission comes with a low range for handling extreme climbs and heavy loads.
Performance Beyond Traditional Off-Roaders
Argo's 25-inch tires can paddle through water at up to 3 mph, and they act as the vehicle's suspension, removing the need for long travel shocks. This allows the engine and axles to be placed low in the vehicle, letting it remain stable while climbing severe inclines. The massive contact patch also reduces ground pressure, letting it float over soft surfaces like mud or sand, giving it capabilities far beyond what its 9.5-inch ground clearance may imply. By adding tracks, these vehicles can even drive over ice and soft snow.
Massive Cargo and Passenger Capacity in a Small Package
Both the ST and ST LE can carry up to six passengers and a total payload of 1,070 lbs. on land, while buoyancy limits capacity to four people and 920 lbs. on water. These vehicles can also tow up to 1,800 lbs.
A six-passenger vehicle may sound huge, but the Avenger's compact design with its short nose and minimal extension past the axles make it extremely compact: the ST measures just 119 x 60 x 46 inches. That's smaller than many two-seat UTVs.
Build Your Own or Start with Common Options
The ST comes with minimal equipment, letting you have the accessories you want to be installed, while the ST LE is equipped with Argo's most popular accessories including a rack over the engine compartment that can hold up to 50 lbs, a full-length front brushguard and a Warn winch that can pull up to 3,500 lbs. From there, you can build the perfect vehicle for your needs thanks to Argo's massive accessory catalog that includes everything from amphibious trailers to cab enclosures.
Colors
Argo offers the Avenger 8×8 ST in green and black, while the ST LE is available in green and orange.
See What an Argo XTV Can Do for You
Whether the Avenger 8×8 ST is the perfect platform to build your dream off-roader, the ST LE has everything you need, or you want something more specialized like one of Argo's hunting or commercial models, you can find the perfect vehicle for your needs at Shank's Argo. We've helped everyone from homeowners to commercial operators with their outdoor equipment for over 30 years, so we know what you need to get the most from your XTV. Stop by our shop at 4900 Molly Pitcher Highway in Chambersburg, PA, just outside Marion, or visit www.shanksargo.com.