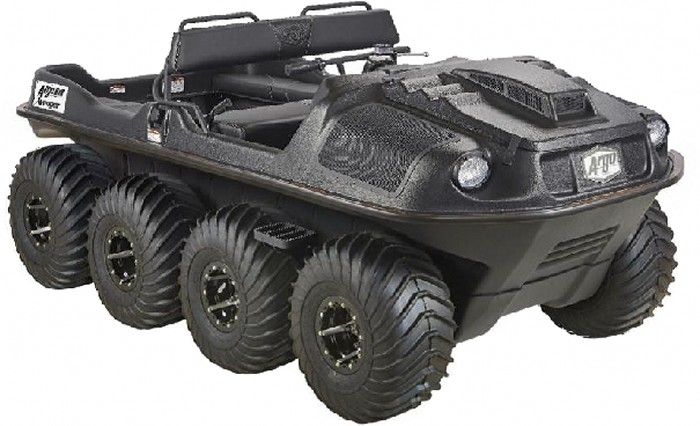 If you can't find a model that perfectly fits your needs from the factory, there's the Avenger 8×8 STR. It's based on Argo's most popular model series, offers the option of three different gear sets to fit the terrain you'll be operating in and comes with minimal equipment so you can outfit it to your liking.
Power
The Avenger 8×8 STR is powered by a Kohler Aegis V-Twin. Rated at 30 hp, this industrial engine uses liquid cooling and fuel injection for reliable, fuel-efficient performance in a wide range of weather conditions. The STR's 7.1-gallon tank can power this engine up to 8 hours.
Geared to Fit Your Needs
The STR comes equipped with Argo's Admiral transmission. This CVT comes with variable steering brakes and is connected to a full-time 8 wheel drive system. In traditional off-road vehicles, powering all wheels at once results in scrubbing that can make turning difficult and handling unpredictable on the pavement. Thanks to the XTV's brake-based steering and a massive contact patch created by the vehicle's massive tires, steering effort is always the same and scrubbing is minimal so you'll always have maximum traction.
In this model, the transmission is available with all three gear sets. The STD gear set provides a balanced gear ratio that provides a decent top speed, 20 mph, and enough torque for most uses. If you'll regularly be using this vehicle at its maximum capacity or need to tackle extreme inclines, the HT gear set uses a lower ratio, limiting top speed to 17 mph in exchange for extra torque. Sticking to flatlands and want to move quickly? The high gear ratio of the HS gear set allows for a top speed of 25 mph.
Cargo and Passengers
This model can carry up to 1,045 lbs. and 6 passengers on land, dropping to 895 lbs. and four passengers on water. In both water and on land, it can tow up to 1,800 lbs. The rear seats can be folded up to provide more space for cargo, while a built-in two-inch hitch receiver can be used to pull trailers.
Build the Vehicle You Want
The STR comes with all the basic equipment including a side step and full-length skid plate. From there, you can add the features you want using Argo's extensive catalog of accessories. Need to operate in cold weather? Add a heater and an enclosed cabin. What about high temperatures? A convertible top can help shield you and your passengers from the elements while allowing plenty of air flow. Need more space? Bolt on a front or rear rack or pull a fully amphibious trailer.
Need better off-road and amphibious capability? Argo makes tracks that fit over the tires, spreading the weight of the vehicle over a wider area to float over sand and snow or bite into icy surfaces. A mount can be added for a 9.9 hp outboard motor for faster water travel, and a cooling system can be added to the steering brakes for reliable performance in extreme temperatures.
Colors
The Avenger 8×8 STR is available in green and black.
Build the XTV You Want with Help from Shank's Argo
Our staff has helped owners with their outdoor equipment for over 30 years, so we have the expertise to help you get the XTV you need and keep it running. To find out more about Argo's XTVs, visit our shop, located at 4900 Molly Pitcher Highway in Chambersburg, PA. To schedule a test drive, visit www.shanksargo.com.