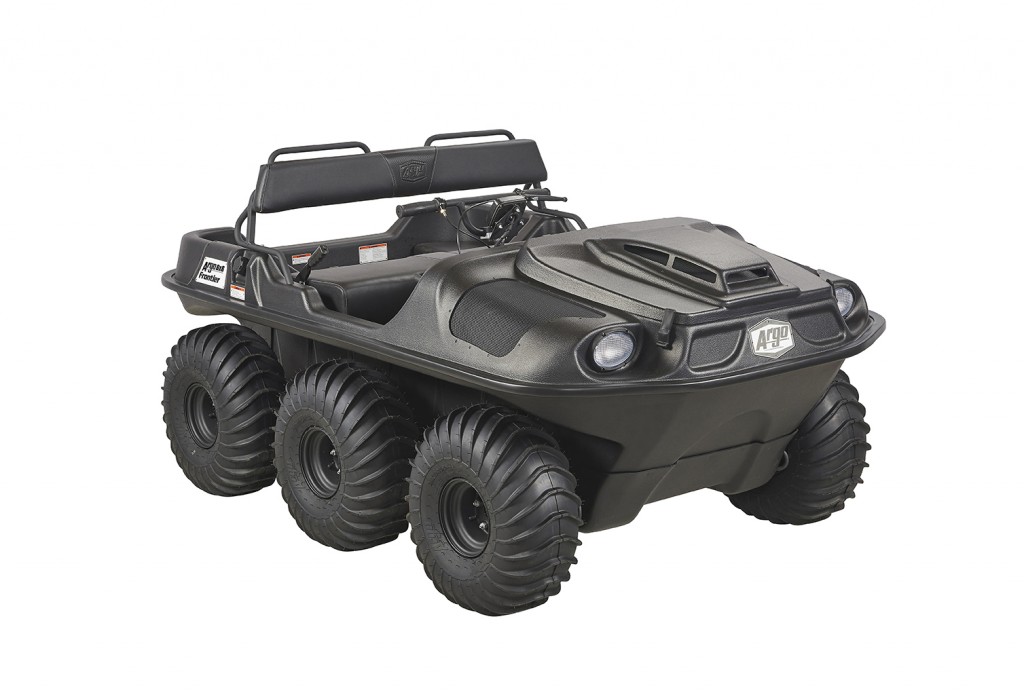 Want all the off road and water capability of an Argo in a simple package you can customize to your liking? The Frontier 6×6 S covers all the basics with just a few add-ons.
Power and Performance
The 6×6 S is powered by a 23 hp air-cooled 747 cc Kohler Command Pro V-Twin. This industrial-grade engine comes with electronic fuel injection and full pressure lubrication, ensuring high fuel economy, easy starting in cold weather, and excellent reliability. Kohler backs this motor with a three-year warranty while Argo guarantees the rest of the vehicle for one year.
This model is available with a classic STD or HT transmission. When equipped with the standard gearing, it can reach speeds up to 22 mph (35 km/h,) while the HT trades speed for low-end grunt, maxing out at 17 mph (27 km/h.) With either transmission, the maximum speed on water is 3 mph (5 km/h.)
The engine and transmission are built to work in temperatures ranging from -40 to 104 degrees F (-40 to 40 degrees C.) The fuel tank holds 7.1 gallons (27 liters) which is enough fuel for up to 8 hours of continuous operation.
Ground clearance is 9.5 inches (240 mm,) or 10.5 inches (265 mm) with a set of tracks installed. A low center of gravity allows this vehicle to climb grades up to 45 degrees.
Cargo and Seating
This XTV can seat two people. Maximum payload varies depending on where you are: it can handle 640 lbs. (209 kg) on land and 440 lbs. (200 kg) in water. In either case, the rear storage area can hold up to 140 lbs. (64 kg,) and the vehicle can tow up to 1,200 lbs. (544 kg.)
The Frontier 6×6 S measures 95 x 58 x 45.8 inches (2,413 x 1,473 x 1,163 mm) and has a dry weight of 910 lbs. (413 kg.) That means it weighs a little over 1,500 lbs. when fully loaded, but since it rides on 6 of Argo's own 24 x 10 inch tires, that load is spread over such a large area that the ground pressure is lower than that of an adult's footstep. While other vehicles may get stuck in sand and mud, the Frontier floats over these surfaces, letting you get to places other vehicles can't.
Standard Equipment
The enclosed hull design allows for a full-length skid plate: there are no differentials to get caught on obstacles, and no matter how you approach one, the entire underside is protected. A bilge pump keeps the interior dry when crossing water, while an entry step makes it easier to get in and out of the vehicle.
Colors
The hull is available in three colors: dark green tundra, black, and Mossy Oak's Infinity camo pattern.
Where to Get the Frontier 6×6 S
Looking to buy a Frontier 6×6 S? Visit the experts at Shanks's Argo. We're located at 4900 Molly Pitcher Highway in Chambersburg, PA. That's just off Rt. 11, or you can get here from I-81 by taking Exit 10/Marion. Need parts or accessories for your current XTV? Come by our shop, or visit us online at http://www.shanksargo.com/. We can ship anything you need to any state in the U.S.