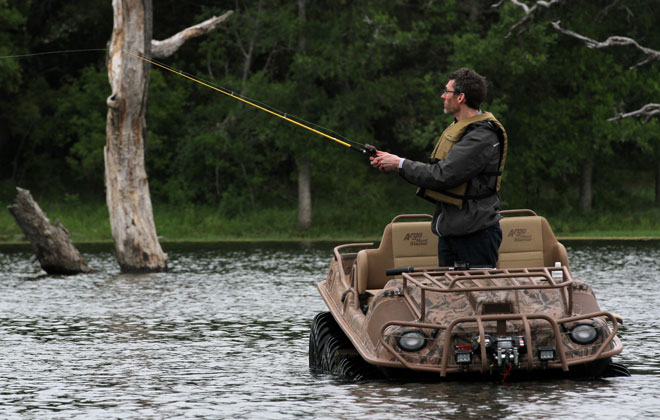 Summer heat is here, but that doesn't mean you need to wait for cooler temperatures before you can have fun with your Argo again. These tips will help you equip your vehicle and yourself for high temperatures, so you can get out into the countryside.
Choose the Right Clothing
Even though ATV and motocross helmets are open-faced, it still helps to get something with chin and top vents. Good venting will keep your head from sweating as much, and a liner will keep sweat from soaking into your helmet. If you wear gloves when you drive, look for a pair with venting and a short cuff. You still want all the features of winter gloves, including hand protection and waterproof material.
Breathable, sweat-wicking clothing will help keep the heat down and keep your skin dry. Better still, this clothing dries rapidly, should you get drenched taking your Argo in the water.
Water washes away sunscreen, including formulas that are water-resistant. If you don't want to reapply sun protection every time you get splashed, consider adding some sun sleeves and lightweight pants to your riding kit.
Stay Hydrated
While Argo includes cup holders in their XTVs, you may want to wear a hydration bladder. By positioning a bite valve next to your mouth, it's easy to take a drink when your hands are on the controls. That may seem silly, but this easy access lets you take drinks as soon as you're thirsty, instead of putting it off until you're dehydrated. Drink continually: if you start to feel thirsty, you're already dehydrated. A good rule of thumb is to take in 8 oz. of water per hour for moderate outdoor activities.
In severe heat, eat salty snacks, or take some sports drinks to go along with your water. The added salt and potassium replenish electrolytes lost through sweat. Avoid caffeine, which can act as a diuretic.
Adding Weather Protection to Your Argo
Why find shade when you can take it with you? If you add a ROPS and a windshield to your vehicle, you can fit it with a fabric convertible top. This top has roll-up sections, letting you fully enclose the cabin, or open it up while leaving the roof in place. With the top open, it helps deflect sunlight, while allowing breezes to pass through the cabin. Owners of two-seater Conquest and Conquest Pro amphibious ATVs also have the option of a hard roof, protecting passengers from the sun and falling object hazards.
Protecting Your Engine
Engines depend on oil to move heat from the combustion chamber across the head and engine block. This is especially important for air-cooled engines, which use metal fins on the block to transfer heat to the open air.
Liquid-cooled engines need plenty of coolant, and that coolant needs to be clean. Antifreeze doesn't just keep water from freezing, it also prevents it from boiling when your engine gets hot. Check the cleanliness and antifreeze concentration just like you would in winter.
It's also important to inspect your radiator. If you submerge the front end or operate in dusty areas, dirt buildup can block the cooling fins. Cleaning these off with a coil cleaner or a spray of soap and water will restore airflow. Avoid making direct contact with the fins, as they bend easily.
Keeping Your XTV's Steering Cool
Argo builds their vehicles to handle sustained temperatures up to 104 degrees F. However, if you're near or above that temperature and tackling difficult trails, it's possible to overheat the steering brakes. That's why Argo makes a brake cooling kit. It uses a fan and ducting to bring in outside air and push it over the brake rotors. Argo makes cooling kits for 2019 and older models of Scout, Avenger, and HDi, as well as the new Frontier. However, as of this writing, they don't yet have a kit that will work with the Aurora.
Come See Us for Help with Your Argo
Shank's Argo is a full-service dealership, offering vehicles, accessories, parts, and service for everything Argo. We always have several vehicles in stock, along with a wide selection of accessories to help you get the most from your vehicle. Visit us at 4900 Molly Pitcher Highway in Chambersburg, PA, or online at www.shanksargo.com.