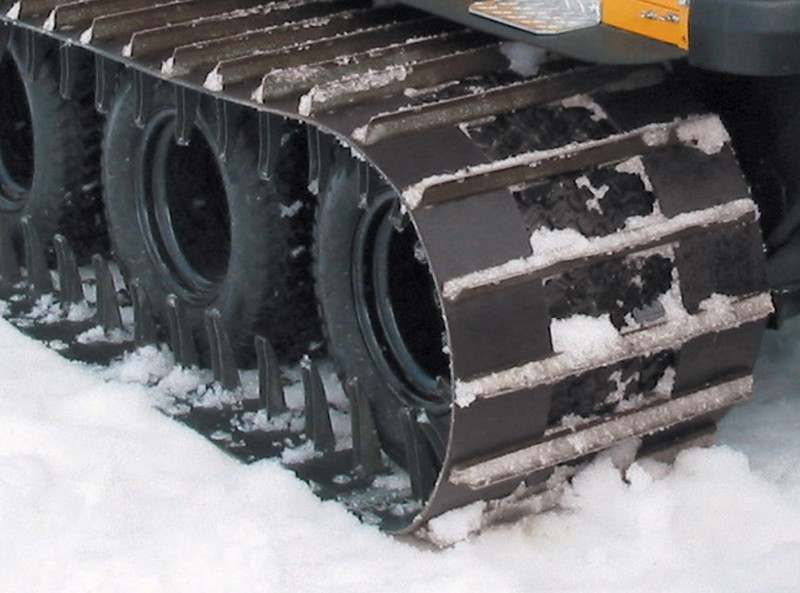 Whether you need to reach remote locations, work during ice and snow storms, or just want to make it easier to get outdoors, there are a lot of ways you can outfit your Argo XTV for winter.
Heater
The heater kit taps into the cooling system of models with water-cooled engines including the Conquest, Avenger, HD, HDI, and HuntMaster. Once the engine is warm, heat is transferred from the coolant through a radiator-like heater core into the cab, just like the heater found in automobiles.
Brake Cooling Fan Kit
It may not seem like winter and heat go together, but slick surfaces require more frequent slow speed climbs that can be taxing to your XTV's brake steering system. This fan kit circulates air around the brakes to keep temperatures low to maintain performance.
Tracks
By expanding your vehicle's contact area, ground pressure can be decreased to a point that your XTV drives over snow instead of through it. While every type of track will improve soft surface traction, Argo's plastic tracks, available for all models except the Conquest, offer the best grip on mud and snow. Ice cleats can be added to any set of tracks to help bite into ice and hard-packed snow for improved traction, while installing mud flaps will keep mud, water and snow coming off of the tracks from reaching the passenger and cargo areas.
Catwalk
Driving in cold, nasty weather is bad, but having to walk in it is worse. With the catwalk, it's easier to get into and out of the vehicle, while allowing access to the rear cargo area of your Conquest without having to set foot on the ground. This accessory comes with a full-length mud flap.
Windshield
An aluminum frame and scratch-resistant acrylic window offer protection while still being light enough to fold up and down as needed. It's also designed to be easy to remove if you want the windshield out of the way, but can't fold it down because the front end is already occupied by a cargo rack. A wiper can be added to the windscreen, which plugs into a pre-wired switch included on all XTVs built since 2010.
Hard Top
Have an XTV with a ROPS installed? A hard top can be permanently mounted to the top of the bars to provide overhead protection. Argo offers the top in two sizes to fit both full coverage and front-seat-only bars.
Canvas Sides
Get complete protection by combining your XTV's ROPS, hardtop, and windshield with canvas sides that have built-in windows. Removable sides and doors provide easy access to passenger and cargo areas. Like the hard top, versions are available for both types of ROPS.
Convertible Top
Get full protection without needing a ROPS by installing one of these tops. Available as a full top that covers the entire vehicle or a half-top that encloses only the driver and front passenger area, the convertible top can be used as a full enclosure, or the sides can be removed for use as a bimini top during the summer. While the full top offers complete coverage, the half top leaves the rear open for cargo access. These convertible tops need to be used with a windshield for support, and they can be easily folded down or removed when not in use.
Get Your XTV Geared Up for Winter with Help from Shank's Argo
Whether you need to be able to travel in the most severe winter conditions or you just want to have fun in the snow, Shank's Argo has the accessories you need to get the most out of your XTV. We're not just a major Argo dealer, we have over three decades of experience helping people with their outdoor equipment, so you can be confident that you'll always get the service and support you need. Learn more about Argo parts and accessories by visiting our website, www.shanksargo.com, or you can visit us in person at our shop, located at 4900 Molly Pitcher Highway in Chambersburg, PA. That's one mile east of I-81 via Exit 10 to Marion.