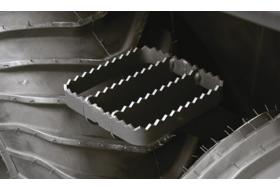 XTVs are capable vehicles straight from the factory, but if you want to make it easier to live with both in the wilderness and between trips, there are plenty of options. Argo's line of accessories are designed around your needs, making it easier to both operate and care for your vehicle.
Racks
A front rack comes standard with Argo's Outfitter models, but they can be added to any model to provide space to carry up to 50 lbs. (23 kg) of gear. Keep in mind that with this rack installed, the windshield accessory can't be folded down, and it isn't compatible with the hood scoop accessory.
Need a little more space? A rear rack can be added that extends past the cargo area, adding the same 50 lbs. (23 kg) of capacity as the front rack. Due to its mounting position, it can't be used with the outboard motor, gas can or spare tire attachments.
The cargo area can also be set up for more flexibility by adding a utility or gun rack. The gun rack is designed to safely transport four rifles, or it can be set up to carry a pair of bows. The utility rack is ideal for long objects like shovels and axes.
Steps
Most models come with one step mounted on the driver's side, but there are spots to mount driver and passenger-side steps on all models for easier entry and exit from the vehicle. When you aren't using your Argo to pull a trailer, you can fit a wide double step into the receiver, making it easier to climb into the back or stand over the cargo area to reach your equipment.
Hand Rails
Make getting into the back easier by adding a set of hand rails. They're designed to wrap around the rear cargo area, giving passengers a place to hang onto when riding over rough terrain.
Heater
This automotive-style unit taps into the coolant lines to use engine heat to warm the cab. It works with models with water-cooled engines including the Conquest, Avenger, HD and HDI.
Hood Scoop and Fan
The hood scoop and optional fan are designed to keep the engine compartment cool in hot, humid environments. As a side benefit, they also reduce firewall heat, keeping the driver and front passenger cool in less extreme weather.
Accessory Outlet
Need to power radios and equipment, or just want a way to charge your smartphone? Argo has kits to add either a single 12-volt accessory outlet or both 12 volt and USB connectors.
HD Drive Belt
Kevlar construction and built-in cooling fins don't just make this belt tough enough to deal with commercial use, it also lasts two to three times longer than the standard belt, reducing maintenance.
Automatic Chain Lubrication
This system uses a pump that is signaled by the vehicle's hour meter, releasing oil for 5 seconds after each hour of operation. As long as the reservoir is full, you'll never need to worry about lubricating the chain.
Battery Shut Off Switch
Do you have an XTV loaded with accessories? Does it sit in storage for long periods between uses? A battery shut off switch cuts the connection between the battery and the electrical system, stopping phantom loads that can leave your battery dead by the time you're ready to put your Argo back to work. This kit mounts the switch below the driver's seat, making it easy to reach without being in an area which it could be switched off by accident.
Ready to Make Your Argo Easier to Live With?
Shank's Argo has everything you need to make your XTV more comfortable and easier to use, and with over 30 years of outdoor equipment experience, you can be confident that you'll always get the service and support you need. Stop by our showroom or schedule a test drive or learn more. We're located at 4900 Molly Pitcher Highway, Chambersburg, PA. Just one mile east of I-81 from Exit 10 to Marion.