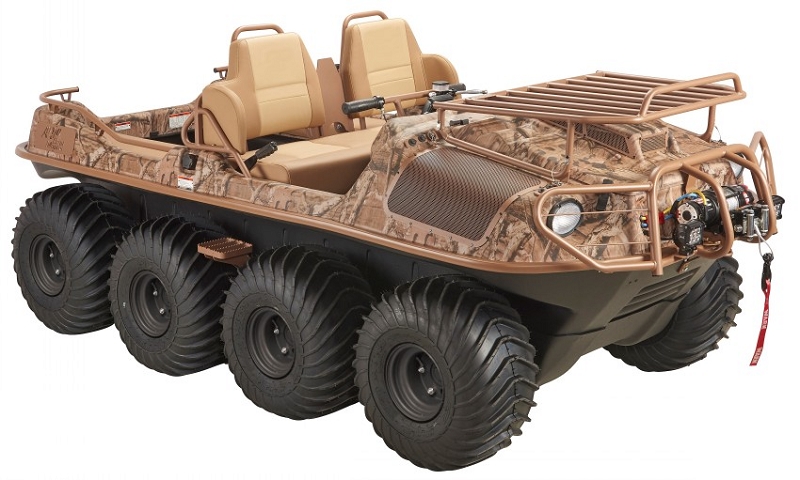 Built to Go Anywhere You Can Take It
Argo has striven for 50 years to make the ultimate vehicle to tackle the most difficult terrain. From traversing the wilds of the world, to exploring the moon, Argo has made cutting-edge innovations to create the best Xtreme Terrain Vehicles. Argo XTVs are for hunters, anglers, and adventurers who love to challenge tough terrain. Argo XTVs also serve as emergency vehicles, going where others can't to save lives. Argo XTVs are for professionals working in the outdoors in a variety of disciplines. All Argo vehicles are totally amphibious, allowing them to cross ponds, streams, and wetlands.
Rugged ARGO Construction
Argo vehicles are built with all-terrain bodies, low pressure tires, and all-season engines. The all-terrain body is an Argo signature with a one-piece design that combats water and environmental hazards. The underbody easily glides over stumps, rocks, and wetlands. The Argo low pressure tires provide superior traction off-road and propulsion when used in wet environments. Argo's all-season gas or diesel engines are dependable and rugged. No matter what the climate conditions, the engines deliver a sure start. Argo also offers deep snow mobility kits that allow the vehicle to traverse deep snow and other fragile terrain with less pressure than a person walking over it.
Avenger 8×8 Hunt Master Z
The Avenger 8×8 Hunt Master Z features a 30 horsepower, liquid cooled Kohler V-Twin engine and STD or HT Admiral transmission. Tires are 25 inch diameter with steel offset rims and the maximum load is 855 pounds. Seating is for six on land and four on the water. Other features include premium seats, a gun rack, front rack, handrails, winch wiring, fog lights, tail and brake lights, and a rear receiver. The Hunt Master Z comes in the Mossy Oak Infinity Camo color. You'll find the following specs on the Argo Avenger 8×8 Hunt Master Z:
Kohler Aegis ELH775 engine
a 3 year engine warranty
hydraulic service and steering brakes
ergonomic one-piece steering with brake lever
light and ignition switch
throttle with right-hand twist grip
CVT and belt-driven clutch
bilge pump
full skid plate
brush guard
1,800 pound towing capacity
735 load capacity on water
20 mph land speed
3 mph water speed
7.1 US gallon fuel capacity
9.5 inch ground clearance with tires
welded steel frame
The Argo line of extreme terrain vehicles are not just for hunters and adventurers, but indispensable in the rescue field. Not only can the rugged Argo make it to isolated areas in rough terrain, but it also has considerable load and towing capacity. It's no wonder an increasing amount of markets are looking at the Argo line of XTVs for all their needs.
Find the Argo Avenger 8×8 Hunt Master Z and other Argo products at Shank's. Serving South Central Pennsylvania in the Cumberland Valley area. Shank's is your one stop shop for Argo equipment, parts, accessories, and more. Give us a call or email today.