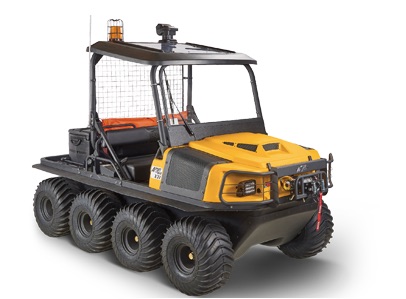 Electricity is a modern necessity, requiring lines to be strung in the most remote locations. In the past, line crews had to resort to traveling on foot to maintain remote sections of the grid. With Argo's Conquest 8×8 XT-L, these workers can drive directly to poles, crossing areas that are impossible in other vehicles. Built to act as a mobile workspace, this XTV is perfect for anyone who needs to make repairs deep in the wilderness.
Performance
Up front, a liquid-cooled Kohler Aegis V-twin sends power to an Admiral transmission geared for a top speed of 17 mph. Both the engine and drivetrain are designed to work in temperatures from -40 to 104°F.
The drive system sends power to all 8 wheels for maximum traction. The giant tires minimize scrubbing, making it safe to operate on pavement while letting the XT-L float over sand, snow and other soft surfaces. It can also handle extreme grades, going places traditional off-road vehicles can't reach.
The hydraulic steering brakes built into the transmission gradually slow the inner wheels to make turns. This system is linked to a set of handlebars, making it feel like driving a vehicle with a steering rack.
Equipment
The cab is surrounded by an ISO 5700 certified ROPS. The occupants are protected from weather and loose cargo by a windshield, solid roof and rear mesh screen. A full-length skid plate and brush guard protect the XT-L when driving through forests and across rocky terrain. A heavy-duty belt and automatic chain lubrication system reduce drivetrain maintenance.
Once on site, a 60 amp alternator provides the power needed for accessories. A yellow strobe on the roof makes the vehicle visible, while the flood light produces 6,000 lumens from just 70 watts. This light has a remote control for positioning the beam exactly where it's needed. Tools and equipment can be kept in the 38-gallon dry storage tote mounted over the cargo area. This tote has built-in handles and wheels to make it easy to move into position once at the work site.
A 4,500 lb. Warn Winch can be used to move poles and other objects into place. This winch can be mounted to the front or rear of the vehicle. It can be operated from the cab or can be paired with an optional remote for control outside of the vehicle.
Newly extended axles make it easier to fit and remove tracks. Argo offers several versions for the Conquest including treads for ice, snow, and mud.
Cargo Capacity
The XT-L can carry 1,000 lbs. including a driver and passenger, and it can tow up to 2,000 lbs. Amphibious use is not recommended for this model.
When You Need Professional Quality Vehicles, Turn to Shank's Argo
Whether you're a weekend warrior or a fleet buyer, you can get the service and support you need for your XTV at Shank's Argo. We're not just a major dealer, we have three decades of experience selling and servicing outdoor equipment. To find out if the XT-L is right for you, visit our showroom at 4900 Molly Pitcher Highway in Chambersburg, PA. You can also schedule a demo at our website, www.shanksargo.com.