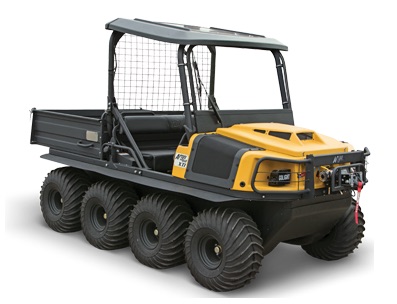 When you need to haul loose materials across difficult terrain, it's hard to beat Argo's Conquest 8×8 XT-X. Built specifically for the needs of the petroleum industry, this rugged off-road machine comes with a large dump bed and safety equipment for carrying materials and equipment to places that are unreachable by most vehicles.
Not Amphibious, but Still Unbeatable Off-Road
Argo's XTVs are famous for their ability to cross bodies of water, but the XT-X lacks this ability due to the high center of gravity it has when fully loaded. That said, the same features that help other XTVs cross streams and lakes makes this model an exceptional performer on land.
There is no traditional coil and spring suspension on this vehicle. Instead, 8 low-pressure tires absorb bumps, allowing the axles, engine, and transmission to be mounted lower than a UTV. This gives the XT-X a low center of gravity when loaded for more stability when turning and climbing. These tires also lower ground pressure to 2.5 psi, letting it float over sand and mud. Add a set of tracks, and ground pressure can drop to as little as 1 psi, making it safe to drive over biologically sensitive landscapes. This vehicle doesn't just work better in remote locations, it can work in places where other vehicles can't.
Performance
When Argo wanted to get a reliable, all-weather engine for their commercial line, they turned to Kohler. The XT-X is powered by a 30 hp Aegis V-Twin uses an advanced EFI system and liquid cooling so it works well in a range of temperatures, while a large canister filter keeps dust at bay while minimizing maintenance. This engine is paired with a 60 amp alternator to power lights and accessories.
Power is sent to the wheels via an Admiral transmission fitted with STD gearing. This CVT gives the XT-X a top speed of 17 mph and has a low range built for steep climbs. An HD drive belt and automatic chain lubrication system are included to reduce maintenance. Brake steering eliminates the need for a steering rack, and the Admiral's ability to gradually apply the steering brakes makes this vehicle feel more like driving an ATV than a skid steer.
Features
The XT-X has a steel dump box that can carry up to 1,000 lbs. of material. It's perfect for moving gravel and soil as well as mounting spray tanks for chemical and fertilizer application.
For operator protection, this model includes a ROPS with a hard roof and metal mesh rear screen to keep the cargo separated from the passengers. A windshield and wiper are also standard. This model has seating for two people.
A Warn winch rated at 4,500 lbs. comes mounted to the front of the vehicle, but it can also be moved to the rear using the included hitch mount. The cab comes pre-wired with switches to operate the winch in either position.
Cargo Capacity
The XT-X can carry up to 1,055 lbs. and tow up to 2,000 lbs. It can tow regular trailers as well as Argo's own amphibious trailers, which use the same tires as their XTVs. This means they tread as lightly as this vehicle and can even be outfitted with tracks.
Outfit Your Business with Help from Shank's Argo
Shank's Argo is more than just an Argo dealer: we have over 30 years of experience helping businesses with their outdoor equipment. We can help you find the right XTVs for your needs, whether you're involved in construction, forestry, emergency services, hunting or just want to have fun exploring the great outdoors. To see if an XTV is right for you, stop by our shop at 4900 Molly Pitcher Highway in Chambersburg, PA. That's one mile East of I-81 via Exit 10 to Marion. You can also schedule a test drive right from our website.