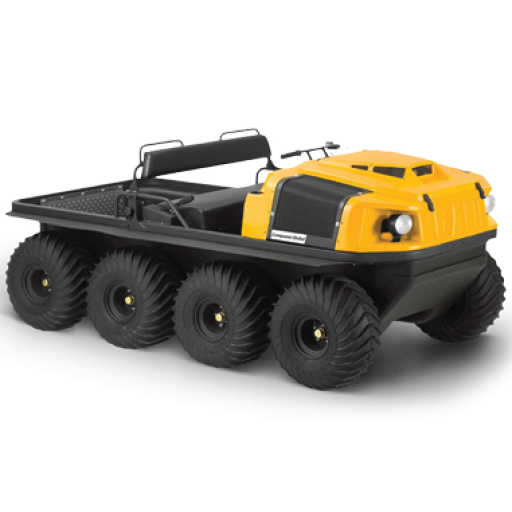 When you need to get materials and equipment to remote places, it's hard to beat Argo's Conquest 8×8 XT. This XTV has a large cargo area, can tackle steep slopes that would stop most trucks and UTVs, and since it floats, there's no need to worry about snorkels or deep water. With a wide range of accessories available, you can build the perfect vehicle for backwoods repairs, forestry or construction.
Performance
This model comes with a 30 hp 747 cc Kohler Aegis V-Twin. It has EFI for low fuel consumption and liquid cooling to maintain engine temperatures, even when idling. On this model, it comes equipped with a 60 amp alternator for powering accessories and a 7.1-gallon fuel tank that can keep the engine running for up to 8 hours.
Power is sent to the wheels by an Admiral transmission fitted with the STD gearset. This CVT and final drive provide a maximum top speed of 17 mph in this application. For steep climbs, the transmission can be shifted into a low range mode.
The transmission connects to the wheels via a belt drive, and the wheels on each side are connected by chains, providing constant power to all 8 wheels. The Conquest includes an HD drive belt and automatic chain lubrication system to reduce maintenance. Steering is handled by a variable braking system on the transmission: turning the handlebars brakes the inner wheels, slowing down that side of the vehicle to turn. This lets the Conquest turn within its 132-inch wheelbase.
Like other XTVs, the XT is amphibious, using the paddling motion of the tires to propel it to a top speed of 3 mph. A full-length skid plate protects the underside when making water crossings, while the wide contact area of the tires lets the vehicle float over mud, sand, and marshes, letting it enter and exit bodies of water at almost any point.
Cargo
The Conquest XT can carry up to 905 lbs. when driving on land and up to 860 lbs. when crossing water. It can also tow up to 2,000 lbs.
As equipped from the factory, the XT can carry two people. An optional seat adds space for two passengers on land and can be easily removed to make full use of the cargo area.
Moving equipment isn't always as simple as throwing it in the back, which is why Argo includes a 4,500 lb. Warn winch. The interior is pre-wired with switches to operate the motor, and the unit can be attached to the front of the vehicle or to the rear hitch receiver, giving you more options when you need to pull up equipment or move obstacles.
Outfitting
While the space and off-road abilities of the XT make it useful, it's Argo's ample range of accessories that make it really shine, letting you tailor this XTV to your needs.
XTVs have a low center of gravity, making them far less likely to flip than a UTV, but Argo still makes a ROPS to fit the Conquest if you need to comply with workplace safety regulations. Using the optional seat? There's also a version that stretches across the entire length of the cargo area, protecting all passengers. These roll bars can be paired with a windshield, solid top and canvas sides for increased weather protection.
Need to carry tools? The 38-gallon storage tote straps to the cargo area and has a built-in handle and wheels, letting you roll your tools into place once at the work site.
Dealing with winter weather? Argo makes a variety of tracks that fit over the wheels, letting you get better traction on snow and ice. The XT can also be fitted with an 81 inch-wide snow plow that is lowered and raised by the winch.
Want to make the most out of the XT's towing ability? Argo makes amphibious trailers with the same hull design and tires as their XTVs, so they can go anywhere your XTV can go. Need to permanently mount equipment? The Universal Mounting System adds rails to bolt down welders, generators and other large devices. It's available in versions to fit the XT's cargo area and the 8 wheel trailer.
Colors
The 8×8 XT is available in Industrial Yellow.
When You Need Maximum Off-Road Utility, Visit Shank's Argo
Shank's Argo has been helping professionals with outdoor equipment since 1984, and we've become one of the largest Argo dealers in the East. To see how the Conquest 8×8 XT can help your business, visit our showroom at 4900 Molly Pitcher Highway in Chambersburg, PA. That's one mile East of I-81 via Exit 10 to Marion. You can also schedule a demo or learn more about Argo products at our website, www.shanksargo.com.