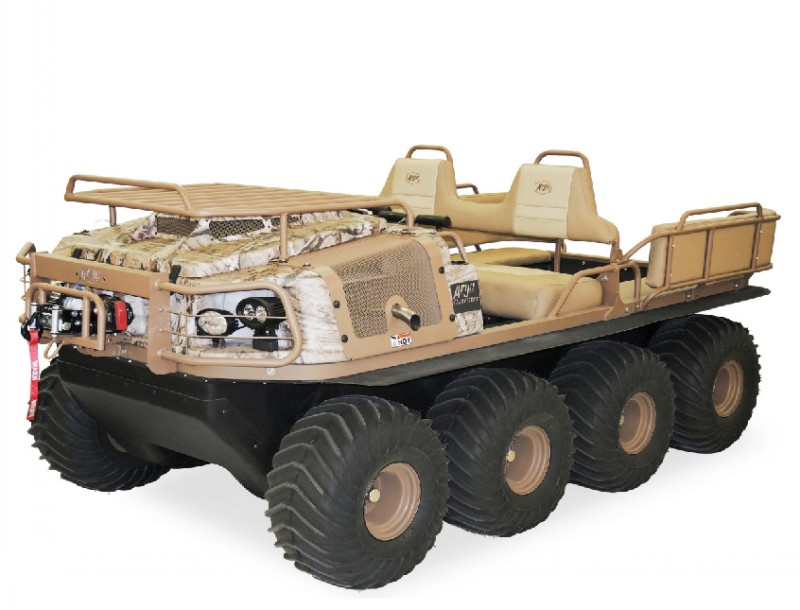 The Scout is small enough to travel along the narrowest trails and the Huntmaster comes with maximum space and features, but what if you need all-out performance and hauling ability? The 8×8 Outfitter XTi is built on Argo's truck-like Conquest platform, giving it the highest cargo and towing capacity in the Wilderness series. This makes it the perfect choice for big game hunters, hunting lodges and anyone else going on long hunting expeditions.
Power
The Outfitter isn't powered by a motorcycle engine like most UTVs. Instead, it uses a Kohler Aegis V-Twin, an industrial engine commonly found in professional outdoor equipment ranging from portable welders to tractors. An oversized air filtration system, EFI, and liquid cooling help it maintain performance in a wide range of environments from tundra to deserts. Argo fits this engine with a 60 amp alternator to power accessories.
A Different Approach to Off-Road Performance
Power is sent to all 8 wheels all the time using Argo's Admiral transmission. It uses brake steering to slow down the inner wheels to turn like a tank, but it's controlled using a set of ATV handlebars, making it easy to learn. This transmission comes fitted with the STD gear set, providing a top speed of 20 mph while still having enough grunt to handle heavy loads.
XTVs are well known for their amphibious abilities, but their giant tires also aid performance out of the water. They spread out the weight of the vehicle, reducing ground pressure to a point that it's about the same as a human, letting this vehicle drive over mud, snow, and sand instead of through it. This also minimizes scrubbing, allowing all wheels to be driven when operating on the pavement. Low air pressure allows the tires flex over bumps, eliminating the need for a long-travel suspension. This keeps the center of gravity low for stability on steep inclines, letting the Outfitter climb hills that would be impossible in a standard UTV.
This vehicle can enter and exit bodies of water almost anywhere, and the paddle-shaped treads can propel the vehicle to a top speed of 3 mph. Since it floats, there's no worry about water getting into the engine, while any water splashed up into the cab is taken care of by a built-in sump pump.
Cargo and Passenger Capacity
The Outfitter XTi comes with a pair of inward-facing seats in the cargo area, making it the only Conquest that can carry 6 passengers. A rear entry step is included to make it easier for passengers to enter the vehicle.
This XTV can carry 6 people and up to 1,190 lbs. on land and two people and up to 790 lbs. on water. It can also tow up to 2,000 lbs. and comes with a rack over the front end that can carry up to 50 lbs.
Equipment
Retrieving gear and rescuing a high-sided vehicle is simple thanks to an included 4,500 lb. Warn winch. Normally, this winch is mounted to the front end, but it can also be hooked up to the rear end thanks to an included rear receiver kit.
Dual LED headlamps and floodlights provide visibility when driving and can be used to illuminate work areas, whether you're setting up camp or loading up some game. These lights are protected by a full-length brushguard.
Blend Into Your Surroundings
Argo worked with Mossy Oak to bring two new camouflage patterns to Wilderness Series XTVs this year: Break-Up Country and Shadow Grass Blades. Break-Up Country is an update of the Break-Up Infinity pattern Argo used in previous years. This woodlands pattern now uses elements with more varied sizes to help eliminate the vehicle's outline.
Shadow Grass Blades uses the same techniques to help the vehicle blend in with its environment, but it uses elements based on marshes. This makes it a great choice for hunters looking to use their Outfitter for fishing or hunting waterfowl.
Get Professional Service and Support for Your Professional XTV
Shank's Argo is one of the biggest Argo dealers in the East, and we have decades of experience with professional outdoor equipment, so we know what it takes to get you the vehicle you need and keep it running. We're located at 4900 Molly Pitcher Highway in Chambersburg, PA. To get here from I-81, take Exit 10 and drive East one mile.
You can also schedule a demo to find out if the Conquest Outfitter is right for you by visiting www.shanksargo.com.