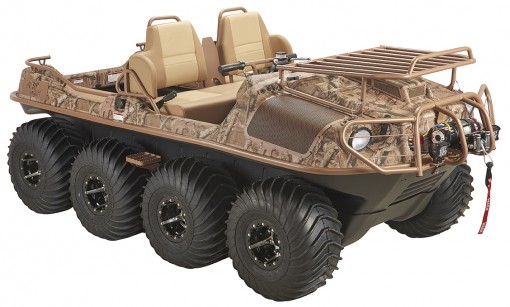 The Argo line of extreme terrain vehicles crosses the market between recreational and commercial use with the ability to easily ford water obstacles and crawl over land. Argo vehicles have 8×8 mobility and a strong one-piece body that is lighter than you would expect. The lightness gives it a low ground pressure that enables it to go through tricky conditions like snow and swamps. The added ability to fit rubber tracks allows the Argo XTV to leave an even lighter impression than a person's footprint. Argo mobility protects both passengers and the environment around it. Argo vehicles have the following passenger safety features:
best static stability factor
four times less likely to roll over than other all-terrain vehicles
the lowest center of gravity on the market
low to the ground payloads
triple-differential transmission to provide smooth steering and traction
At the same time, Argo XTVs protect the environment that they traverse. With a psi as low as 1.06, the Argo can cross fragile terrain and leave no lasting damage. The Argo XTV body is fully sealed, which keeps any compromising fluids or mechanics from contaminating the ground or water. The location and design of the Argo exhaust systems present little to no fire hazard in dry conditions.
The Argo is extraordinary because it simply does more. Offering a variety of attachments and optional cargo decks, the Argo can be a flexible mobile platform for any situation. Its ability to perform in high altitudes, carry heavy equipment, and cross a variety of terrain makes it a productive vehicle in all seasons.
Argo Avenger 8×8 Hunt Master ZX
Powered by a V-Twin Kohler engine and with the ability to carry 850 pounds on land or 700 pounds on water, the Argo Avenger 8×8 Hunt Master ZX can also carry six passengers over land and four over the water. On top of that, it can tow up to 1,800 pounds. The Hunt Master ZX is geared towards hunters and features the Mossy Oak Infinity Camo as its color. The liquid cooled engine puts out 30 horsepower and is driven by an HS Admiral transmission. Tires are 25 inches diameter with beadlock rims. Other features include:
premium seats
front and gun racks
hand rails
rear receiver winch wiring
fog, tail, and brake lights
The Hunt Master ZX features a 25 mph land speed and a 3 mph water speed. It can carry 7.1 gallons of fuel for a run-time of eight hours and the clear tank allows you to know the level at all times. It offers a full LCD and digital instrumentation cluster, including warning lights for low oil pressure, engine problems, and a parking brake reminder. Ground pressure is 2.5 psi using tires and ground clearance is 9.5 inches. With tracks, the ground clearance goes up to 10.5 inches. It measures 124 inches long and from tire to tire it's 79 inches. Height is 47 inches in the front and 52 in the back.
Want to See it in Action?
Get everything you need for Argo XTVs including the Avenger 8×8 Hunt Master ZX with a visit to Shank's Argo in Marion, Pennsylvania. A reputable power equipment dealer since 1984, Shank's supports the Argo line with available vehicles, parts, accessories, and service. Give us a call or email for all your Argo needs today!