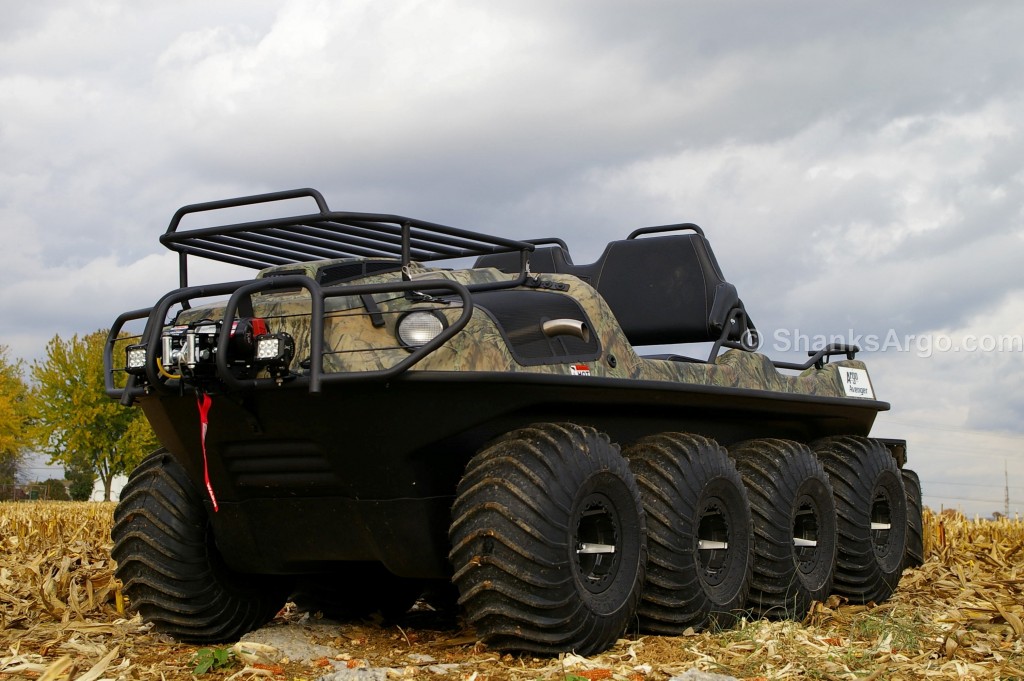 Argo's Huntmaster XTVs aren't just good for deer hunting, they were created specifically to meet the requests of amateur and professional hunters. When you have just a few days to bag your game, the time you save when using a Huntmaster can make the difference between reaching your limit and going home empty-handed.
The Birth of the Huntmaster
There are few hunting guides alive today who are more accomplished than Jim Shockey. He has over three decades of experience as a guide, has starred in his own hunting shows, and even opened his own museum featuring his collection of hunting artifacts spanning human history.
Shockey operates hunting camps across the Yukon and Western Canada, taking hunters on multi-day wilderness tours to hunt moose and deer. Looking to improve the experience, he bought several Argo XTVs to use on these trips. He chose these vehicles because they were the only alternative he could find to the horses he depended on to cross the Canadian wilderness.
He was so impressed with their ability that he contacted Argo, praising the vehicles for their off-road abilities. In his experience, one 8×8 did the work of 8 horses without the feeding and upkeep. This led to a partnership to develop the first Huntmaster series in 2007. Since then, Argo has constantly updated the Huntmaster, adding new models and including improvements suggested by their owners. Today, you're just as likely to see these XTVs used for hunting waterfowl or sightseeing, but their core mission remains duck hunting.
All Terrain and All Weather
An Argo isn't just a UTV that can float. It can handle steep terrain and drive over mud and snow, letting it reach places that would normally require a pack animal. Even if your hunting area isn't days away from civilization, the added terrain capability lets you get in and out of hunting spots faster and easier than any other vehicle.
Like all of their vehicles, Huntmaster models work well in all kinds of weather from hot summer days to temperatures as low as -40ºF. For winter hunting, a heater can be added to models with liquid-cooled engines, keeping the interior warm when paired with a fabric enclosure.
Weapons at the Ready
An ATV or UTV has space for one or two bulky gun cases, forcing the operator and passengers to stop, get off the vehicle whenever they spot their game. Argo solved this problem by offering a Sure Grip gun rack that fits in the center of the vehicle, protecting rifles and bows while still leaving them readily accessible. The low center of gravity also means there's no need for a ROPS, giving you an open view without having to leave the vehicle. If you spot a deer from your XTV, you can be ready to shoot in a fraction of the time of other vehicles.
Space for Equipment
When you go on a hunt, you need a drag rope, tree stand, first aid kit, scents, ammo, game bags, knives and a lot more. Once you start bagging deer, you'll be adding hundreds of pounds on top of your gear weight. A large rear storage area, a front rack, and high payloads make a Huntmaster XTV great for handling this weight, despite having an overall footprint that is smaller than most UTVs. Get the 6×6 Scout, and you'll have a roomy hunting vehicle that is only a little wider than a full-size ATV.
All Huntmasters include a front rack, giving you more room for equipment, and adding an amphibious trailer can double cargo capacity without hindering off-road performance.
Blend In
Argo offers the Huntmaster in Mossy Oak's Break Up Country, the number one choice for deer hunters in North America. This makes it easy to get matching clothing and gear so you can take the greatest advantage of this pattern's outline obliterating design.
It's also the official camo of the Quality Deer Management Association. This is more than simply paying for an endorsement: for years, Mossy Oak has worked with QDMA on research projects that improve hunting and conservation techniques to keep deer hunting alive.
Get the Advantage You Need This Hunting Season
Shank's Argo is one of the biggest Argo dealers in this part of the country, and we have decades of experience selling and servicing outdoor equipment. If you're looking for a great hunting vehicle or you need your current XTV serviced, visit our showroom at 4900 Molly Pitcher Highway in Chambersburg, PA. To get here from I-81, take Exit 10 to Marion and drive one mile East. To schedule a test drive, visit us online at www.shanksargo.com.