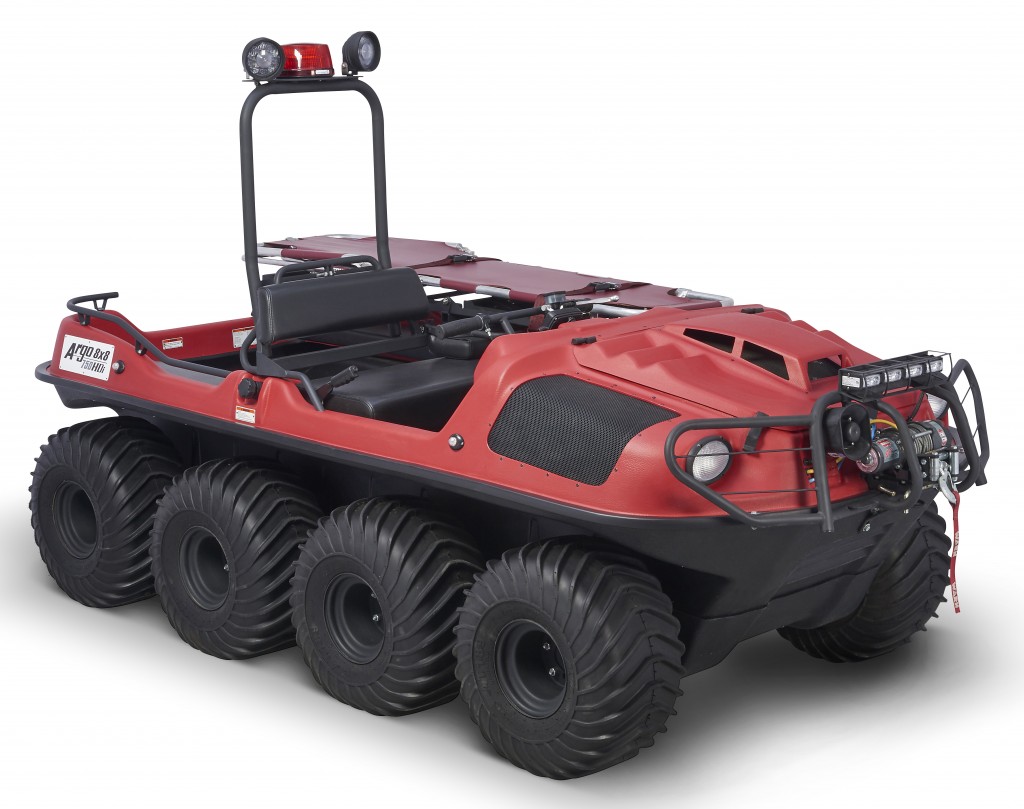 When lives are on the line in desolate locations and bad weather, you need a vehicle that can surpass nearly any obstacle. The Argo line of emergency response XTVs is well-suited to making emergency trips in places nothing else can reach. Argo vehicles have low ground pressure, a solidly constructed one-piece body and low-pressure tires that allow them to traverse nearly any terrain. All Argo vehicles are amphibious and need no extra preparation to pass through water and then go back on land. Argo vehicles have high ground clearance and an included skid plate that allow it to float over hard obstacles with ease. The Argo body is fully sealed to keep all fluids and mechanics safe from compromise. Besides easily navigating difficult terrain, the Argo is also at home in any kind of weather, providing a sure-start engine. Because of the Argo's ability to navigate rough terrain in bad weather, it can easily make it to isolated areas to provide an emergency response to anyone stuck in the wilderness and is fast becoming the choice for emergency responders in these markets.
Argo Avenger 8×8 Responder
Able to cross desolate and challenging terrain, the Argo Avenger 8×8 Responder is powered by a 30 horsepower, liquid cooled Kohler V-Twin engine and driven by an Admiral STD or HT transmission. It has eight 25 inch tires with steel offset rims and can seat up to six people without the stretcher. It can carry 950 pounds over land and 800 pounds over water while also having a towing capacity of 1,800 pounds. Other features on the 8×8 Responder include:
stretcher mount
folding seat
rear receiver winch kit
lift points
first aid compartment
The Responder comes in colors of either red or orange to stand out as an emergency vehicle. It measures 124 inches from front to back with an overall width of 60 inches. The front section is 30.5 inches, while the rear section is 43 inches long. From back tire to front tire, it's 79 inches and the vehicle is between 46 and 47 inches tall. It can operate in all weather and all terrain conditions from -40°C to +40°C. It features the following instrument cluster:
LCD digital gauges
speedometer
odometer
voltmeter
tachometer
oil pressure warning
parking brake reminder
check engine light
The Responder features a fuel capacity of just over seven US gallons, or 27 litres, which gives it up to eight hours of operation. The polyethylene fuel tank is clear, allowing you to see exactly how much fuel is remaining. It can travel up to 30 mph on land and three mph in the water.
Shank's is proud to support the Avenger 8×8 Responder and the entire line of XTVs with a full-service location in South Central Pennsylvania. Not only can you purchase Argo vehicles at Shank's, but you can also make us your first stop for warranty work, accessories, parts, and more. You can find us on US RT 11 in Marion, Pennsylvania, about a mile from Exit 10 off I-81.