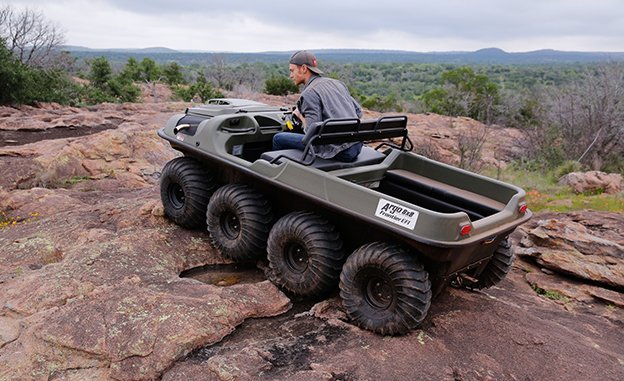 Whether you're duning or climbing rocky canyons, desert driving is a fun and challenging way to enjoy your Argo XTV. Here are some tips for preparing your amphibious ATV for a desert excursion and techniques that will help you tackle the tallest dunes.
Brake Cooling for High Temperatures
All Argos are designed to handle temperatures up to 104°F. Above that, the heat can be taxing on mechanical components, especially the steering brakes. These inboard brakes bolt directly to the transmission, placing them inside the hull. This is fine for normal operating conditions, but they can't shed heat fast enough in hot climates. If you're planning a desert excursion, consider installing a brake cooling kit. This adds an electric fan and ducting that directs air over the steering brakes, keeping them cool at all operating speeds.
Preparing the Engine, Transmission, and Drivetrain
Running your Argo in high temperatures increases oil burn off. To prevent this, engine manufacturers recommend using a heavier weight oil:
Kohler Aegis and Command Pro – 10W-30 or SAE 30
Kohler KDW Diesel – 10W-60, semi-synthetic 20W-60 or full synthetic 20W-60
Briggs & Stratton Vanguard – Synthetic 5W-30 or Vanguard 15W-50
If you're operating in dusty conditions, the air filters will need to be cleaned more frequently.
Tires slip more on sand than any other surface, putting the engine under higher loads. It's good practice to start a long excursion with fresh oil, a new oil filter and fresh transmission fluid. That slipping coupled with opportunities to drive your XTV flat out means higher fuel consumption. Be sure to bring extra fuel.
Now is a good time to service the drive chains. Clean chains with a fresh coating of lubricant are less likely to collect dust and sand on them than dirty, sticky chains. After a day of desert driving, check the chains for buildup and clean as needed.
Sand Traction
The paddle-shaped treads Argo uses to propel their vehicles through water work great on sand. Airing the tires to 1.5-2.5 psi will give the tires maximum grip on soft sand. If you transition onto rocky terrain, increase tire pressure to 6 psi for more sidewall stability. If you plan on regular desert travel, consider upgrading to bead lock rims. These clamp the tire beads onto the wheel, keeping them from rolling when running the tires at low pressures.
For the ultimate in dune performance, consider installing tracks. Both plastic tracks and rubber Super tracks work well in sand, increasing your vehicle's contact patch and dropping its ground pressure. This helps it float over soft sand, making climbs easier. Pair these tracks with a set of mudflaps to keep sand from being flung into the cabin.
Making Yourself Comfortable
Adding a convertible top or hard roof to your vehicle can help shield you and your passengers from the sun.
Before you go on a long excursion, do what you- can to acclimate your body to heat, whether that means hot yoga, saunas, or just going for a run in the middle of the day. Remember that even if you'll be driving in cooler spring or fall weather, you're going to be hot wearing your helmet.
Bring plenty of water, and balance out water consumption with electrolytes. If you live in a humid climate, you won't feel like you're sweating because sweat evaporates quickly in the desert air.
Driving Techniques
While you should avoid tracks on beaches, it's best to drive over them where possible in open desert. These areas will have compacted sand, giving your vehicle better support, and they don't form ruts as easily as wet beach sand.
Maintain momentum going up dunes while keeping speeds low enough that you won't fly off the edge when you reach the peak. Approaching blind peaks at an angle will make for a smoother transition between sides. If you think you can't make the top, turn before you run out of momentum. If you stop, back down the dune instead of trying to turn around.
When rock crawling, keep in mind that the surface is much less forgiving than soil. There's no way to scrape an axle or differential, and approach angles in an XTV are much better than most vehicles. However, you can still tear tires sidewalls on sharp outcroppings. When in doubt, use a spotter.
Get More from Your Argo
Shank's Argo is one of the largest dealers in this part of the country. We don't just sell these vehicles: we can repair and outfit your vehicle to fit any environment desert sand dunes to arctic tundra. If you're looking to become an Argo owner or want to upgrade your current XTV, visit us at 4900 Molly Pitcher Highway in Chambersburg, PA.
You can also browse our current vehicle inventory or schedule to test drive an Argo at our website, www.shanksargo.com.