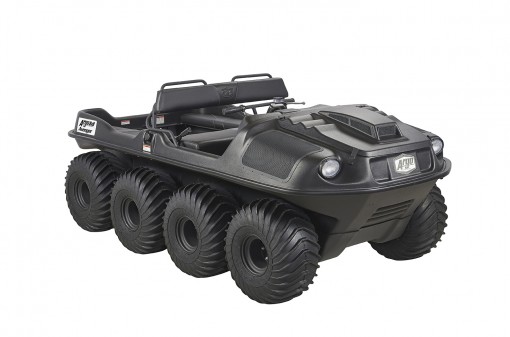 With enough room to carry you and five of your friends against the rockiest terrain, or four passengers through water, the Argo Avenger 8×8 S is a powerful and versatile vehicle. Designed to carry a total payload of 1,110 lbs through some of the toughest environments on earth, you'll be sure to enjoy all of the ups and downs.
The Exterior
As you approach the Argo Avenger 8×8 S you immediately notice the wide body and low center of gravity of the design. The Avenger comes in green, black, and Mossy Oak camouflage to suit your tastes. As you climb up the convenient side step and into the driver's seat you will find an easy to handle steering bar that allows for comfortable navigation. The handlebar mounted brake lever makes it possible for nearly anyone to drive the Avenger 8×8 with ease. You will also find a full LCD digital display for managing your amphibious vehicle including speedometer, odometer, and voltmeter. You have everything you need right at your fingertips.
The full-length skid plate and optional brush guard give the Avenger 8×8 an aggressive appeal. Other options include a front mounted winch for towing or mounting a plow blade. A rear mounted bracket can be added to support an additional 9.5 HP outboard engine if you plan on spending a lot of time in the water. Extra tubular hand rails in the back will increase passenger safety and comfort during rough rides. Even with all your friends in tow, you have more than enough cargo space for all of your supplies.
Under the Hood
The monster that drives the Argo Avenger 8×8 S is a Kohler V-Twin liquid cooled EFI engine. Coupled with either the Classic or Admiral transmission, you can quickly move between low and high gears. All together you can reach an impressive 20 mph on land and 3 mph on water. The brake cooling fan will come in handy when you're coming in hot.
The Avenger 8×8 S offers superior handling with the continuous variable transmission. This makes for smooth gearing and improved control. Argo's innovative steering transmission guarantees continuous torque to all 8 wheels for steady movement through any environment. The Avenger 8×8 S is supported by a 7.1 gallon fuel tank rated for roughly 8 hours of operation without needing to refuel, so you can track that animal or explore new waterways without worry.
The Argo Avenger 8×8 S was built for rugged, reliable adventures. No matter what kind of terrain stands before you, you can push your way through with the Avenger or glide quietly across the water. It offers more than enough space and power to handle even the most difficult hunting or camping trip. It also offers a number of convenient and simple features that make it easy to drive and use. The ability to outfit your Avenger with an extra outboard motor or a winch makes it a handy tool for a wide range of applications in all weather conditions as well.
Where to Buy an Avenger 8×8 S
To learn more about the Avenger 8×8 S, stop by Shank's Argo, located at 4900 Molly Pitcher Highway in Chambersburg PA. We're a certified dealer and one of the largest Argo retailers in the nation.
Not in the area? We ship all the parts and accessories you need to get the most from your XTV. Visit us at www.shanksargo.com.