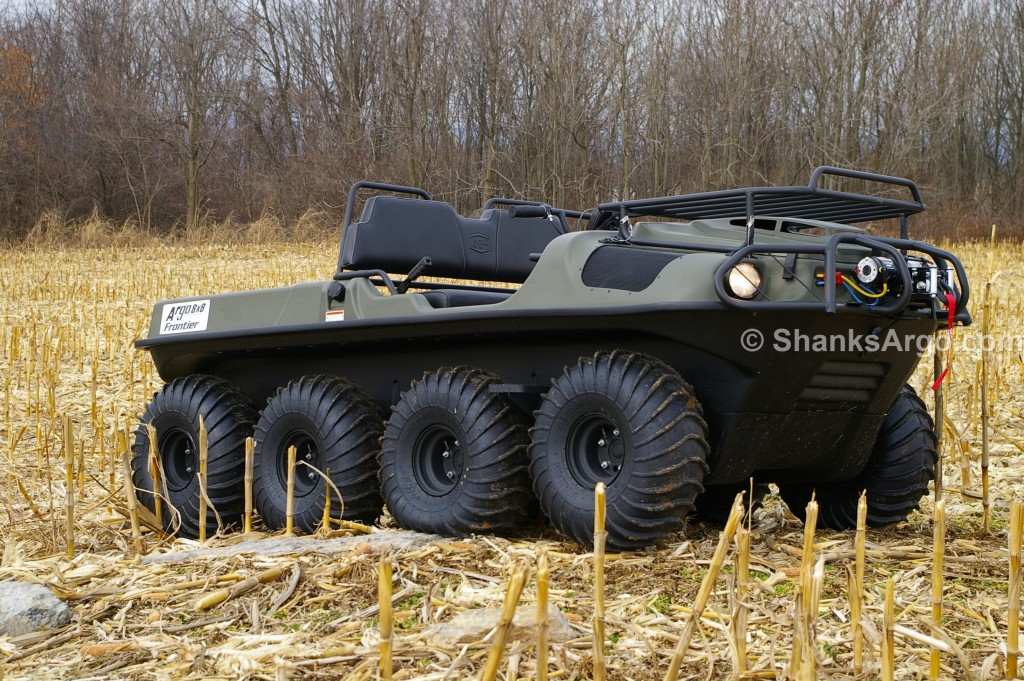 Whether you grow cattle or corn, there's no day off when you farm. You're out there every day, so you need a vehicle that works in all conditions, whether it's dry, wet, hot or freezing. You also need vehicles that are reliable and will do their job without damaging your land. That's why you need an Argo XTV. Between their unparalleled off-road and water-crossing abilities and their reputation for reliability, it's easy to see why they're used by farmers around the world.
Go Anywhere on Your Farm
XTVs are amphibious: if you drive into the water, the vehicle floats, and its tires paddle through the water. You don't have to worry about how deep a crossing may be, so you can drive straight through ponds and irrigation ditches.
A fully-loaded Argo has lower ground pressure than one person on foot. This protects your soil and your plants while letting you take a more direct route. It also means these vehicles have no trouble getting traction in slippery conditions after heavy rainfalls. All wheels are driven at the same time, giving better traction than a locked four-wheel-drive system. However, high floatation minimizes scrubbing, so you aren't tearing up the soil when you drive. Hit by a blizzard? Your Argo can drive on top of the snow instead of through it.
The tires are also the suspension. By eliminating long travel shocks and springs, the mechanical components can be mounted low in the hull. The result is a vehicle that's 75% less likely to roll over than a similar-sized UTV or ATV.
Commercial Grade Components
When it comes to experience, it's hard to beat Argo. They were building XTVs years before the first ATV reached showrooms, and they've built a reputation for unfailing reliability.
Argo's parent company, Ontario Drive and Gear, provides transmissions and drive components for OEM manufacturers. These parts see use in everything from industrial equipment to military vehicles.
Argo uses commercial-grade motors from Kohler and Vanguard. These same engines are used in a wide range of equipment ranging from mowers to water pumps. In fact, there's a good chance you already own equipment that uses these engines.
Every vehicle is designed and tested to withstand temperatures from -40 to 104°F. No matter the weather conditions, you can count on your Argo to be ready to work.
Space and Strength
High load capacities and unique design features make an XTV a better fit for farm work than side-by-sides.
A deep cargo area keeps equipment and supplied low, improving vehicle stability. Spray tanks can be placed inside this area, so if there's a leak, it's fully contained within the hull. Argo offers factory accessories that can expand your vehicle's versatility, including winches, snowplows, and work lights.
Depending on the model, and Argo can haul up to 1,500 lbs. and tow another 2,000 lbs. The two-inch hitch receiver gives you plenty of options when it comes to towing trailers and equipment. If you need the full capabilities of your XTV when towing, you can attach one of Argo's amphibious trailers. They use the same hull and tires as your vehicle, so they can be towed anywhere, even through water. These can be used as open trailers, or you can add a universal tool mounting system. This adds steel rails you can use to bolt down equipment permanently.
Need to take a crew? 8 wheel Avenger and Frontier models can carry up to 6 people. Conquest XTVs come with seating for two, but a removable seat can be added to carry two more people when you don't need full use of the cargo area.
Go With the People Who Know Outdoor Equipment
Shank's Argo is more than just a major Argo dealer. We've been in the small equipment business since 1984, so we know what it takes to keep vehicles and tools working in the harshest work environments. If you're looking for a better farm vehicle or you want to outfit your current XTV, come see us. Our showroom is at 4900 Molly Pitcher Highway in Chambersburg, PA. You can also see our current and schedule a test drive by visiting our website, www.shanksargo.com.