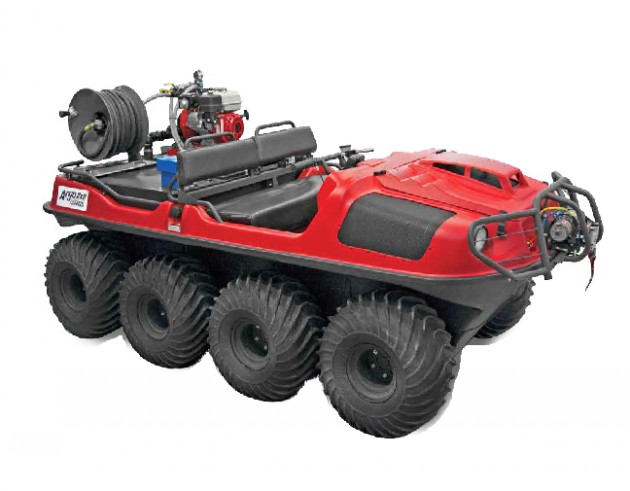 XTVs can go places other vehicles can't reach, which has made them popular with first responders, firefighters and search and rescue operations around the world. To help serve these customers, Argo has partnered with Ferno and Whelen Engineering to deliver accessories designed to make it easier to rescue injured people and fight fires in remote locations.
Fire Skid/Foam Unit
Designed to fit into the rear cargo area of the 8×8 Frontier and Avenger, this system holds 75 gallons (284 liters) of water and 5 gallons (19 liters) of foam agents. An onboard Honda GX engine drives a two stage CET centrifugal pump, pushing water through 100 feet (30.5 m) of hose capped with a forestry nozzle.
Emergency Lighting and Siren
Argo offers these Whelen devices with mounts compatible with your XTV:
– Red and white perimeter strobes that mount around the sides of the hull
– Overhead spot lights
– Red beacon light
– Front-mounted combination siren/speaker and strobe designed to mount to Argo's brushguards
All emergency lighting uses LEDs to reduce electrical load.
Fold Down Light Bar
This structure has a mount for an IV bag and can be used with a Whelen L31 red beacon revolving light and two Whelen PAR 23 LED spotlights, increasing visibility at night and in bad weather. This bar mounts to the driver's side of the vehicle so it won't interfere with a mounted stretcher, and it can be folded down when not in use.
Stretcher Mounting Kit
This mounting kit has slide-in rails designed for a Ferno #9 stretcher: just slide the stretcher through the rails from the rear of the XTV and it will lock in place. The rails run across the left side of the vehicle, covering the front and rear seating area when deployed, and is incompatible with suspension seats and hand rails. Argo also offers an adapter to use the rails with a Ferno RE 1125 Traverse basket.
Ferno #9 Stretcher
Designed to work with Argo's mounting kit, this stretcher has a folding front and back to position the patient as well as straps to keep them secure during transport.
Ferno Traverse Basket
This basket provides greater support to the patient and more areas for personnel to hold onto than the stretcher, making it ideal for steep and slick areas. This basket can also be used for helicopter evacuation.
Ferno Universal Head Immobilizer
The closed cell foam supports secure the patient's head during transport, while a plastic coating makes it easy to clean. This immobilizer is compatible with both the stretcher and basket.
Oxygen Bottle Holder
Secures an oxygen bottle next to the stretcher rails for easy access.
Helicopter Lift Kit
This kit adds attachment points to the front and rear wheels, allowing the XTV to be lifted and transported via helicopter. This kit only works with models that use 9-inch rims with 25-inch tires.
When Lives Depend on Your Gear, Trust the Experts at Shank's Argo
With over 30 years of experience with outdoor equipment, you can trust the staff at Shank's Argo to get your XTV ready for the most challenging rescues. To see how we can outfit your Argo, visit us at Shanksargo.com or in person at 4900 Molly Pitcher Highway in Chambersburg, PA. That's just off Route 11, one mile east of I-81.