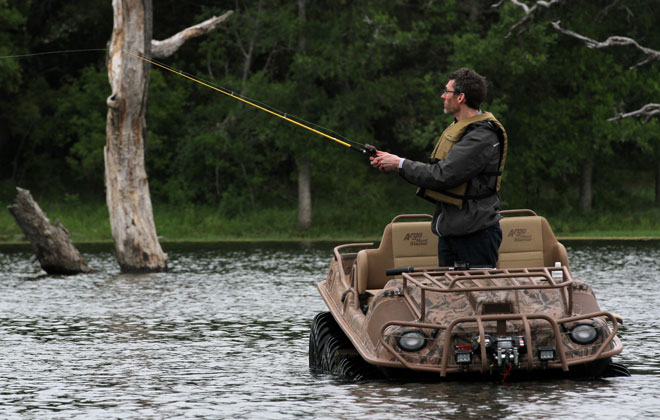 Hate unloading your boat at landings? Wish there was a way to fish in shallow water without standing in it? Want to spend less time driving to fishing spots and more time fishing? An Argo amphibious UTV is exactly what you need. By being able to travel on land and water, you can go straight to the area you want to fish without dealing with trailers, landings or bridges. Here's what you need to know to pick the right model, set it up with accessories, and get it licensed for fishing.
Why Argo?
Hate standing around in waders when you cast your line? Low ground pressure lets an XTV drive over soft mud instead of sinking into it. This lets you drive up to the water's edge or cross into fishing holes. In the winter, low ground pressure makes the vehicle less likely to break through lake ice.
If you can find flat ground, you can drive in and out of water. Since you don't need to rely on landings and bridges, you can get to your favorite fishing spot faster. It also gives you access to places you can't reach directly by boat, or by towing your boat to a landing.
Which Argo is Best for Fishing?
The Hunt Master series is built with hunting and fishing in mind. These vehicles come with Argo's most popular accessories including a front cargo rack, a brush guard and a winch. Argo partnered with Mossy Oak to bring their Shadow Grass Blades camo pattern to this line. It combines marsh grasses with water reflections to blend into shorelines around streams and lakes. The Hunt Master line includes models across Argo's lineup from the Frontier 6×6 to the Conquest 8×8, fitting the needs of individual owners and expedition companies.
If you're only operating in marshes and swamps, you might consider the new Bigfoot series. These XTVs come with tires designed for maximum traction on mud, but this keeps the vehicle from propelling itself through water. If you want to use a Bigfoot in the water, you'll need to add an outboard motor.
Want to go ice fishing? Look for a model with a liquid-cooled engine. This lets you add a heater so you can stay warm in the winter.
How Do I License My Argo?
The dual roles of amphibious and land operation of an XTV puts it in between legal categories. When in doubt, contact the licensing agency to make sure you're getting the right permits for your vehicle. There are a few rules that hold true almost anywhere you use your Argo:
If your Argo is on land, its width makes it a UTV or ORV. This restricts use on narrow trails.
If your Argo is on open water for any length of time, it becomes a boat. However, if you're simply crossing a waterway, your XTV is still an on-road vehicle.
Some areas have a separate category for swamp buggies or similar vehicles. Depending on how the laws are written, you may require a separate registration when operating in swamps and marshes. Other times, your vehicle is still considered to be a UTV, even if you can go places that are unreachable in a side-by-side.
Configuring Your XTV
Argo makes two types of tracks. Rubber tracks offer maximum traction on mud, while Super Tracks use plastic sections that maximize floatation on snow. Both rubber tracks and Super Tracks are compatible with ice teeth.
The tracks cover the tire treads, which normally propel the vehicle through water. If you still want your vehicle to be amphibious, you need to add an outboard motor bracket. This bracket supports long shaft sub-10 HP outboard motors. Once the vehicle is floating, you can use the outboard motor to move around in the water. Even if you don't have tracks, adding a motor will help your XTV travel faster in water.
Fishing is messy, especially if you're gutting your catch on board. Adding a liner to the cargo area of your Argo makes it easier to clean up.
Fishing in winter? Adding a heater and a convertible top will help you stay warm on the drive to your fishing spot.
Get an Edge This Fishing Season
Shank's Argo is one of the largest Argo dealers in the East, providing support for everyone from outdoor hobbyists to commercial fleet buyers. We can help you get in the XTV that will fit your hunting and fishing needs, and provide the support you need to use your Argo for years to come. If you're looking for an amphibious ATV or need help with your current vehicle, visit us at 4900 Molly Pitcher Highway, Chambersburg, Pennsylvania. To get here, take Exit 10 from Interstate 81.
To learn more or schedule a test drive, visit www.shanksargo.com.