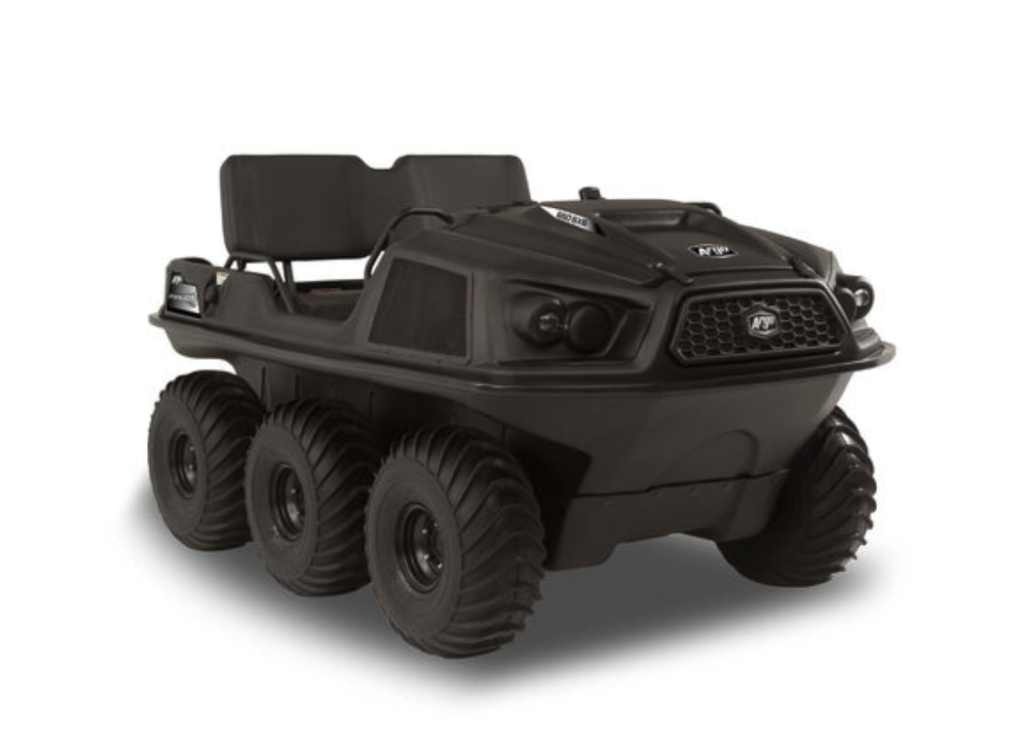 There isn't anything quite like an Argo amphibious ATV. Its sealed hull lets it float on top of water, so you don't need to worry about depth when fording streams. The giant tires spread out the vehicle's weight, letting it float over sand, mud and snow, instead of digging in and getting stuck. Need a vehicle you can depend on? The entire drivetrain is built using commercial grade components. You would think all this capability would come with a high price. However, Argo's smallest model, the Frontier 650 6×6, retails for about the same price as a utility side-by-side or a large displacement ATV.
Power
Under the hood, you'll find an air-cooled Vanguard V-Twin that makes 23 HP. This is the same engine used by small equipment companies for commercial mowers, wood chippers, and anything else that requires maximum reliability.
The 650 comes with Argo's classic transmission, which makes this amphibious ATV handle like a skid steer. When you turn the handlebars, the brakes engage, allowing the vehicle to pivot. This gives the Frontier a turning circle that's shorter than its wheelbase. To help new drivers get accustomed to the controls, Argo includes APS. This steering system offers more movement from lock to lock than their old handlebars, while a spring return system gives the bars a more natural feel while avoiding steering brake drag. The Classic transmission also has Argo's new Instant Torque Clutch (ITC,) which helps the CVT reach the optimum gear ratio. This increases acceleration and torque at the wheels, providing the benefits of the old high torque transmission with the speed of the standard gearing transmission. Top speed is 22 MPH, which is in line with many utility side-by-sides. Enter the water, and the tires paddle at a top speed of 3 MPH. Also new this year is an 8.5 gallon steel gas tank with a fuel gauge built into the digital cluster.
Size, Payload and Colors
The Frontier 650 has a payload capacity of 595 lbs. on land, and can carry up to four people. Enter the water, and payload drops to 395 lbs. with up to two people on board. The rear jump seats fold up when not in use, giving you plenty of storage space for gear. Since XTVs use their giant tires as the suspension, the axles, transmission and engine are mounted low in the chassis. This lowers the center of gravity, nearly eliminating the chance of a roll over on steep inclines.
The Frontier 650 6×6 is 58 inches wide, which makes it legal to use on most ORV trails. Argo offers this vehicle in three colors: green, black and orange.
Want More from Your Off-Road Vehicle?
If you're ready to step up to the capabilities of an amphibious ATV, visit Shank's Argo. We're one of the largest dealers in the East, and we have over 35 years of experience selling and servicing outdoor equipment. Visit our showroom at 4900 Molly Pitcher Highway in Chambersburg, PA, or check out our inventory and schedule a demonstration at our website, www.shanksargo.com. Need parts or accessories for your Argo? We ship to any address in America or Canada.