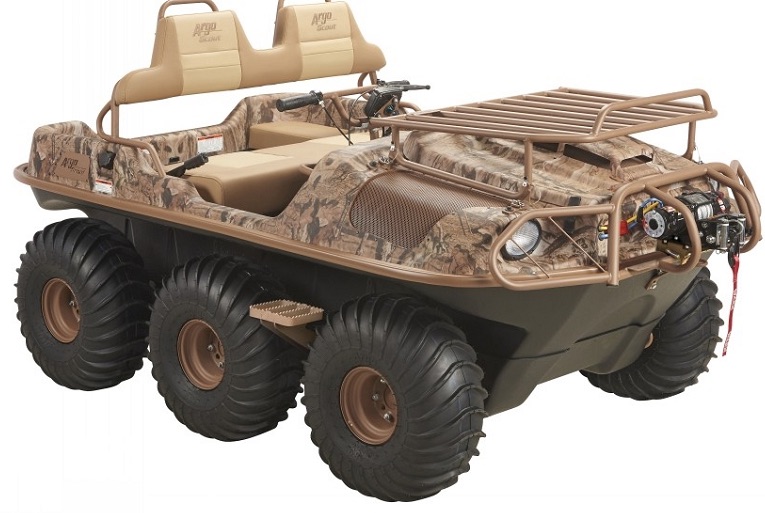 Birds, deer, and other game animals don't stick to trails, so why should you? The Frontier 6×6 Scout S puts all the features of Argo's hunting-focused Wilderness Series in a small package you can keep up with your game through narrow trails, marshes, water and steep terrain.
Power and Performance
This XTV uses an air-cooled, fuel injected Kohler Command Pro V-Twin rated at 23 hp. It's paired with Argo's classic transmission which uses a CVT combined with a selectable two gear final drive, letting the driver choose between maximum speed and maximum climbing power. This transmission is available with standard gearing for a top speed of 22 mph or high torque gearing, lowering top speed to 17 mph (27 kph) while offering more power for rough terrain.
No matter the configuration, this vehicle can tow up to 1,500 lbs. and can carry up to 560 lbs. (254 kg) and up to four people on land and 360 lbs. (163 kg) with up to two people on water.
Equipment and Camouflage
As the smallest model in Argo's Wilderness Series, the 6×6 Scout S comes loaded with equipment to make it suited for hunting. This includes a brush guard, a front rack for extra storage space, a gun rack that can be configured to hold rifles or bows and a 3,500 lb. Warn winch.
For 2018, Argo worked with Mossy Oak to bring two new camouflage patterns to the Wilderness Series: Break-Up Country and Shadow Grass Blades.
Break-Up Country is an update to the pattern previously used by Argo on their hunting models. It uses larger branches, limbs, and leaves in its pattern to help remove the outline of whatever it's printed on so it blends in better with its surroundings. This camo pattern is perfect for deep woods hunting.
Shadow Grass Blades is designed specifically for waterfowl hunting, using a grass-based pattern to blend with tall grass and marshes. Since it's the official camo pattern of Ducks Unlimited, it's easy to find gear to match your XTV so you can blend in with your environment.
Accessories
The Scout S comes with the most popular equipment for hunters, giving you a platform to build the perfect tool for your hunting excursions. While these range in use from comfort to safety, there are three add-ons, in particular, that should be of interest to buyers of this XTV:
Argo's tracks wrap around the tires for easy installation and removal while providing a tread designed for specific terrain including mud, sand, snow, and ice. The wider surface area also reduces ground pressure, letting the vehicle float over soft surfaces.
Adding a hardtop or convertible soft top can help shield you from the elements, and if you opt for the soft top, you can get it in a camo pattern to match your vehicle.
Want to use your XTV to get to remote fishing spots? Argo offers a mount for a sub-10 hp outboard motors that lets you cover lakes and streams faster.
Want an Edge This Hunting Season? Visit Shank's Argo.
Shank's Argo is one of the largest Argo dealers in this part of the country and we have decades of experience with outdoor equipment, making us the right choice for getting an XTV to fit your needs whether hunting is your hobby or your business. To learn more about the Frontier 6×6 Scout S or anything else in Argo's lineup, visit our showroom, located at 4900 Molly Pitcher Highway in Chambersburg, PA. To get here from Interstate 81, take Exit 10 to Marion and drive one mile East. To schedule a test drive, visit us online at www.shanksargo.com.