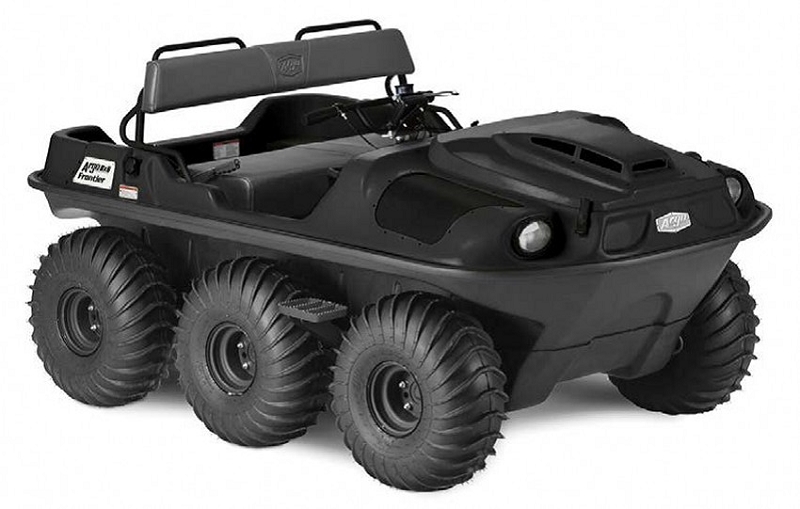 Is making the jump from ATVs to XTVs expensive? It isn't with the Frontier 6×6 SE. Argo's most basic XTV model still has all the capability of their larger amphibious vehicles, and it comes at a price in line with traditional UTVs and ATVs.
The XTV Difference
With 9.5 inches (241 mm) ground clearance, it seems like the Frontier is in the middle of the pack compared to ATVs. However, its giant tires spread out the weight of the vehicle, decreasing ground pressure to the point that it's about the same as a human footprint. This lets it tackle mud, sand, and swamps that would swallow a conventional vehicle. Those tires combined with a sealed hull also let it travel over water instead of through it, making it easy to ford streams and often eliminating the need for a boat during short water crossings. It also uses those tires as its suspension, keeping the axles, engine and transmission mounted low in the body to give it unparalleled stability on steep terrain. Simply put, the Frontier can go places you'd never dream of taking other off-road vehicles.
The Frontier 6×6 measures 95 x 58 x 45.8 inches (2,413 x 1,473 x 1,163 mm,) which is only a little wider than most large single seat ATVs, yet it has space for cargo and up to four passengers. Together, these features make the 6×6 SE more capable than even sport and specialty ATVs, provide the space of a UTV and still be small enough to tackle most trails.
Power
The 6×6 SE is powered by a Kohler Command Pro. This air-cooled V-twin is usually found in commercial outdoor equipment, providing hundreds of trouble-free hours for professionals who depend on these motors to make their living. In this model, the motor produces 23 hp.
The engine sends power to Argo's classic transmission fitted with their standard gear set. This unit uses a CVT with a selectable high and low gear final drive, providing a top speed of 20 mph (32 km/h) on land when in high gear and more grunt for heavy loads and steep climbs in low gear. Water speeds are limited to 3 mph (5 km/h) by the paddling action of the tires. This engine and transmission combo is designed to operate in temperatures ranging from -40 to 104°F (-40 to 40°C.)
This XTV can carry up to 640 lbs. (290 kg) and four people on land, and up to 440 lbs. (200 kg) and two people on water. It can also tow up to 1,200 lbs. (544 kg.)
Equipment
The Frontier has been updated from top to bottom, but where it really shows on this model is the inclusion of popular equipment that used to be optional. Axle bearing extensions come standard, providing the space needed to fit a set of treads. An entry step makes it easier to get into and out of the vehicle, while a full-length skid plate protects the underside from rocks and branches. When you enter the water, a bilge pump keeps the inside dry. From there, there's a wide range of accessories to configure your vehicle from cabin enclosures to an outboard motor mount.
Colors
This model is available in two colors: green and black.
Step Up to an XTV With Help From Shank's Argo
Want a vehicle that helps you get more out of the great outdoors? Shank's Argo is one of the largest Argo dealers in the East and we have over 30 years of experience selling and servicing outdoor equipment, so we can help you get the XTV that best fits your needs. Stop by our showroom at 900 Molly Pitcher Highway in Chambersburg, PA. That's one mile East of I-81 via Exit 10 to Marion. You can also schedule a demo and order parts and accessories for your Argo at our website, www.shanksargo.com. We ship across the U.S. and Canada.